Had a Java pour over - nice way to end the work week…
Interesting… I bought beans for $15 from Bar Nine just a few weeks ago. Also, the prices on their website are all $15 or less. That said…
Now that you mention it, I do have a vague recollection of paying ~$19-$20 for a bag the first time I went. I also recall the bags looking different back then. Examining the website closely, moreover, it looks like they're selling 250g bags, which would be ~8 oz. At that price-to-weight ratio, one would expect a 12 oz bag to be $22.50.
I'll have to double check next time I'm there. Maybe Bar Nine beans aren't the deal I thought they were.
Just picked up a bag from bar 9 - $15.
PSA - drinks on the house today, to celebrate 2nd anniversary
Thanks for the info @Sgee! Do you happen to know how many ounces or grams the bag from Bar Nine was?
I just realized the small bags at Blue Bottle are only 6 ounces – less than half a pound. Maybe the beans at Cognoscenti are a better deal than I thought.
@Bigmouth $15 buys you a 250g / 8.82oz bag at bar nine.
FYI, Klatch & trystero are in the same ballpark ~$15 for a 350g / 12oz bag.
For comparison purposes, here's a pic of some beans I picked up from Blue Bottle yesterday. Roast looks pretty similar to me.
Tangential aside: the new Blue Bottle space in Culver City is really cool. Possibly the coolest Blue Bottle I've ever been to.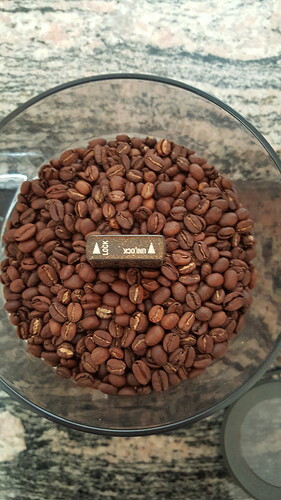 Picked up some of Cognoscenti's Kenyan beans the other day. Outstanding. Wonderfully sweet with delicate strawberry and orange flavors. It's a juicy cup of coffee if that makes any sense lol. I think I like these even better than the Ethiopian.
Conservatory for Coffee currently has an outstanding organic Ethiopian natural. Tastes strongly of blueberry, which I personally love.
My favorites are Verve and Blue Bottle. I won't say these are necessarily better than some other places like Stumptown and Demitasse, but I don't go to those other places as often because they aren't convenient to me.
I have always liked Conservatory, but it seems like a different style of coffee – roasted a little more than the places I mentioned above, lacking the same complexity. I could be wrong. At any rate, I always liked the nuttiness of the coffee at Conservatory; it never tasted burnt.
Big on coffee. making on on my aeropress at work right now. Been using Roasted and Toasted on Melrose lately. They're very good and most certainly don't over roast. Trystero is dope if you're an east sider but I think he's done taking new customers for now… just a micro roaster.
stumptown hairbender in a pinch. that's our espresso blend at home.
Coworker has started bringing Tru Bru from Orange for our office aeropress and it's pretty great. I've always enjoyed beans from the Coffee Roaster in Sherman Oaks.
Just picked up Ethiopia Gedeo Worka Natural from Klatch for the office aeropress, and my god it smells so strongly of blueberries. Never experienced anything like it.
I drink enough coffee that $23/12oz will put me in the poorhouse toot suite.
Though the price has gone up incrementally over the years I like to buy from Groundwork. Maybe it's $17/lb these days? Ethiopia is my go to. Mexico and Uganda also good. Roasted locally in scenic North Hollywood.
They almost lost me when they started selling up-priced 12oz bags to the unaware types. It's cheaper if you get your own beans out of the bins.
I usually get my beans from The Boy & The Bear in Redondo Beach.
I have been leaning towards Colombian beans recently and they source ONLY from Colombia.
They roast right there on site, so there are always beans available that have been roasted within the last week.
I'm still loyal to The Conservatory for coffee in Culver city. Really great bang for your $. Very early 3rd wave place
Partial to PNG's myself but I but different origens or i get bored with the same flavor profile