Hi @TheCookie,
Thanks.

I hope you get to try Dragon Beaux on your next visit up to SF. #totallyworthit!

Hi @chandavkl,
Great article and pics.

Thanks for your recommendation about their Tim Ho Wan-style Baked BBQ buns. We loved them as well.

I'm glad we have Sea Harbour in LA, but I still think about Dragon Beaux every time I have a craving for Dim Sum.

I think Longo Seafood in Rosemead is a step up from what we're used to in Los Angeles.
Update 2:
Fresh off the plane, where else would we go first?
It was straight to Dragon Beaux to start off this new trip.
As before, we continue to be amazed by Dragon Beaux's selection of 21 different types of Tea for Dim Sum!
This time, we decided to try…
Golden Eyebrow Tea: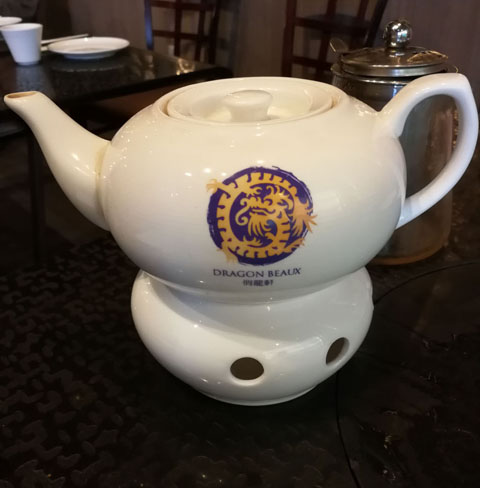 This was pretty wonderful: Aromatic, almost floral, but grounded and slightly hearty (in a good way).
Baked BBQ Pork Bao:
Ever since @chandavkl @beefnoguy and others started talking about Tim Ho Wan's famous Michelin-starred Charsiu Pork Buns in Hong Kong, and the search for a similar one in the U.S., we were super excited to try a version. From our 1st visit, we fell in love with Dragon Beaux's Baked BBQ Pork Bao (Buns), and couldn't wait to order them again.
Taking a bite… aahhh! There's a slightly crunchy, toasted top, yielding to a soft, fluffy interior and fresh, delicious BBQ Pork (Charsiu)! This is just AWESOME!
Roasted Pork Belly:
And like before, thanks to @PorkyBelly's mouthwatering delicious report early on, we couldn't wait to order Dragon Beaux's Roasted Pork Belly again!
Seriously, crispy, crunchy gorgeous Roasted Pork Skin, with fresh, meaty Roasted Pork lean meat and fatty bits underneath. It is the best Roasted Pork Belly (Hong Kong / Cantonese style) that we've had so far!
Classic Shrimp Dumpling (Har Gow):
Sadly, Dragon Beaux's Shrimp Dumplings (Har Gow) are a disappointment again.
The 1st visit, they were a problem. The 2nd visit was much better and we thought maybe they fixed it.
But this 4th visit? Same problem again! The Har Gow skin is oversteamed and stuck together. As we try and take one, they are all stuck together and the skin rips them all apart!
The Shrimp itself is still plump and juicy, but they really can't make Har Gow for some reason.
Malay Okra:
Their Malay Okra was a real treat: Fragrant, pungent. It tastes like Dragon Beaux uses a Sambal Sauce in the saute, but either way, it's lightly spicy, with a touch of interesting funkiness and tender, just cooked through Okra. Delicious!
Jumbo Scallop Shiu Mai:
Seriously?! Plump, juicy, moist Marinated Ground Pork (not overly fatty like many places in L.A. these days), plump Shrimp, and topped with Scallop!
The best Shiu Mai we've had in the U.S.! These are so next level compared to Sea Harbour, and we love Sea Harbour, but Dragon Beaux's Scallop Shiu Mai are just ridiculous.
X.O. Pan Seared Rice Crepe Roll:
This sounded delicious, especially after the amazing Rice Crepe Rolls (Steamed Rice Rolls) that we had in our previous visits (above). So having them pan-seared with their own Housemade X.O. Sauce? Why not.
Sadly, they are just OK. They're not bad, but this dish reduced Dragon Beaux's wonderful Steamed Rice Rolls (which are perfectly cooked, silky and delicate), and with the pan searing and smaller chunks, turned it into a bit more chewy affair. The X.O. Sauce is fragrant and adds some nice briny spice, but the overall dish is just OK (there's no filling just Rice Rolls).
BOSS Abalone Fried Rice:
We saved up and decided to see what it was like to be a baller like @Porthos @ipsedixit @J_L @PorkyBelly and others.
We ordered their BOSS Abalone Fried Rice!
Ever since @ipsedixit waxed poetic about Dragon Beaux's Fried Rice, we knew we had to try them all one day. Last time, their Gold and Silver Egg Fried Rice was sublime.
But the BOSS Abalone Fried Rice?
Even better!
It sounds rather mundane, but when you bite into Dragon Beaux's BOSS Abalone Fried Rice, you realize a few things:
It's not oily(!).
There's this amazing flavor and Wok Hei (Breath of the Wok) in every bite.
There are tender morsels of Abalone throughout!
There are plump Shrimp, perfectly cooked through in here as well!
There's a LOT of this plump, tender Abalone in this dish.
There's Masago (Capelin Fish Roe) in the Fried Rice!
This is the most amazing Fried Rice I have ever eaten.
Seriously, we can see now why @ipsedixit loves this so much! Wow! @Sgee @PorkyBelly @Ns1 @JeetKuneBao @bulavinaka and others, don't miss any of their Fried Rice dishes.
Tofu Soft Pudding (Tofu Flower):
One of our friends from Hong Kong recently pointed out that L.A. Dim Sum restaurants are losing more and more of the classic Dim Sum dishes they grew up with in Hong Kong. One of those dishes was what she called Tofu Flower. And thinking about it, it seems true:
Sea Harbour and Elite no longer serve Tofu Flower / Tofu Soft Pudding. I don't remember seeing it recently at any of the Dim Sum restaurants we visited (but then again, we mainly go to Sea Harbour
). But this and a few other dishes seem to be disappearing.
So when we saw this at Dragon Beaux, we had to order it.
I love V P Tofu's fresh-made Tofu Pudding / Tofu Flower, but Dragon Beaux's is just on another level: It is silkier, more delicate, lighter, the Ginger Syrup is more refined, and not overly sugary.
Our friend who eats a ton of Dim Sum was blown away as well. It is simply the best Tofu Pudding / Tofu Flower we have ever eaten!
Dragon Beaux continues to shine in its execution and amazing Dim Sum, delivering the best Dim Sum we've ever had in the U.S. It is vastly superior to Sea Harbour (and that pains me to say it), but we're glad to be able to have visited Dragon Beaux 4 times now and can't wait to return.
From their must-order Scallop Shiu Mai, to the amazing Steamed Rice Crepe Rolls, to the crispy, crunchy fresh Roasted Pork Belly, and their amazing Fried Rice (amongst many other great dishes), Dragon Beaux is a must visit when you're in San Francisco, and great example of culinary excellence.
Dragon Beaux
5700 Geary Blvd.
San Francisco, CA 94121
Tel: (415) 333-8899
Anyone know what the wait is like on a Tuesday morning around 11-11:30?
We were there this past Tuesday at around that time and the wait was less than two minutes. We did have to share the table with strangers in order to be seated so quickly, however. It was the right call—the table was big enough for us and two other couples to eat comfortably in our own spaces.
I echo the praise given to this place. It's extraordinarily good dim sum. Golden Eyebrows tea, giant Shui Mai with scallop, congee with crab—all excellent. The only miss was the crispy garlic deep fried chicken knee cartilage. Never had it before, sounded intriguing but in the end just too oily.
Hi @hyperbowler,
Yah, on a Monday we showed up at 12 Noon and only had to wait 5 min. For larger parties (4 or more) there was already a wait of about 8 - 10 people.
Hi @tiberiusnero,
Oh nice! Thanks for the recommendation on the congee with crab. I'll have get that next time.

The congee with crab is a bit dear at $20 but worth it. I spent the end of the meal happily wrestling with the body and legs to extract all the crabmeat. If you are self conscious about getting down and dirty with crab shells, then maybe it's too pricey.
Thanks for all of your feedback, comments and suggestions. Very excited. I'm going here next Wednesday for the 1st time around 11:30am. There are 4 of us but 2 are kids ages 5 and 7. It was difficult to narrow down our order. I really want to get the fried rice but I think its too much food. We're staying at an Air BNB. If they have a microwave I might order the fried rice and eat whatever is left over for breakfast the next day. This is what we're going to order. If you see any glaring omissions please let me know.
Roasted pork belly
Baked BBQ pork bun
Crispy shrimp paste donut rice crepe roll
Jumbo scallop Shui mai
Black mochi sesame balls
XO Spinach dumpling
Black bean sauce spare ribs - for the kids
Chinese broccoli - for the kids
Fried rice - we're on vacation
abalone tart
pan-seared daikon cake with xo sauce
glutinous pillows
For some reason, SF has superb quality TFF… LA can't seem to match.
Hi @js76wisco,
Nice! Excited for your visit, and hopefully you enjoy your visit to Dragon Beaux.

And don't forget to enjoy one of the 21 selections of Chinese Teas they have.
And if you like delicate Tofu Pudding / Tofu Flower desserts, give that a try as well.
Glad this place is now getting the recognition of FTC!
Interestingly I'm hearing downhill reports from random people in the Chinese foodie community up here (though no specifics, they all can be a very picky/fickle group). But it happens …but good to hear they are great for people still into them.
As far as tofu fa/tofu custard, there are definitely more Cantonese/Southern Chinese up here doing revival items (sweet and savory) in addition to new/fusion/innovative dim sum while maintaining Cantonese flavor profiles and sensibilities.
Koi Palace Dublin and Milpitas can also be very good as well as backup options.
While DB's dinner is strictly Cantonese/Hong Kong style hot pot, it is quite fun and done in a good upscale way (that appeals to Hong Kongers), though it can all add up afterwards.
If you are still in town head to Ming Kee and try that BBQ pork neck, princess chicken, and roast duck!!
I fell in love with this place.
Hi @PorkyBelly,
Yay, nice!

It was thanks to you for introducing it to me (and @beefnoguy). I want to go again right now, LOL.