O M G
[yes discord that is a complete sentence]
TBC…
[yes discord that is a complete sentence]
Buckeyes formerly known as Yellow Indian Woman
Rancho Gordo got some flack for the original name (which is the actual name of the bean) and changed it to Buckeye. I think they could've come up with a prettier name than Buckeye as a replacement lol. But they still have the same creamy texture and same delicious velvety broth. A rose by any other name…
Did them simple. Soaked in salt & baking soda for about 2.5hrs. Discarded water, rinsed and put everything in the pot together - beans, brown onion, garlic, carrot, celery, bay leaf, Mexican oregano, dried epazote, chili powder, butter & olive oil with water & chicken stock. Boiled for about 5 mins then simmered about 1.5hrs, added smoked salt the last 30 minutes & skosh of banana vinegar at the end. Fished out bay leaves, carrot, celery and ate beans with toasty French bread & drizzle of olive oil.
Gotta do a shot (or two) of delicious bean broth.
Midnight Black Beans (black turtle bean)
Soaked in water salt & baking soda about 2.5hrs, discarded water & rinsed. Simmered in water & stock for about 1.5 hrs w/sautéed shallots, garlic, carrot, celery, bay leaves & chili powder, adobo seasoning, coriander, dried epazote, butter (I add a little butter when I'm not using a fatty meat
), added salt & concentrated chicken stock the last 30 minutes & skosh of banana vinegar at the end. Fished out carrot, celery, bay leaves and served as a side topped with white onions, cilantro and squirt of lime. This is a great bean that holds it's shape beautifully.
Shot!
Even after discarding soaking liquid the cooking liquid still turned purple black & produced a dark rich broth.
Happy Bean Eating!
I received a gift card for Goldbelly. We chose Oklahoma Joe's and we're gonna eat this for NYE dinner with some sides. I'd like to have baked beans but don't have any type of white bean. Can you sub pinto, negro, whipple or domingo rojo beans? I don't think so. I might just end up buying a can of baked beans.
Hi @js76wisco
Out of the four beans you list I would say the whipple bean could work for baked beans. Here's the RG link that says the Whipple Bean can be used for baked beans.
Edit: @js76wisco scratch the Rojo Domingo advice for baked beans. They're closer to a kidney bean and good for chili. It's the Rio Zapes I was thinking of. They're softer, but not sure if they'd work for baked beans. So many beans!
Happy Bean Eating!
Where can I get RG black eyed peas? Monsieur Marcel is out. I don't think whole foods or erewhon sell the beans anymore.
edited…
I found them at cookbook in echo park.
Glad you found them!
Mind if I ask where?
Don't suppose you're making hoppin' John for New Years?
at cookbook in echo park. call before you go.
Cookbook Highland Park had them today as well (The Angel Bakery Pita they sell is AMAZING!!!) and Standings on Melrose has them.
good to know! does echo park have the pita too?
They might! it's in the freezer section. It's like the kind they have at Mizlala. SO GOOD. I made my own version of Mizlala's sandwich with Trader Joes Garlic Paste and Sausage from Standings.
So my cholesterol is a tad high looking for good beans. Where can I buy them?
Torrance farmers market doesn't seem to have any bean purveyors. Whole Foods? Online?
You know what I'm going to say. I think Rancho Gordo has the freshest most interesting bean varieties that make luxurious bean broths.
There site also has a lot of recipes - pot beans, side dishes, salads, etc. Happy Bean Eating!
Great call I am buying Cassoulet, buckeye, and garbanzo. Any other varieties I should try?
Those are three of my favorites.
Ayocote Blanco are a favorite white bean. Top them with a little butter or a substitute like Earth Balance and it's like eating potatoes, butter & gravy. For a quicker cooking bean the Flageolets are one of my faves.

From Rancho Gordo, French lentils, Mayocoba, and Scarlet Runner.
Not quite sure what her schedule is but I get them at the farmers market in SM she used to be every other week but now maybe once a month. Big fan! Iirc they are planted for crop rotation.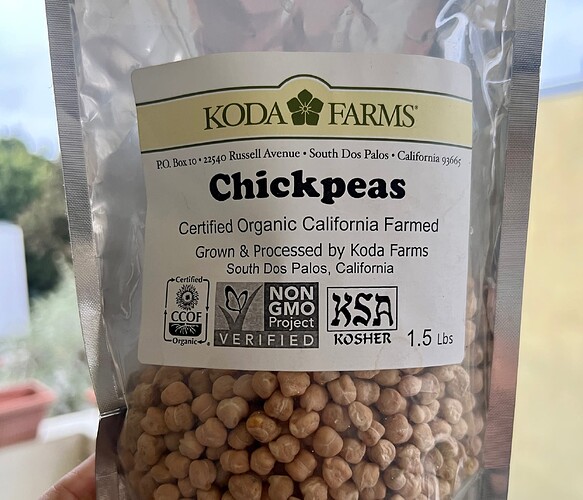 Yes, I overlooked them for a while and wish I hadn't.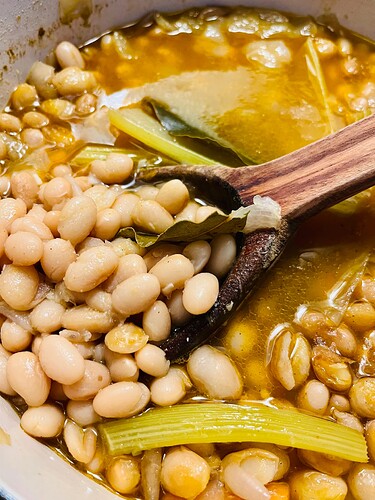 Look at how thick and gravy-like the broth gets. Mayocobas are super creamy, slightly sweet, thinned skinned beans that hold their shape fairly well and easily soak up the flavors in the rich, brothy broth. So good we ate them simply with a little flaky salt and drizzle of fruity, buttery olive oil & crusty bread.