That's our original Northern love right there, before we got Pailin obsessed. This place does Kao Soi better than Pailin and it's a bigger portion as well. And they're known for their grilled pork and beef which is not a thing at Pailin.
This was Friday night… paired with Noble's Drops of Jupiter crowler. Great times.
my girl prefers their jackfruit salad, it is porkier and topped with loads of pork skins. I'm more of a fan of Pailins with a lot more kaffir lime leaf
wish we had another person with us to get some sausages
I need to go back I guess. I messed up by not getting khao soi on my visit there once. The grilled pork didn't blow me away for some reason, I guess because I had just had Night + Market's toro and startled pig and it just couldn't compare due to quality differentials.
But anywhere doing khao soi better than Pailin must be doing it really well.
Just out of curiosity, have you had the khao soi at Kruang Tedd?
Also, what is the corkage at Spicy BBQ?
I do not agree it is better khao soi than Pailin–they use that creamer stuff rather than actual coconut milk. The flavor is more complex at Pailin.
However, their jackfruit salad and grilled pork is pretty damn good.
Has anyone tried the kaeng som here? Any other places that make this?
Yes it is very good. Listed under "Specials".
Lots of shrimp and cha om omelette, and tasty curry to spoon over the rice.
Thanks guys. I really need some sour after the last few days.
I love that this spot keeps flying under the radar. We really just go here and to Pailin for our northern cravings. Yesterday we decided to get 3 things we've never ordered with a growler of hazy ipa from Mumford and it was a really phenomenal dinner.
Nam Prik Noom wasn't too spicy which is good because their pork patties fucking destroyed our asses… but who is going to stop eating them when the pheromones are firing so hard… and the northern curry was in credible… such deep flavor and a complex sourness, somehow achieved just with tamarind… can't wait to go back for that dish… but those patties… oh boy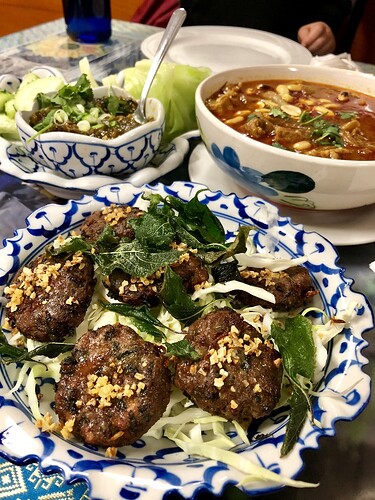 I need to try their Northern Curry! Gaeng Hang Lay is not too common. Night and Market has it too btw
The sour curry/gaeng som with cha om omelette is very good, I believe one of the ladies there is from Central Thailand and is listed under the specials.
Yes we've probably ordered it at N+M song every time we've been there… their says it's burmese though… are they same thing ? obviously i know they're bordering… N+M one is less tart and i don't remember the toasty peanuts . I like this more somehow… maybe it's the family operation… maybe it's how the lady hangs with us and tells me how to make things… maybe it's her son drinking our beer with us… maybe it really is the curry. I don't really need everything to be refined
I've always had great meals there.
Thanks for the prod…it's been too long.
It's the same aka Northern Curry aka Burmese Curry aka Chiang Mai Curry
And I agree nothing beats talking it up with the family! That is one of the biggest charms about these small mom-n-pop places.
We were here two weekends ago. Big thumbs up.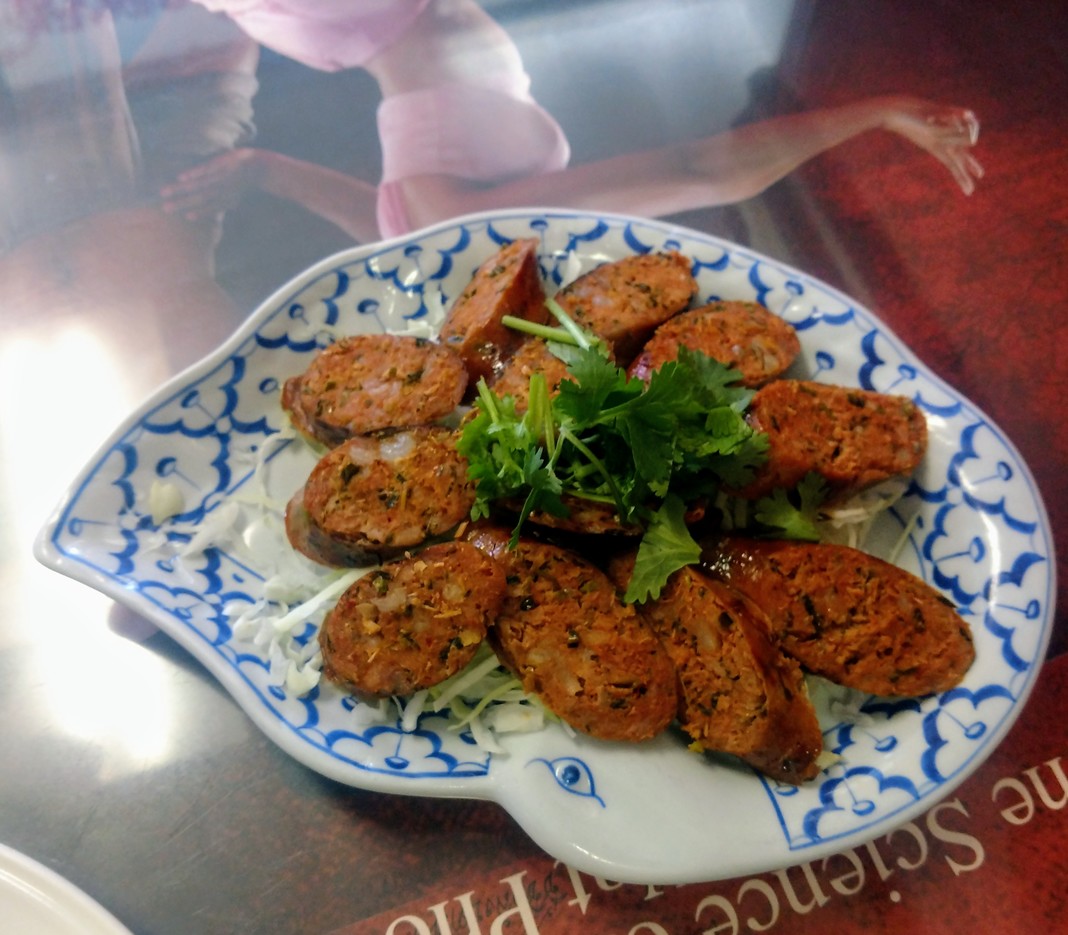 Sausage and grilled pork. Kind of surprised I ate all that.
Anyone had the Kanom Jeen Nam Ngiao at Spicy or Pailin???
From what I learned this is a very popular Northern dish but Khao Soi gets all the love and attention.
I've had it. Was a bit more funky than good for my taste, but worth a try. I had it at Pailin.
i assume this is the nam ngeao on pailin's menu. if so, yes, we've had it and it is bloody good (literally, as it has cubes of blood in it). there's a picture of their version in my write-up from five years ago (in the middle of the page).
My feeling too, also ordered it from Pailin.