Majordomo this past Monday
An incredible meal at Somni on Wednesday, Here's a few pictures of the food
Santa Barbara Spot Prawn

Strawberry Negroni

Turbot and Tea

Cow and her Milk (cheese course)

Office lunch, catered by Langer's!!! #keepofficemoralehigh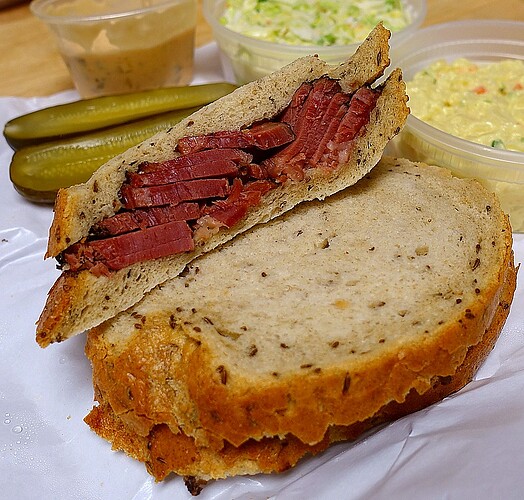 Burgers Never Say Die (Silver lake)… Yes, it may look like a bougie'ed up McDonald's burger, but DAYUM if it doesn't taste like a thousand time better! If loving this burger is wrong, then I don't wanna be right.
KFC Chicken &Waffles sando… The 11 herbs & spices do a lot for this invention, but the use of white meat does it a disservice.
Brilliant business idea! I do love that classic cheeseburger combo of diced onions, cheese, pickles, ketchup
Ruby BBQ
Oh yeah! This is a fine fine establishment!
The Siu Yuk is the star here. Crisp skin, meat, and fat all in delicious layers! Can't have a proper Canto meal without some greens so I got some A-Choy.
Damnit I got some food stains on my shirt
Is it wrong that, as good as that pork looked, I'm craving those greens right now.
The Impossible Burger is making its round. I finally caved and tried the Impossible burger at Mendocino Farms for lunch today…I added arugula and subbed out the soy vegan cheese for goat cheese…I'm only willing to compromise so much. I'll have to say it was pretty tasty.
https://images.app.goo.gl/cy4htRVSuoHKCKf19
Photo from Mendocino Farms
It felt like a burger and it tasted like regular ground beef…it's clearly not beefy, but the chew and texture is right. There's a spicy vegan mayo, lettuce, tomatoes, and pickles in addition to cheese. I took it home and shared with the chowpups…they all took two bites and said it was good before I told them there wasn't any meat. Then they proceeded to moan and groan that I tricked them.
Would I try it, again? Probably, but with the burger coming in at a little over $12 and other sandwiches and salads running less than that mark, I'm not entirely sure I would go out of my way to pick it.
Bistro Na's
Crispy Honey Shrimp…meh…cooked perfectly but not much shrimp flavor and a tad too sweet
Pea sprouts with mushrooms ~ yum
Braised pork belly ~ nice flavor, tender and fatty and with a just burnt sugar flavor, good over white rice
Verdict: food is average to above average and a high price tag. Not sure I would go back given the wait and how smashed in the tables were, we were literally sitting next to our neighbors.
Love Letter fried chicken wings
Anecpalco Orange
Not Paella ~ really good, all seafood cooked well.
Lamb Tatemado ~ great lamb flavor and a well balanced broth to cut through the richness. The homemade corn tortillas (blue corn and yellow corn) that were served with the dish were excellent.
Pasta Sisters ~ truffle cream with tagliatelle
Mochi Crunch Nori popcorn and Stella Muroka Genshu sake ~ really great popcorn and really amazing sake, I am a newbie at sake but this one was super fruity with strong honeydew melon flavor and a sweet long finish. @Chowseeker1999 @beefnoguy ever tried this one before?
T n T Aloha Cafe
Kim chee loco moco - kim chee fried rice, two Portuguese sausage patties, two eggs, gravy, and sriracha mayo ~ really good and I can't believe I have never had this before. Nap ensued.
Snacks
@A5KOBE is that the shrimp dish at Bistro Na's that's comparable to LoS? If so, how was it?
I would take Lotus of Siam garlic prawns over this 10 times out of 10. Very comparably in method of preparation, not so much in flavor.
LOL glad you asked, I've had at least two bottles of "Stella" already. I believe Hi Time Wine carries it now if you want to buy it to enjoy for yourself. First time I've seen it with the 2018 Gold Medal award(ed) sticker on it. Was this at Pasta Sisters or somewhere else (sorry I am not familiar with many LA/SoCal places) and how much was the bottle?
It's damn good, it's almost like a semi full bodied higher viscosity semi sweet Riesling or Sauternes without the noble rot. Great acidity and balance, fruity, and nice elegant finish. Freaking awesome with foie gras, fresh Hokkaido scallops, and perhaps something that a Muscat or Gewurtraminer would also work with. Best enjoyed chilled in a white wine glass.
I was also very fortunate to taste the unpasteurized version of the same Stella almost two months ago, although from an already opened bottle. Great stuff.
Easy to pair with salty and sour flavors. Surprisingly great with some non heavy duty miso flavors. It is hand crafted, undiluted, unfiltered, and a drip sake (not pressed, but allowed for the mash to gravity drip, resulting in a smoother product). Also a Junmai Daiginjo…so in that regard it is an unusual combination. The master brewer of this sake (and the brewery) is female.
If this were a dryer on the finish like an Alsace white, it would even be more perfect. Though it's already quite excellent and great for beginners too (as well as the ladies who prefer something less harsh).
I can see this working very nicely at places like Hayato, (no corkage for sake allowed though), the platter at Mori Sushi and some of his white fish and shellfish, Shunji's cooked dishes, and basically places where some of the wine fiends and VIPs go to with their White Burgundies.
Highly recommended.
Thanks for the report @A5KOBE. I've never tried Stella before, but thanks to @beefnoguy's notes and your thoughts, I've bookmarked it. Very interesting. From Ibaraki.
Hello Hong Kong Cafe in Monterey Park! I love this crappy place despite their Hong Kong cha chan tang style service (reads disgustingly rude) for many years. But I must say that their service has modernized and it's no longer HK cha chan tang style anymore…
Best HK street style rice noodle rolls in the city. There, I said it. The entire breakfast, minus one bun and toast, is only $9.5 before tax and tip (7:30AM to 11:30AM dine-in only).
HK Pineapple Buns
- Warm and fluffy
Milk Tea
- AKA smooth city. I don't really drink anything besides water, but I always get HK Cafe's milk tea when I'm here. Do ask for less sugar though.
Peanut Butter French Toast
- AKA calorie city. Do dump on butter, maple syrup, and condense milk to amp up the flavor and calories.
Plain Jook/Congee
- Plain Jane
Hong Kong Style Steamed Rice Noodle Rolls
- 3 McChelin Stars. Getting this item is a MUST. It's smooth, silky, and has a slight chew that's immensely pleasant. The accompanying hoisin and sesame sauce complements the noodle roll's delicate rice flavor perfectly.
@JeetKuneBao
@beefnoguy
If you're a rice noodle roll kinda guy in the states, don't talk to me until you've tried this.
I was also at Phil's BBQ. #tremendousvalue
Does the San Marcos location fall under the San Diego sub-thread?
Sorry for the confusion, I actually bought the Stella at HiTimes for $65. They also had it at Tokyo Central in Costa Mesa; I was on a search for the Born Muroka Nama Genshu Junmai Daiginjo you recommended to me but no such luck at these two places.
I then cracked the Stella open at home and ate it like a heathen with some Hawaiian popcorn.
We finished the bottle last night with some ume hijiki from Japan over white rice and grilled sanma. Pretty good stuff, I liked it with the ume hijiki.
Thanks for the thorough info and pairing insight on the Stella! Always appreciated.
Thanks. It's out of stock right now at Hi Time when I took a look at their website.
Good to know Tokyo Central has it too. It must be a new addition because I didn't see it there in during a very short visit in early January.
I would also try the Stella at FWD or Connie & Ted's.
That is a fancy pairing with Hawaiian popcorn! I like your idea of simplified luxury.
Pre-gamed with a croissant from Proof before heading to Costco for entree. Anyone on FTC enjoy a good old hot dog and chicken bake at Costco?
Hot dog yes, but the chicken bake is gross
Soft opening at Crispy School (Westlake)… Really tasty-looking burgers on the menu, made with quality ingredients! I ordered a Galbi Burger (brioche bun, deep fried beef patty, tomato, lettuce, cheddar cheese, pickled onion, with extra fried egg and avocado added), Portobello Fries (with tartar sauce and pineapple dipping sauces), and a Funnel Cake (with strawberry cream) and a Snozzberry craft soda to wash it all down. Indeed - Everything was as delicious as it looked. The crunch on the mushroom fries showed expertise. And the fried beef patty on the Galbi Burger offers a very interesting detour from your usual burger. Warning: It is a thick burger, so trying to devour it might get a bit messy. If you don't want to get too down and dirty with your hands, I'd suggest a fork and knife to tackle this burger! The whipped cream that comes with the funnel cake is no joke fresh.