Have you guys been here?! I'm not very hip on OC myself but someone with a smart palate took us here for brunch yesterday and what a most interesting spot!
The Vietnamese chef/owner apparently worked at Ritz and decided he needed to be closer to family and opened up a breakfast brunch only place where his family helps. Right next to a Marshall's but looks slick with all contemporary wood.
A most interesting menu crafted with focus on finding interesting ways to present oozy eggs. http://breakofdawnrestaurant.com/menu/
I had the shrimp and super cheesy grits with a layer of runny eggs in between. An almost perfect dish when paired with their homemade chili sauce.
Borrowed pic
Pork belly is very popular here, two people ordered it… eggs are tempura fried yet runny. great technique… pork belly is super delicious but crisp fried and drier than what most are used to.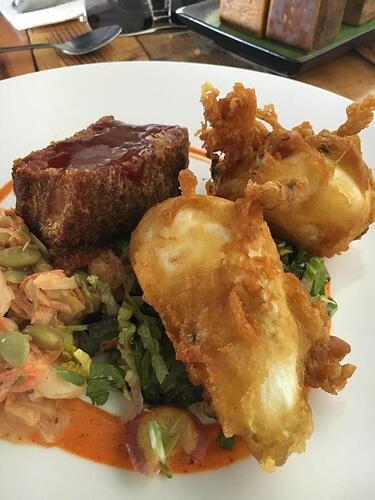 Girl went with the Beef tongue presented with a zinfandel poached egg. a very meaty dish served with toast… (this one needs to be shared)
kid had some of the best pancakes i've ever tried… dense yet fluffy with fantastic texture and taste, great griddle browning,
Vietnamese coffee is served cold for some reason, so know that. It's fantastic but menu doesn't specify that it's iced coffee.