Anyone have intel on the line situation these days? Can this be done in a 75 minute lunch break?
I went on a recent Saturday at slightly off hours (3 pm or so) - ordered immediately, then waited about 20 minutes for our burgers.
And since we're on the topic - I thought they were delicious, and probably the ultimate version of basically McDonald's cheeseburger, but I would never wait more than an hour for one. Personally.
Fairly certain lunch during the work week is maybe 15min max wait if that…I'd say your golden.
Love these burgers as well.
Yes. I waited 25 minutes at most. And they were busy.
I went around 1:30pm on a random weekday, I got my food within ten minutes.
I love the flavor combination in a McD's cheeseburger personally.
If you like BNSD/McD's check out Yuca's on Hillhurst. That is a good cheeseburger!
I really wanted to love this - I'm currently in a burger phase and I enjoy McD burgers; yet this ended up being less than the sum of it's parts. I think (for me), the typical McD condiment package exists to hide the crappy taste of McD beef. With something like this, they ended up overpowering it. So I got the nice crispy edges from the patty…but what I did not get was a lot of beefy flavor. I think if I go back, I would skip the fries and condiments.
$15 for double/fries/bottle drink. In/Out in 30 minutes @ 12:10 on a weekday.
Current menu: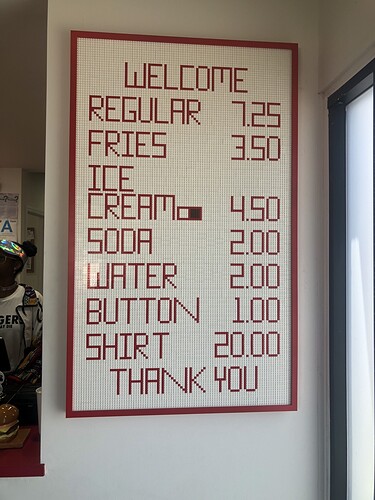 lines are definitely reasonable now - I was in/out in < 15 minutes today.
Is Yelp correct that they are also open until midnight now?
If so, I will visit much more often. One of my favorite burgers, but the long lines and their hours only being until 6 pm have kept from from returning, too often.
This would be a serious game-changer for me. Silver Lake Wine tasting and/or Magpie's and/or Red Lion serious of bangs could be pretty excellent.
Not a bad burger but there's not much to say…I like the crispy edges on the patties but that's about it. It's a slightly superior Mcd double cheeseburger that has a very similar flavor profile.
Post lunch bang bang at Proof's Bakery:
strawberry chiffon gateau

basque apricot gateau

yeah it's fine, but to wait for it is ridiculous.
I probably wouldn't wait in a line for it but that burger looks DELICIOUS
no wait when i went during lunch
How was that strawberry cake?
It's fine but I prefer Phoenix Bakery's version which is lighter, more airy, and moist.
Yuca's is the best burger in LA. Period. Get's overlooked because their other food is so good. Order the double cheeseburger every time.
I can't resist a Yuca's cheeseburger if I am in the area!