As chain slice places go it might be relatively good though maybe more expensive.
Although he was born and raised in Fremont, he actually started his career at his brother's place in Castro Valley, CA, Pyzano's Pizzeria. (paraphrased from his site, About Tony Gemignani - World Pizza Cup Champion Tony Gemignani )
I'm not sure if Tony was still at Pyzano's around 1997, but they made a damn good pie back then.
Tony is a multi award winner from the Naples Pizza Olympics…he first gained fame as a pizza acrobat, spinning the dough "rounds" behind his back, between his legs, etc…picture Harlem Globetrotters…he has won many awards since for the pizzas…the only question is: will these franchised SoCal locations maintain the quality…In his flagship, Tony's Pizza Napoletana in SFs North Beach, he has been making great Neapolitan pies for 10+years…he has 6 different ovens and offers every imaginable style, which some people feel is an over-reach…Im looking forward to these opening soon…I had only heard of 1000 Oaks…interesting that its a multiple opening…

![Tony's Pizza 1 copy|537x500](upload://zgB
U3ZJ5xGC9MFHogZcrlGZAHKY.jpeg)
the big expansion always concerns me
He opened TPN in SF in 2012
The Thousand Oaks location I actually passed by. The others I found listed on the website. Wonder where the Sherman Oaks location will be (not surprised if it will be the mall.) But that means I can do a side by side with an Anthony pie lol
SIGNED/COMING SOON

Burlingame
Chatworth
Folsom
Fremont
Livermore
Palo Alto
San Carlos
San Mateo
Santa Clarita
Sherman Oaks
Thousand Oaks
West Hills

It's kinda scary to me when any restaurant/pizzeria expands like that
Pie Trap Pizza in Covina is pretty damn good NY pizza. Ordered a thin crust Supreme Clientele which is basically a deluxe pie. Loved everything about this pie, highly impressed with the execution. They just sold out of thick crust square slices as I arrived which looked excellent, I'll be back to try those next along with more thin crust slices.
Pie Trap Pizza
720 East Arrow Hwy Suite A
Covina, CA 91722
Bianco lunch version. "Ny style" pies. I'm not an east coaster so I can't vouch for authenticity but I'm pretty sure it's not truly "ny style" but also who the fuck cares because it's the best "ny style" pizza I've had in LA. Better than Danny boys, prime, pizza wagon, etc etc.
It's crazy how LA went from pizza wasteland to maybe the best variety of pizza in the country in 10 years.
I'm not usually a plain cheese fan (except for margherita neopolitan style) but I could eat a whole pie of those!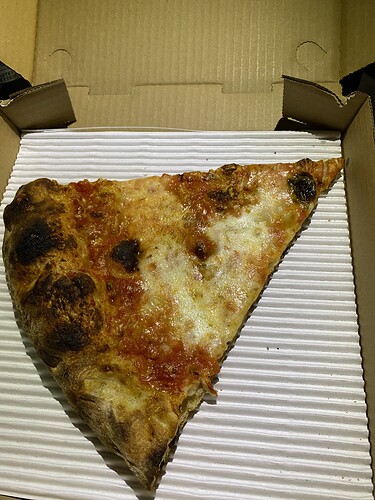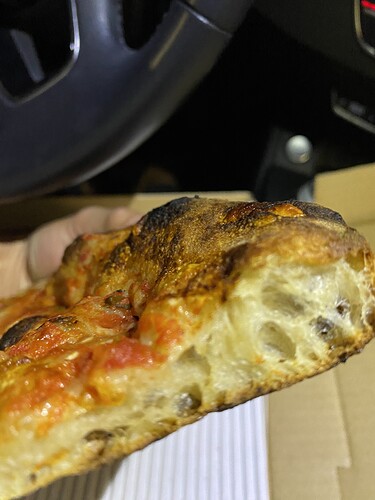 Finally had a chance to visit Danny Boys on Saturday! It's super easy for us to get there via the train and then Angel's Flight. On Saturday, there is a bit of a line on Angel's flight, but it goes quick and it's kinda neat to be around folks geeking out about it. I'm like… We are just here for Pizza…
And Pizza was had…
We so wanted to order more. But seeing how we had way too much Popcorn at Alamo… we mainly went with old favorites. The Mushroom (my favorite white pie right now) and the Meatball.
The crust here is still great. Such a nice fold!
Great crisp bubbles that are still sturdy even with a quick re-heat in the oven. The crust as always tastes great, but what makes Danny Boy's stand out is the awesome sauce…
We also finally decided to give their garlic knot a try. It had the same wonderful crispy edge to it. The garlic flavor was mellow, but rich. It wasn't like the Epic Milo and Olive, but was better than Joes and other places that just dretch dough balls in way too much garlic olive oil.
So fluffy too! One knot is $2 and comes with sauce to dip. Will be ordering one again with their wonderful salads.
I've been to his Pizza Rock in Vegas and I have to say, it was pretty good. We tried 2 different types…and while this was about 5 years ago and I can't remember which exactly, I do remember being impressed.
Pizzeria Bianco
Never thought that I would get excited about pizza in California… but then I keep coming back here to order the same pie. I guess I like them more than I thought
The piping hot and fresh slices tasted so much better than a cooled down togo one. Walk-in and always lucked out with seats after the dinner rush.
Also, venturing to Sei and quite enjoy the umami mochi touch on their dough.
Pizzeria Sei
LA is pretty fun
crowded with many talents

Kick back, take a deep breath and realize how lucky this city is
I didn't know there was a downtown Thousand Oaks. Where is this? Where the Lassen's is across from Mastro's?