Given the seemingly universal praise of the restaurant amongst FTC'ers and its 3 * status, I took the plunge.
Reservation:
I generally hate hunting down reservations myself (hello TFL and Sushi Saito HK?) so I had Visa Signature concierge do that for me. Upon emailing them, I was told that they have a 90% success rate in getting a reservation for their customers at Chef's Table at Brooklyn Fare and lo and behold, I got my confirmation email the day reservation opened up for my desired date and time.
Traffic:
Traffic sucks in NYC. I was about 3.7 miles away from the restaurant but it took our Lyft a good 50 mins to get to the restaurant…
Ambiance & Service:
Despite the jacket required dress code, the restaurant has a classy but relaxing environment. I felt right at home talking and joking with the friendly waiters and waitresses. One thing to note, however, is that description of each course was minimalist. Many times over, side ingredients or specifics of the course were left out in the description. For example, one of the course was described as a custard without elaborating on what the custard is. For another course, the clear use of Jamon Iberico was not even mentioned as part of the course.
Moving on to the food…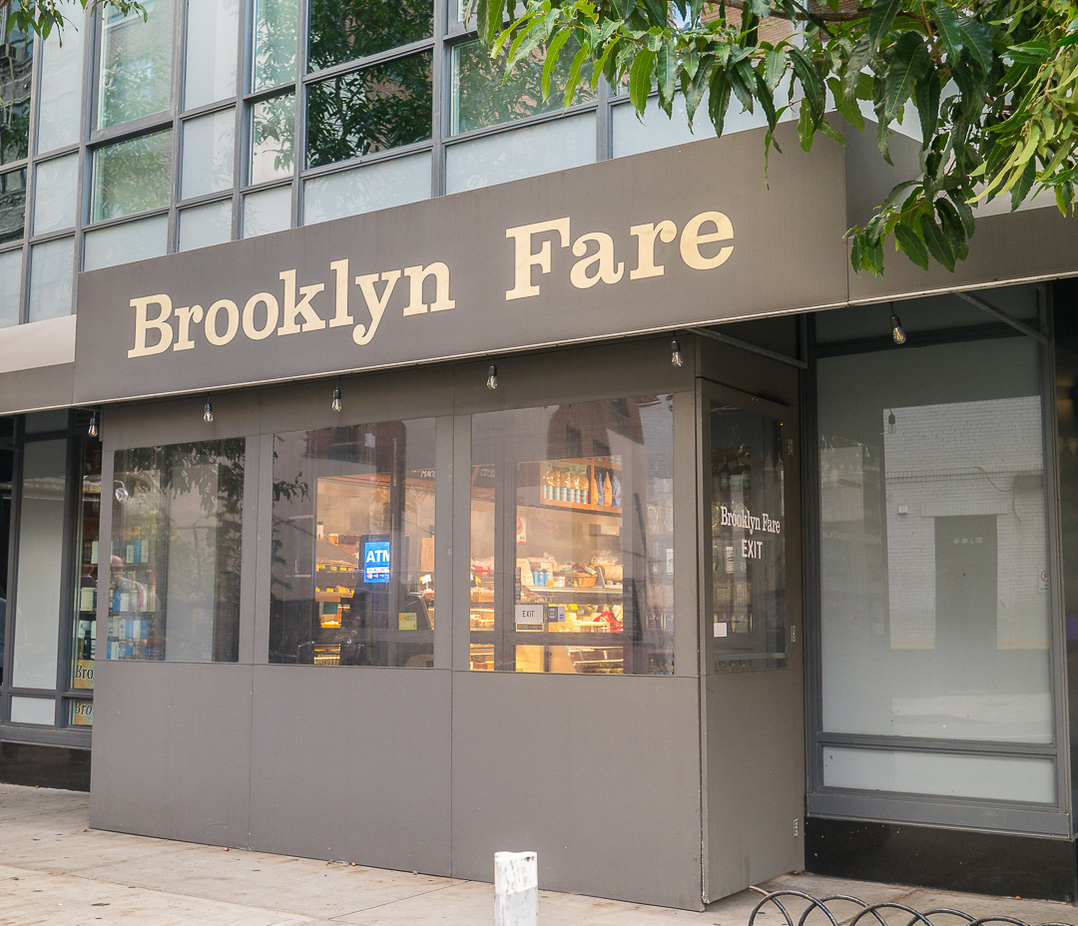 The restaurant is located at the back of the grocery store and has its own private restroom.
Unlike many chef's counter, you don't get to interact with the kitchen staff. They were quietly going about their business with efficient movements the whole night. Chef Cesar Ramirez, on the other hand, is a man of few words. He said "Hi" and "Welcome" in the beginning of the meal and that was the entirety of our interactions. He never dropped by again or waved us goodbye…not that it really matters since he speaks to the guests through his food!
I opted for their house-made organic lemonade with endless refills. It's got a great balance of sweetness and bracing tartness that kept me going back to it the entire night. Yum!
Shima Aji tartlet
The meal began with an explosion of nuclear bomb in my mouth. Tart. Smokey. Crunch from the buttery tart. Heat from wasabi. Sweetness from the fish. Not ONE component overwhelmed another which is the constant throughout the night. Super complex and fan-fuking-tastic!
Saba
Perfectly cooked.
What the sauce entails escaped my memory but it was great. The heaviness of this oily fish was countered with a tart and creamy sauce. There was a slight crunch from the kelp for a change of pace in texture.
Hokkaido Uni Brioche Toast with Black Truffle
@PorkyBelly
My breath was taken away! We were instructed to conquer this beast in 2 bites.
Smokey. Sweet. Creamy. Earthy. Buttery. Crispy. Fluffy. Perfection. I can't overstate how the balance of each component was spot on!
Norwegian King Crab with Kaluga Caviar
Divine. Again, details of the sauce for most courses escaped me.
This caviar course was right up there with
TFL's oysters and pearls
and
JR's caviar course
. Similar to JR's pairing of caviar and king crab, I get the perfect balance of sweetness from the crab and salty of from the caviar. There was also a texture contrast between the popping of caviar and the crab's softness while the sauce linked everything together with its creaminess.
Custard with Foie Gras and Black Truffle
Great.
Silky. Earthy. smokey. Decadent.
Akamutsu / Nodoguro with White Wine Sauce
Great but didn't reach the esoteric height of the Binchotan grilled Nodoguro I had at
Hayato
.
Flaky. Meaty. Slightly crispy skin. The sauce had great acidity (recurring theme of the night) to offset the slightly fatty nature of the fish.
Langoustine, Langoustine Ravioli, Chaterelles, Parley root puree, Orange Sauce
Another home run. The langoustine was cooked to perfection and it was oh so sweet and was tempered by a tart citrisy sauce! The raviolis gave it a good change in pace in terms of texture.
Cod, Masutake Mushroom, Cream Sauce
Great.
Lukewarm. Flaky. Flavorful. Creamy. Fragrant shrooms. Everything blended together seamlessly.
Duck, Hen of the Woods, Jamon Iberico de Bellota, Red wine braised Japanese Cabbage
Good. Lukewarm and slightly chewy duck. Slightly crisp skin. The side fared much better with its combination of salty, earthy, meaty, and acidity flavors.
A5 Wagyu from Miyazaki, Pickled Horseradish, Chive sauce
I never met a A5 Wagyu that isn't fantastic and this was no different. The pungent buttery chive sauce was a great contrast from the bright pickled horseradish that gives you a bit of a kick in the heat department.
Kaffir Lime Sorbet with Sake Gelee
Refreshing. The tangy sorbet was balanced with floral sweet and bitterness from the sake gelee. I really liked it.
Milk Ice Cream, Poached Pear, Caramel Sauce
The combination of the 3 elements with its contrasting flavors and textures brought this dish to a whole new level! Yum!
Frozen Matcha Souffle
Great! It was like eating matcha air. Light as a cloud. There were also some crunchy buttery bits of something at the bottom to give you another texture to the dish. Notice the nice touch in giving us a freezing cold spoon to go along with this dessert?
Pistachio Cake
Another hit.
Spongy. Custardy. Light. Flavorful. Not too sweet. FAN-FUKIN-TASTIC.
Vanilla Cream Puffs
The meal ended with the best cream puffs I ever had. Crispy exterior gave way to its light citrisy vanilla cream interior. It was a gorgeous ending to this wonderful meal.
Upon leaving, we're handed our menu inside a wax sealed envelope with the restaurant's very own logo stamped on. A classy touch indeed!
---
This was a delightful meal and a masterclass in terms of nuanced flavor balancing. In my book, this was a top meal, despite the lack of bread service, filled with greatness course after course. If that isn't enough to entice you? You might be happy to know that liberal use of luxury ingredients occur throughout the entire night.
Chef's Table at Brooklyn Fare
431 W 37th St
New York, NY 10018