We have never been to New Orleans yet (something we are planning to change in the future) but are always interested to cook Creole (and related Cajun) dishes. It is an interesting mix of several different cuisines with influences from France, Germany, African countries etc. In addition to cooking Creole dishes we like exploring the cuisine by visiting restaurants.
Creola is a Creole restaurants with two locations in San Francisco and close by to our house in San Carlos. So far we had only used it for take out and liked it a lot and so it was time to actually visit it onsite.
Overall the visit to Creola confirmed our good impression of well executed dishes and combined with relaxed, laid back but yet professional service.

Crispy Boudin Balls - Cajun style sausage made with pork belly, rice and chicken liver. Served with remoulade - Very nice start with a good emphasis on the slightly minerally tasting chicken liver

Beef Empanadas - South American style beef turnovers with black mint chimichurri sauce - good substantial dough with enough airy lightness. The mint heavy sauce brings the dish together

Creola Salad - Butter lettuce, avocado, thyme roasted pear, lavender vinaigrette, toasted pecans - simple salad but with subtle yet recognizable (and elevating) additions of lavender and thyme.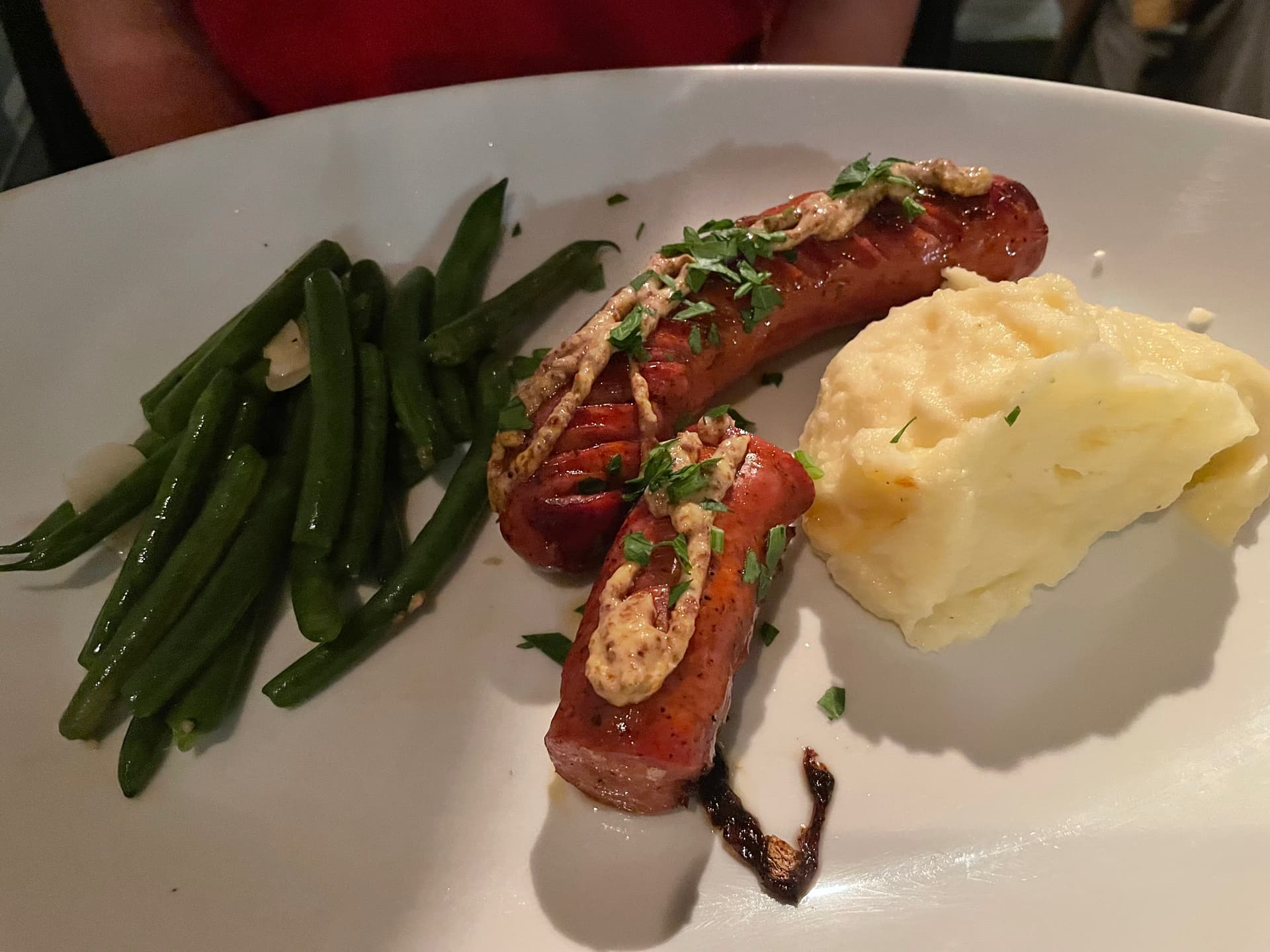 Andouille Sausage with creole mustard, green beans with shaved garlic and mashed potatoes - Perfect, simple comfort food, well executed.

Abita Turbo Dog Beer Braised Short Ribs, wild mushroom-black garlic sauce, cajun jambalaya, collard greens with tasso ham - Comfort food part 2. The short rib was tender but not completely falling apart and had a nice umami rich sauce.

Beignets with Chocolate Sauce - What is better than fresh beignets piping hot directly out of the fryer

French Silk Pie - Light Chocolate Mousse with vanilla wafer crust - actually this plain looking pie was better. Really nice buttery crust with an intense, yet airy, light, chocolate mousse and plenty of fresh whipped cream.