Um, there is no Sawtelle KazuNori location. You mean the one on Gayley in Westwood Village?
KazuNori Studio City was

today - as if they've been open forever. Big props to the guy who ordered a 6 uni handroll set.
Bigger props if that guy banged with Daichan and 1986.

for those of us living vicariously through that guy.
As well as excellent sourcing.
Yes - Lots of buying power (by sheer domination from volume) with the fishmongers.
Stopped by Secret Burger tonight in the Ghills at House Roots Coffee back parking lot. Deffo smash burger contender. Nice people too.

This looks spectacular! I would be here this weekend if I could. Damnit I love Mexican food easily one of the best cuisines in the whole world.
Beautiful. Thanks for sharing.
Was out in the valley a couple of weeks ago and did take out from furn saj: a falafel pizza and a beef shawerma with saj. as i was running errands and didn't get home for another couple of hours, the car smelled really good for about an hour and a half and everything had cooled down.
the shawerma (shown reheated in an air fryer) smelled a lot better than it tasted to me; i got a sense that hummus had been added, and the hummus had found a way to react with the other ingredients in a less than spectacular way.

the falafel pie was a very pleasant surprise. i recommend it quite highly.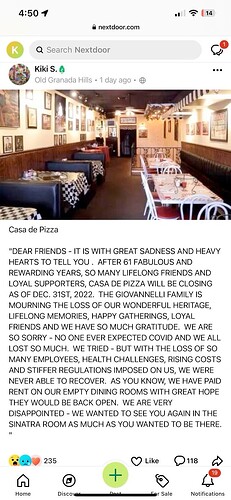 Sort of sad. It's the closest thing we've had to a neighborhood restaurant in Granada Hills since I've been living here beginning early 90's. Comments read that Vito(Owner) is a dick to work for and/or his son doesn't want to renew the lease to inherit the business. I will say, the North end of the valley continues to be ripe for a proper decent establishment to come through and make its mark.
This is a game changer for me
Mitsuwa Marketplace, the largest Japanese grocery store chain in the United States, has revealed plans to open a new location on Saturday, Jan. 21 in Southern California's San Fernando Valley, at 8940 Tampa Avenue in the Northridge community of Los Angeles. Located within the Walnut Grove Shopping Center, the supermarket will be minutes away from the California State University, Northridge campus
Just drove by the other day. Was happy to see.
Plus you can go to COSTCO right afterwards since it's virtually next door.
I first heard of this in May, in this thread:
It was originally slated to open in the Fall of 2022. The last time I made a bread and takeout run to Northridge, I drove by and the signage was up, but little else. It's not a huge location, so I don't know how much they'll have in the way of food vendors/stalls. Still, it will be nice to have a Japanese market much closer to where I live.
Woodland Hills. Not this awesome when I lived there…
Mini Kabob
Slab BBQ
Katsu Sando
Amboy Quality Burgers
DTown Pizza
Damn!
La Morra opening takeout and delivery location in Studio City/Sherman Oaks