Wait what?
Slice off some loaf, throw on pan and serve with butter?
I think dip in a custard base and then fry like French toast.
French dip brontosaurus beef sandwich, New England-style Friday clam chowder, potato salad, lemonade, blueberry pie, and coffee, from Philippe's the Original (Downtown L.A.)…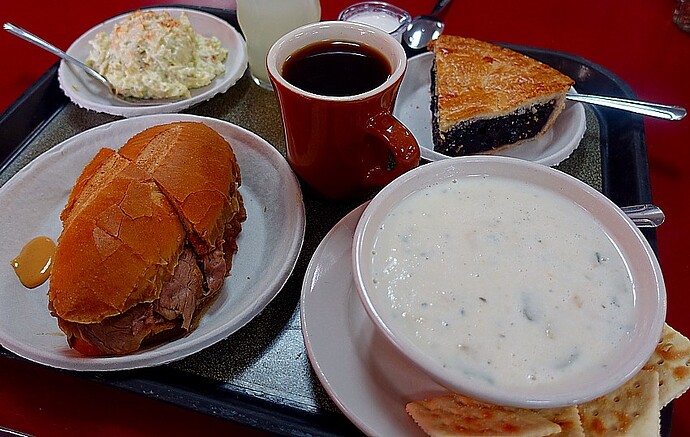 Almond essence latte (free latte manga included), seasonal fruit crostata, (and a fond recollection of loathing phone number with lots of "9's" and "0's" in them), from Balconi Coffee Company (Sawtelle Japantown)… #ludditesoftheworldunite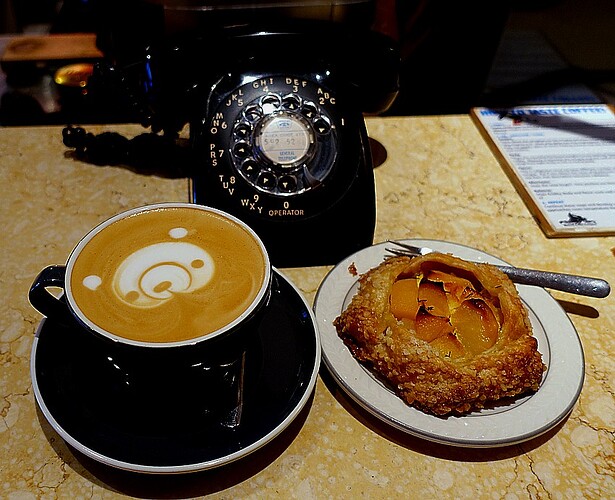 Big plate chicken with wide knife-cut noodles (新疆大盤雞), laghman hand-pulled noodles (新疆拉條子), Uyghur butter milk tea (維吾爾奶茶) and yogurt with dates, raisins, nuts and honey (老酸奶), from Dolan's Uyghur Cuisine (阿凡提美食) in Alhambra (阿爾罕布拉宮; just kidding folks)…
Some people have been talking about the pancake bread on the TJ's thread.
Circuit training at Row dtla
Paramount Coffee Project -Cortado (excellent)

Pikuniku
Rye Chocolate cake and coffee at the Tartine take out window
The belly of LA the Produce Mart
Complete the bang bang with Hayato!
Please tell me there was also biscuits and red beans and rice!
Had breakfast at Fukugawa today…how I've missed this place. Grilled saba, dashimaki, pickles, cold tofu, crispy nori, rice, and miso soup. We were finally there late enough to catch the restaurant busy for lunch…their lunch specials looked good and we finally noticed that it's originally called Fukugawa Soba & Udon…I'm guessing their make their own noodles?
Going to have to try getting breakfast and lunch next time.
Made a stop to Patisserie Chantilly for their choux…I got the vanilla and black sesame to go…going to enjoy them later.
Geez thanks for asking. I could have used a couple of those tonight after work.
Sichuan Impression - Kung Pao (extra spicy), cumin lamb.
…not as good as Chengdu Taste, but gets the job done
Pasta Sisters Bolognese Tagliatele + Burrata…pretty delicious
Northern Cafe Cumin Lamb + Sauteed Eggplant… Love this place, EXCELLENT QPR…rather hit NC than Sichuan Impression for LA proper given the QPR.
TACOS 1986 - Still the best taco i've ever had…Ask for the skramzlife special (Abodoba + Hongo (mushrooms) con todo…This is special taco hack there…I came up with it.
Skramzlife in n out order (elite god mode order) - Double Double, mustard fried, whole grilled onions + regular grilled onions, add chopped chilis
Republique Lunch Rigatoni Bolognese…OK guys, this might be one of the best pastas i've ever had (I was just in italy for a month)…it was so damn good and made exactly how I like it…even with chili flakes in it…and only $22 and a good portion. I could have had 3 of these in one sitting, try this!!
Next time I will consult you…promise!
South Bay Love

Two Guns.
I am more of a pour over guy but I dont mind some espresso based drinks. This is the Sepulveda x 5th (I think, just south of Manhattan) location. Cozy spot if you can sit down on the chairs up front and outside.
Not pictured is the sweet Dirty Harry mural that absolutely won my heart. Probably one of the best coffee joints in South Bay and the best place to get a New Zealand/Australia speciality…flat white.
Ercoles
Tasty burger!! Just steps away from Manhattan Beach Pier. The downside to this burger was the bottom bun got a little soggy. I like firm buns and I cannot lie you other FTC'ers cannot deny. Should have ate it there. Or stop wrapping burgers in foil! Cough 5 Guys cough.
Take a peek next door and pickup some bacon burger pattys.
Facing PV
Facing Santa Monica
Ichimi Ann
Damn that ume-shiso soba hit the spot tonight!!
A lot of different flavor notes!
Soba Yu
Mitsuwa Torrance. Should I get the tendon bowl?
RIP Kinokuniya Torrance and Costa Mesa
Kinokuniya Torrance is where I bought all my manga as a kid/teenager. Dragon Ball, Slam Dunk, Fist of the North Star, Jump Weekly. It's all gone. Nothin but chairs and tables. The small gift shop in its place barely has any selection.
Char Kway Teow at Seasons Kitchen
Order it hot/spicy. Not wet and soggy like others around So Cal. I enjoyed this but a little background I never been to Malaysia, Singapore, or Indonesia.
my only experiences are some possibly substandard versions in Southern California

That one from seasons looks pretty good, I'll have to go try.
Love them! One of my favorites in LA along with Cog. They have a great little spot with a kitchen in Downtown El Segundo on Main Street. Parking in the back.
When your Mom has gift excess, you end up with some of her cast offs from Têt/Lunar New Year. She brings a giant cha lua/pork roll over to me saying she got way too many as gifts.
So after a Saturday morning appointment in the OC, I run over to Little Saigon…only to the remember that the parade was on Bolsa today. Good thing it was the tail end of the show. So I parked by the Bank of America on Bolsa and Magnolia, and walked over to Banh Cuon Tay Ho and Ba Le Sandwiches. Now I've got banh uot and banh mi supplies to enjoy the cha lua…and the chowpup got himself a sandwich that he inhaled before we made it to Beach Blvd from Bolsa.