Continuing the trend of gentrifying Highland Park, GGET coffee bar opened up right across from Nancy Silverton's venerable Triple Beam Pizza. The place was nicely lit with a minimalist decor and serves a variety of coffee, pastries, and brunch items.
Upon arriving at 12:00PM, the friendly staff checked me in and encouraged me to order a variety of items to sample. Do note that this meal was complimentary since I made a reservation on Eventbrite. Thanks @raihan!

Coffee counter

Pastry case was raided by an insatiable crowd

They ran out of breakfast burritos
On the other, I dare not order the avocado toast since I want to buy a house…

mocha with almond milk
I liked it but I'm not really a coffee drinker so I can't attest to the quality…

some kind of savory potato danish
Flakey. Buttery. Cold. Good. Maybe I should've asked them if they can warm it up for me?

A closer look at the layered crust.

Cross section.

MOAH.

chilaquiles | salsa roja, tortilla chips, queso fresco, pickled onion, cactus squash, eggs
Not an expert on chilaquiles but I enjoyed it quite a bit given that each component was done well with a variety of textures were on the plate. Tasty!
However, I bit into a tiny piece of what appeared to be squash stems (forgot to take a picture). These were rock hard like pebbles…

Close up look.

chickpea frittata | garbanzo bean frittata with seasonal veggies and pickled beets
I didn't enjoy this one. When I think of frittata, I think of a silky, creamy, custardy, fluffy, or spongy texture. However, I got none of that here as can be seen in the picture below.
The heaviness of the frittata was screaming for acidity to lighten the dish which brought us another problem. The greens were simply dressed with olive oil so the only acidity came from the large slices of pickled beets. This meant that if I ate a slice of beet with the salad, it was simply too acidic. So I sliced up the beets myself and mixed it with the salad but since my slicing wasn't very even, there were either bites that were too acidic or not acidic enough…
Maybe they can julienne the pickled beets and pre-mix it with the greens?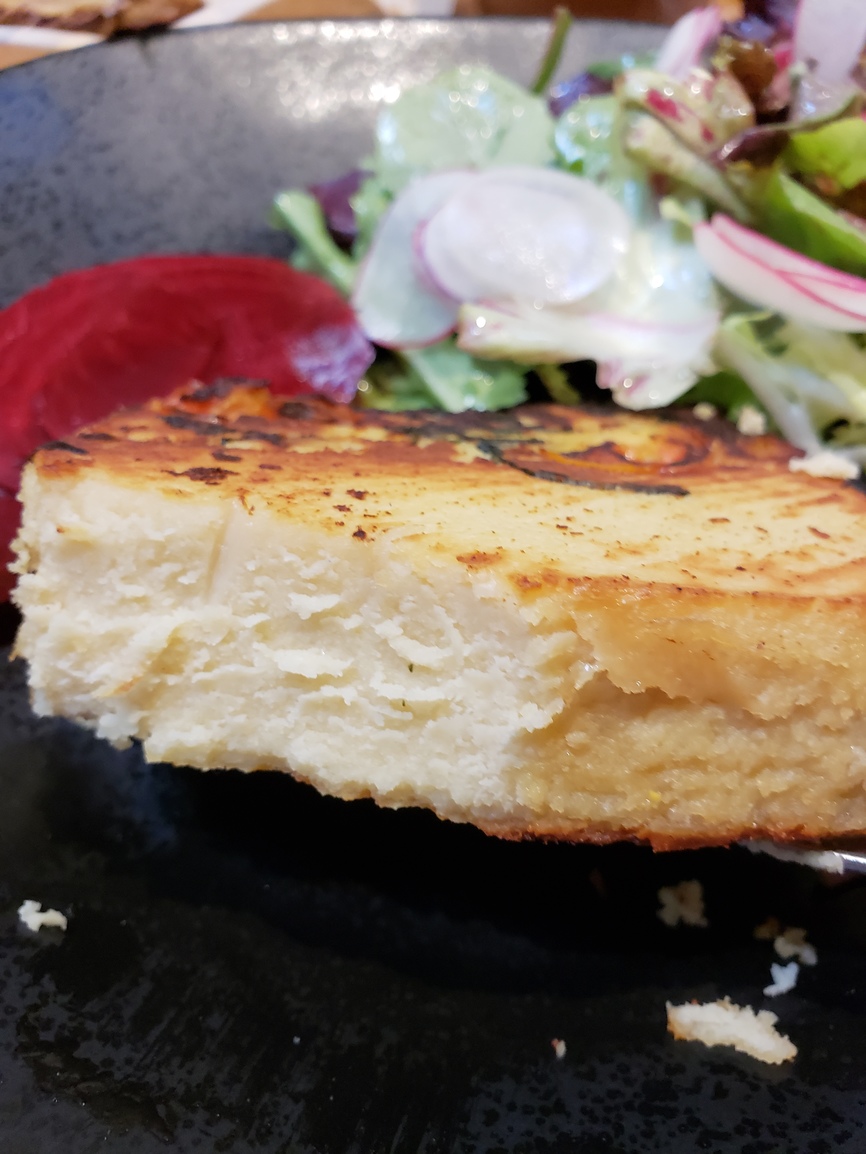 This frittata has a mild chick pea flavor with a very dense texture which made it quite heavy.

chocolate cookie
Salty. Sweet. Buttery. Chocolaty. Chewy. Rich. Good.

espresso soft serve
Bitter. Sweet. Custardy. Superb!
---
I had an admittedly mixed but generally encouraging experience here with the exception of the staff favorite fritatta falling WAY short of expectations. One potential problem that I can foresee, and experienced, was flies hovering over your food given the semi "al fresco dining" experience here due to the open setting on both sides of the building. However, I definitely wouldn't mind coming back to this hipster joint especially for their espresso soft serve.
Go Get Em Tiger
5916 N Figueroa
Los Angeles, CA 90042