Like everyone else, Gwyneth Paltrow is someone I love to hate. However, I was intrigued when I read on Eater about Goop's new ghost kitchen because of the pedigree of the chef who, according to Eater, worked at both El Bulli and Per Se.
Gwyneth Paltrow's Goop Opens L.A. Ghost Kitchen - Eater.
I've actually never been to either El Bulli or Per Se, but I can say that Goop Kitchen was really good, despite the fact that the packaging and branding is a bit cringe-inducing.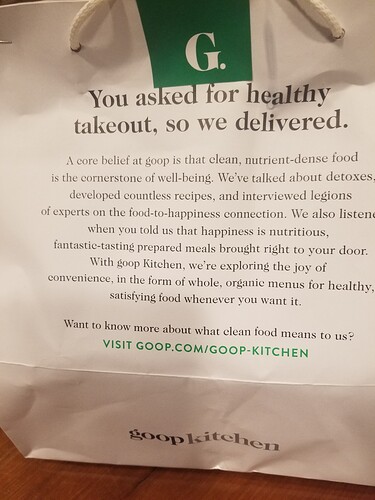 For those of us who think Gwyneth is ridiculous, carrying around a bag that speaks of "detoxes" is, well, embarrassing. If there was an option for a non-Goop bag, I would certain check it.
On to the food. I ordered the Goop Teriyaki Bowl, which was grilled Mary's organic chicken, umami rice blend (shiitake, brown and cauliflower rice), marinated kale, avocado, house-made furikake, Japanese pickled cucumbers, Gyocha's pickled ginger, and a side of teriyaki sauce. Everything was delicious and you can tell they are using quality ingredients – this is not your every day quick serve food – and it was just more "chefy" than what you would, for example, pick up at Erewhon (which seems similarly focused on "detox" food). I would suggest, however, spending $3.50 for extra chicken because the protein portion was a tad meager.

For dessert, I got gluten free chocolate chip cookies. I expected them to be awful like most gluten free products, but they were fine.
Would definitely order from Goop again, although I wish they would expand their menu some (which may be difficult for a quick serve ghost kitchen). And dump those cringe-inducing bags.
P.S. Only available for delivery on the Westside.