nice article. i've been waiting for his more or less monthly updates on la eater that are usually out by the 25th of the month.
Thanks Barry. The April update was later than normal, so May has been dropped in favor of a June update, which should arrive sometime next week.
It's nice to know someone is reading them.
heck yeah, even if more of the new stuff seems to be originating in the ESGV nowadays.
Data analytics seems to have worked even in spotting this trend. Less than 2 years ago Clarissa Wei wrote this article describing the trend based on my list of restaurant visits. Some pooh poohed her findings saying the majority of new Chinese restaurant openings were still in the WSGV. I don't think you can say that today.
i could see it coming as well, given how the new money was buying up properties over there. i merely lament it as a resident of the WSGV (kind of - actually i'm up by the rose bowl now) and a large portion of my food posse already lives west of DTLA and already drives 30-45 minutes one way just to make it to the WSGV. and having started visiting one new place a week four years ago, i've pretty much covered all the places i've wanted to try in the WSGV. so now i'm starting to explore more of east LA & K-town.
I noticed it earlier yet.
"This, along with further migration, has many speculating about a time in the not too distant future when the epicenter of area Chinese cuisines will move significantly to the East. That's right Westsiders, if you think the drive for quality authentic Chinese food is long now, just wait a few years. Our advice?, do it now, while you can."
I can see how you've pretty much covered the places you've wanted to try. Same here. I also have to admit there just haven't been nearly as many interesting openings over the past year or two. Imitation is the sincerest form of restaurateuring. That's why I've covered the coming of the chains, not that they're that great, it's just a different angle. Plus, as TonyC put it: "scribes gotta eat."
another trend seems to be fewer mom & pop places opening and more investor-driven or successful-chef-expanding. but this also could be a consequence of nouveau rich mainlanders coming with money and opening restaurants. i'll let others confirm or refute the observation.
it's with much regret that i acknowledge that of the fairly recent openings in the (sort of) WSGV that excite me, half of them are the new burmese places. then there's lao xi noodle house - and they're in arcadia. shanghai bistro ne old shanghai kitchen in rosemead. and maybe best noodle house.
Yeah, that is very much a trend, with the arrival of chains being an element of that.
Pretty much the same for me as far as "recent" openings. I really like Lao Xi Noodle House and what is sort of its polar opposite, Shanxi Noodle House, both for the Shanxi-style items and the Burmese places. I also liked the newer Shaanxi-style places in the WSGV, Xi'An Tasty and Shaanxi Garden. And I love the Lao dishes at AJ Asian Kitchen, but, that's been about it over the past 18 months or so.
and AJ is in elmonte, which is to me borderline WSGV. i've been meaning to go back after the owner told me that he intended to add more authentic laotian items to the menu instead of playing it safe with mainly thai cuisine.
i have yet to make it out to SNH for reasons previously referred to. i did like xi'an tasty but i dinged them for having seemingly smaller portions and being slightly pricier to boot. they may offer a few things i can't get at liang's, but liang's has become a personal favorite. shaanxi garden seems to have slipped under my radar. i just made a note to try them soon.
i made to to shaanxi garden for lunch today. i'd rank them up with xi'an tasty.
steamed noodle with sesame sauce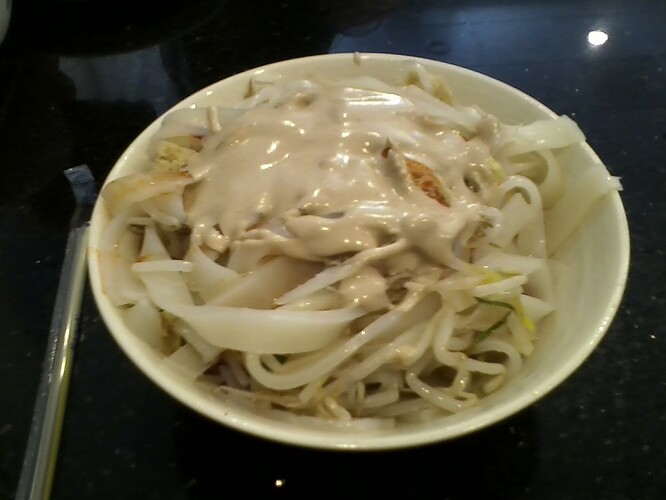 mung bean noodle - warm, which i wasn't expecting.

biang biang noodles - very good

bianG bianG.
and the place next door
they spelled it the same way in 3-4 other signs taped to the window.
Yeah, Spicy Crab is in "remodle." I had to bump that to next month's update (or month after, if re-opens or changes). I didn't see a stepladder in view behind the door, so it might be legit.