I'm mainly going for the chinmi. Should I trust them for recommendations on what to drink?
regarding sake, from what i remember or heard, they do know what they're talking about.
I just realized that I had confused Kinjiro with Shibumi, which is the place with the crazy aged chinmi.
I would trust Shibumi on the sake and cocktail recommendations for sure.
Maybe you have to order right, but I think Kinjiro got its groove back. I'll post details later but I had one of my top izakaya meals ever.
kinjiro or shibumi?
you would be missing out if you didn't order whatever fish they have on special for the night, the smoked salmon trout, and the beef.
My favorite thing at Kinjiro is the uni, scallop, crab dish.
My favorite thing at Shibumi is the salmon/trout.
After some discussion with the waiter I got the Tamagawa Muroka Genshuj, the Seitoku Genshu, and the Chrysanthemum Meadow, three very different sakes, all with unusual flavors.
Ordered the trio and one each of the others.
Oyster was great. Both squids were good, but had enough of the ink one after I ate maybe half.
Smoked radish pickle and cream cheese didn't sound appealing but it was delicious.
Roe was fantastic. Glad I had the whole serving to myself.
Octopus didn't go great with any of the sakes so at the waiter's recommendation I also got a Black Dragon, which was more conventional in flavor.
Salad was great and refreshing. I may try to duplikcate it at home, we often get mizuna and daikon in our CSA box.
This was great. Needed rice. The pesto? toast seemed out of place.
I was too full to try the black sesame dessert, but tried the Tamagawa Time Machine, which is made according to a 1712 recipe. If I'd tasted it blind I would have guessed it was a vin santo from a grape with little character. I wouldn't order it again but it was fascinating to try.
The server (young guy, not Japanese) was very helpful, really added to the experience. The place was busy, most of the tables turned over while I was there. They seated a couple of walk-ins.
thanks for the review! i'm glad they're finally taking walk-ins.
Also, contrary to previous reports, the space didn't seem like they could fit in any more tables.
Hi @robert, thanks for the report.
Honest question: Did it seem like a "happy" restaurant?
Tamagawa makes good stuff. The bottle they served is likely the more common "red label" which is pretty good, but the alternate "white label" is even more brash and exciting (yogurt notes, savory umami bomb, and tones of goat cheese and even Epoisse in a wider glass). Very cool they served the Tamagawa at room temperature. I like the Tedorigawa Yamahai Daiginjo too, has a very interesting creamy texture.
The Time Machine is freakin awesome. Liquid umami in a glass but not cloyingly sweet. It's also a great drink to have with foie gras (especially with some balsamic reduction), and Single Thread was one of the early adopters to pair with foie prior to the re-ban. A few drizzles over vanilla ice cream is what Philip Harper (master brewer) recommends. I've also taken it to Hopscotch (Oakland) to pair with their fantastic desserts with stellar results (so good with their olive oil cake and their signature donuts and butterscotch cream).
I suggest trying Shibumi, their sake selections are more eclectic, especially now with them carrying a good range of nama sake, to pair with their house made chinmi. Also on my to try list next time I come down.
Yeah, I made a reservation at Shibumi when I realized that was the chinmi specialist.
The Chrysanthemum Meadow was better when it warmed up (which the server recommended).
The majority of customers were speaking Japanese, and some of them were over 60.
Interesting interpretation of smoked radish pickle cream cheese.
Here's a more straightforward version I had in Tokyo almost a year ago.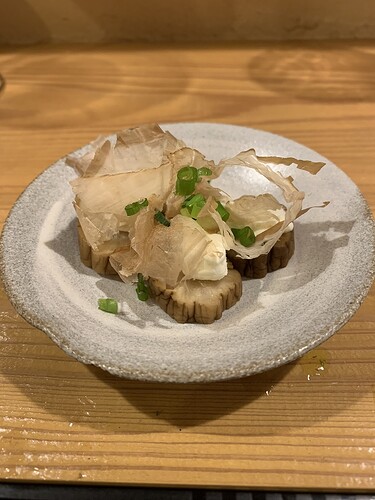 Secret ingredient for next level Japanese potato salad: Add iburigakko (diced between small dice & brunoise). It will impart umami, acid, smokiness, and a pickly crunch.