Oliboli donut this morning
Strawberry donut using Harry's Berries
Fried fresh to order
Photo taken on a napkin

Here's their menu: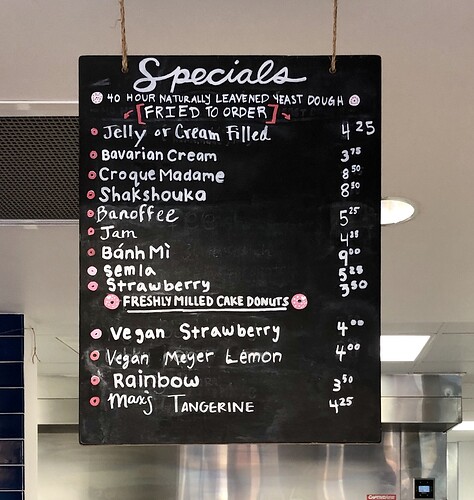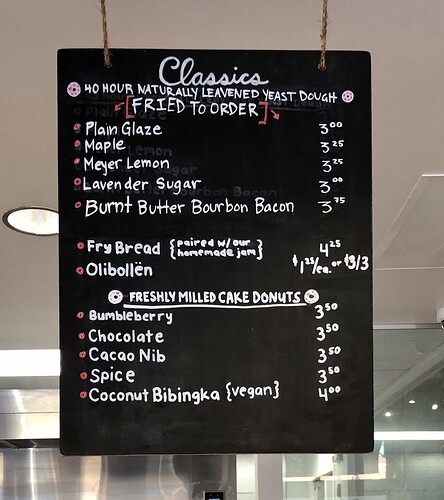 it was really good, i love their donuts, i don't know if Harry's Berries would have made a difference since they probably add more sugar but it's a great underrated place.
same here
better than Sidecar (IMHO)
My son came home bearing gifts.
Chocolate from the train station on the Paris side of the Chunnel. Best chocolate I have had since last time I visited Europe.

Not food-related, but:

From the British Museum. We've never even discussed the Lewis Chessman, but I've loved these since college. It's like my son and I have a cosmic bond or something.
Is that a white chocolate Lewis Chessm[a]n?
Thanks for the report @Hungrydrunk. Some of those flavors though…
Have you tried the Shakshouka Donut or the Banh Mi Donut?


Any good?
I haven't tried those but those are their breakfast type donuts, more on the savory side, i've had the Croque Madame which is basically a non sweet donut topped with ham, cheese and a fried egg. It wasnt bad but not something i would order all the time.
Lol, stop making fun of my typos. It's not white chocolate, but that is an excellent idea! I'm texting the Museum with your brilliant suggestion.
Had a nice weekend, squash blossom pizza at Pizzana, BBQ Cod at Brent's & Mandarin Deli Northridge…
My favorite sando there. I've started getting extra meat in an effort to cut the heat a bit. Love the bun, so good
We drove by at about 7:15 and saw only one party.
And from your image it appears you were in the seat by the window.
Must be the J_L fam!
We went to Meizho Dongpo (because we had stuff we needed to do in Westfield CC Mall) which was quite good.
I feel a need to show some love to the Chinese restaurants at this difficult time for them.
Yeah, we have to head to upland Sunday so we're going to do a crawl.
Not sure where to go. But Shanghai Dumpling House is on this list.
If you have time stop over at Sandbox Brewery in Clairmont. They are doing some fun stuff. They have a beers they call juice boxes and some sour punch type stuff. People are trading this like crazy.
Living it up a little this week in case I have to stay at home two weeks straight, coz you never know.
Asahi to start
Otoro and Kamatoro (Sushi Kei, Millbrae)
Finishing off the evening with carbs and stuff, uni ikura shoyu zuke and sukimi toro Kaiden don
Kokuryu "Black Dragon" Junmai Ginjo, revisiting a semi classic
YOLOmakase at Kusakabe, shirako/uni/shaved black truffles