Well, at long last… the trip is complete, and it brought up some unexpectedly complicated feelings about the US history with the islands, the commodification of culture and a whole lot of other "not very vacationy" thoughts. It also showed me, as a first time visitor to the islands, just how unbelievably gorgeous they are, and the HUGE resource we have at our disposal in them, and left me with wishes to return soon, but in a very different way.
I got suggestions from folks on HO, FTC, as well as just gleaning info from past threads. If I hit upon your suggestions and don't credit you, please know the oversight isn't personal. I simply didn't keep track of who pointed out what.
The trip did not start auspiciously. Our 4am Lyft ride became a 4:10, a 4:15, and a 4:20am ride as driver after driver cancelled on us, and when one finally accepted and began to make his way towards us, he made a wrong turn on a route that would have delayed him to a point we were no longer comfortable with. So, cancel one Lyft and decide to just eat the airport parking charges.
Thankfully, the flight was NOT Southwest, and didn't depend on a plane from anyplace that was weather affected, so arrival was as pleasant and uneventful as possible. And the macadamia nuts Hawaiian airlines gives you get a hearty thumbs up from me. My partner was also quite happy with the mai-tais. The tram to the rental car depot at Kahului airport is Disneyland levels of 'charming'
It was about noon once we got the rental car. The initial plan was to hit up Tin Roof for lunch, but as it was Xmas day, they were closed, so we stopped at Tamura's Fine Wines for some poke!
Spoiled for choice, we went for the fried garlic and the 'sweet 'n spicy' along with some furikake rice.
(not pictured, a Tamura's tshirt with a cool octopus logo I liked that I bought, and octopus flip-flops purchased by my partner. 2 of the 3 non-food souvenirs from this trip)
Dollar for dollar, this was probably the best meal we had all trip. I could have gone back here 3 different times just to try the different varieties (salmon, crawfish, all kinds of goodies and variations) We ate on the bench outside in the lovely weather. How nice.
We stayed at the Sheraton Ka'anapali resort. If the resort vacation is your goal, this seems like a darn good one. The beach is stunning, pools are plentiful, towels, cabanas, lounges, etc all ready and waiting. If sun, sand, and beachside food and drink are the entirety of your priorities, one could happily set up camp here for a week and never leave the grounds. There are 3 restaurants on premises: The Cliffside Grill (casual beachside dining), Coral Reef (still on the beach more moderately more 'indoor' and formal), and Teppan Dan, a teppanyaki japanese grill that we neglected to make reservations for, so were unable to sample. But, eh, I've been to a Benihana's before.
Xmas dinner was at the Coral Reef, for lack of better options, and the menu, being Xmas, was a prix fixe of hawaiian rolls (natch), mixed green or kale caesar, 8oz filet mignon w/ lobster newberg sauce and some green beans as a main (there was a veg option too. Neither of us do that), and a red velvet with pandan pannacotta as dessert. I neglected to take pictures, and that's fine. This meal was… fine. The steaks were well prepared, the rolls were soft and sweet, the caesar had fried tomatoes rather than traditional croutons which was interesting, and the dessert was forgettable, but it was good enough and we were tired from traveling and just happy to have a nice dinner and a comfy bed. The meal itself was around $100/pp not including some pointedly "not weak" drinks, and was good enough at that price when you consider the 'resort restaurant' markup plus the 'holiday dinner' surcharge.
The next day was the Road to Hana, which had us driving around the eastern half of the island over the course of the day on narrow, twist-back roads that make some spots in Big Sur look like 8 lane interstates. The scenery is AMAZING, going from plains and cane fields to tropical mountain rainforest with an unbelievable spectacular waterfall seemingly every 1/4 mile. Then down to arid, rocky coast that seem lightyears from the sandy, accessible beach strips that are scattered up and down the island's western coast.
Food on the road is somewhat of a crapshoot. Lots of places that look like they might be great, if only they were open. Tiny shacks slinging burgers and dogs, bbq pork ribs, the occasional poke bowl, and for some reaons, a number of thai food carts with the usual pad thai, pad see ew, selection of curries.
We went for the ribs. Not cheap ($25 for a plate with the gummiest rice and limpest veggies you ever did see) but substantial, smokey, and stayed in the hotel fridge for the next couple days as impromptu snacks.)
The next day was a visit to The Surfing Goat Dairy. The goats do not, as far as I know, actually surf. They DO make delicious cheese, though, as well as truffles with goat-cheese based ganache fillings.
A sampler. The small balls in the cup are goat mozzarella soaked in garlic olive oil to ripen. We ended up taking home a jar of the 'rolling green' (garlic chive), and ate the entirety of the 'garden delight' while we were there (That, the leftover ribs, and some hawaiian rolls made a pretty good sandwich.)
The aforementioned truffles: The ganache is made w/ goat cheese. Very smooth. very slightly tangy. Delightful.

And one of the lovely providers of the raw material: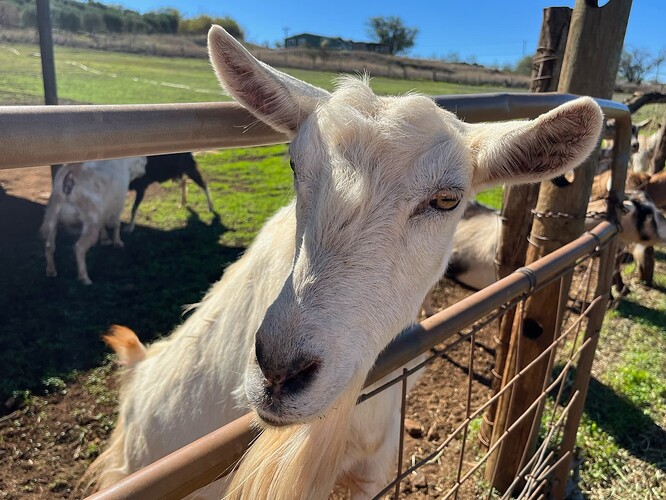 The next day was pool and beach time. Mai Tai's were plentiful, beach noshes were had, and very little was accomplished, capping off absolutely randomly (mostly because we liked the name) Macadangdang, a sort of upscale Japanese/Filipino fusion as they bill themselves. They are exactly the type of place their website makes them out to be. Upscale. Well-versed bar-staff. We had a Sisig appetizer that was served lettuce-wrap style, and the sisig was enveloped in a fois-grois butter / lemon aoli sauce that made the whole dish SO DAMNED RICH. The lettuce was actually pretty welcome. We followed that up with some standard sushi which was perfectly fine but nothing to write home about. I will say the uni that night was EXCELLENT, so points for that. If one is in/around Ka'anapali and wants what they have on offer, it's not a bad choice. Reservations recommended, esp if you want the sushi bar.
The next day turned out to be one of the highlights, both food-wise and just, well… you'll see.
A last minute google search suddenly showed a Maui Ku'ia Estate Chocolates, and they hold both tastings and tours, as well as a shop and bar. We went for the tasting, which was fun, informative, and absolutely delicious. And hey! I like guava! Who knew? They ship domestically and will wave shipping fees for orders over $100. They pack in non-condensing cold packs so they promise your chocolate won't be out of temper when you receive it.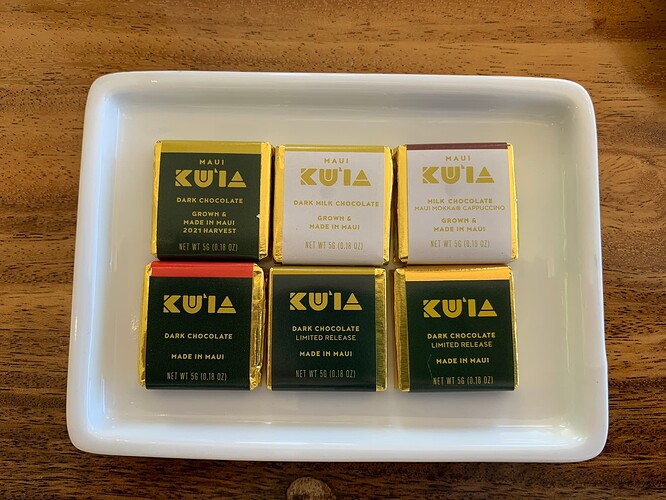 A late lunch at Star Noodle meant a bowl of Star Udon (a lighter pork broth than tonkotsu) for me and the Lahaina Fried Soup (great charred flavor on the house made rice noodles) for Lady Lectroid. The drink is a 'Ginja Ninja' which she pronounced 'tasty and refreshing'. (It should be noted, I took half my soup back to the room. It gelled solid in the fridge and reheated the next day with almost zero noodle degradation. Still springy and chewy! )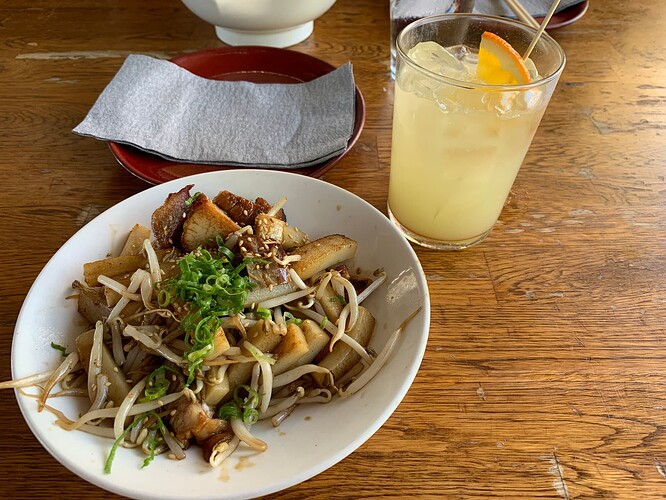 After lunch came what was probably the highlight of the trip, a sunset cruise through the Maui Channel which, this time of year, is full of migrating Humpback whales. We booked through Sail Maui and had a teriffic experience. The price includes about a 2-3 hour cruise, plus a perfectly satisfactory dinner ('island teriyaki' chicken, slaw, mac salad, Hawaiian rolls and butter) and a reasonably stocked open bar. A few hours, relatively calm seas, and, well, just look. The sunset off the Lanai coast:
There's also video of whales breeching, blowing, and tail and fluke slapping, but I don't have the bandwidth at the moment to pull stills. Take my word for it. It's spectacular.
The last meal of note was at Tin Roof, a great local lunch takeout only place up near the airport. Simple, SUPER tasty. We got the Mochiko chicken (Animal style!) and an order of garlic noodles and what was probably the best QPR meal we had.
That was capped off by a visit to the aquarium, which packs a lot of sophistication and information into a small footprint. It also has a 3D cine-sphere show featuring Humpbacks which is really quite good if you're into that sort of thing, which I am. It also provided a whole plethora of information about Hawaiian history and in particular, the ruination of Kahoʻolawe, and how the US military used it for target practice for 4+ decades.
Which, unfortunately, brings me to the two biggest misses on the trip, food wise, on our last two days. The days, thankfully, were spent lounging and beaching and otherwise acting like folks on vacation, which was lovely and much needed. One of our dinners was a place called Leilani's on the Beach. I booked this when I failed to get a res. at Mama's Fish House, and grabbed this because it was available.
Leilani's is essentially a resort hotel restaurant that happens to be at the back of an adjoining mall. Walking to dinner felt like being in Santa Monica or Glendale. My own fault for not investigating more thoroughly. Yes, it's on the beach, and we watched the sunset from our table, but the atmosphere just felt cheap and tacky. It committed what I think might be the worst sin that sort of place can commit: it made me feel like the WORST kind of tourist. As for the food: I had sesame crusted ahi, cooked properly, but the crust felt like it was composed of 50% salt. The partner's oven roasted snapper ALSO had an herb 'crust' that largely seemed to be salt, and worse still, they bungled her order so it arrived a full 15 MINUTES(!!) after mine. Her entre' was comped, but it didn't help the gross feeling I had at patronizing the place.
And that leads us to the Feast at Lele, a 'luau' style show which I assumed was mandatory for anyone visiting the state for the first time, and which I had been primed for ever since Greg Brady stole that cursed idol way back when on the teevee. If Leilani's made me feel like a tourist, this dinner theater made me feel like an outright colonizer, nodding appreciatively at 'quaint native dances' and displays that had been stripped of any context. Along about the third course, my partner leaned in and said "I feel like a character from The Menu. Like I should be punished for contributing to this." The food itself was… fine? I guess? Some pork, some salmon, a few dregs of poi (lest the customers be too challenged). The Samoan Taro buns with coconut syrup were quite nice. And the drinks (various rum/pineapple combinations) were partner approved. And that's all I have to say about that.
All told, I had a FABULOUS time, and what DIDN'T work about the trip probably says a lot more about myself and my partner than about the place. If you try new experiences, you are bound to find some that are not your thing. So valuable (if somewhat expensive) information was learned. We both agree, our next visit to the islands will probably be staying at a friend's place on Kaua'i, which sounds like more our speed.
Many thanks for all who contributed suggestions and advice, both on HO and FTC (this post will be in both places)
As a final pic, this showed up from our hotel balcony one day, despite no rain, because Hawaii just has this stuff lying around and every corner you turn is another postcard: