Perhaps instead of "indoor" its "tandoor" dining.
Ha! Good one! We still have Little Door, though. Slanted Door never got to open in L.A.
I keep forgetting that in the post buffet the Kerala dish curry is made with salmon which just doesn't work for me. Arg
Took 9 people there after the Arsenal match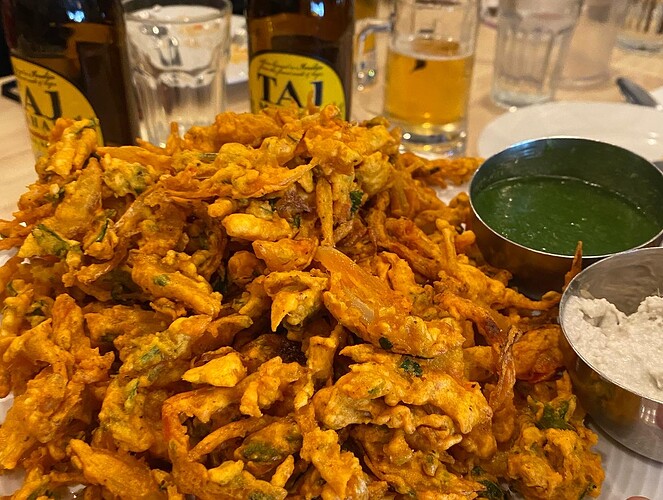 Mayura with a Kerala native is so much fun.
Bhel puri, uttapam, eggplant, panir dosa, shrimp curry . Fish curry and plain dosa were nice too
the appam with curry, pictured two posts above, is my favorite thing there.
ya… love it… though i preferred the white fish they used before… i think it's salmon now
One of regularly visited restaurants still. After a really nice pottery class experience right by vespetine
Loving their Bhel Puri every time now
Spicy uttapam is fermented kind of fun . Perfect with that coconut
Puri and chana is great but needs to be hit hard with fresh onions and green chilis.

Did a beer tasting and Taj Mahal won.
Had 2 ok biriani that other folks at the table couldn't live without. Was a lovely reunion with the fam for once. This kid has been going there since da belly
Saffron is just up the street

I love Bhel Puri. I will have to swing by to try this one, but is there anywhere else in LA that has a great Bhel Puri as well?
I like it at Rita's in Santa Monica but I wouldn't put it on Mayura's level.
Sorry, is Taj Mahal another Indian restaurant?
Yes, on Pico, across the street from the Landmark theater (just west of Westwood & Pico).
Just a brief off-topic… Thoughts (for anyone, but maybe particularly for @J_L and @Nemroz) about Jaipur vs. Taj Mahal?
Also somewhat off topic - and I am too lazy to start a new thread.
Just had a freaking delicious Indian meal at Tandoori Eats on Exposition in Palms/Culver area. Everything was fresh made - juiciest tnadoori I have had in ages.
Very impressive.
https://tandoorieats.com/
Oh, not very far at all! I'm too lazy to drive down to Lawndale for tandoori, so I'll def try this place. Thanks for the info.
hope you like it. We loved it.
Which place in lawndale has good tandoori?
Is it Al Watan and/or Al Noor? I think I've been to both, but it's been eons.
There both and both are good!
oops… auto correct. Beer tasting. Taj Mahal was our favorite