Contramar

Right off the plane, into my room, and a brisk walk over to Contramar to try the famous tuna tostada. They let me have a sampling of all four on offer. The shrimp, crab, and octopus versions all felt like identical triplets of each other. But that tuna…I should have just gotten a plate of four. It really was that good, with a nice balance of texture and flavor. And the place was really buzzing at 5pm, thunderstorm and all. I need to figure out how to make these at home.
Rosetta
Was really looking forward to the reported and lauded blend of Italian and Mexican cuisines. It was pretty underwhelming. The starter of chicazapote, peppercorn, and hoja santa tasted just as I typed it - nothing more and nothing less. The inconsistently shaped tagliatelle with chicken livers and sage were swimming in a puddle of sauce with nary a hint of sage. Much like the starter, the fruit lasagne was basically a prettied fruit plate that did not hold its shape when cut into. The thin coconut ice cream really didn't add much to the dish. The room was really pretty. That's pretty much my take away.
Panaderia Rosetta
Grabbed a guava bun and a cardamom bun to go with a perfectly drawn cappuccino. The guava was a bit too sweet for my taste. The cardamom was the winner with a rather strong punch from the spice. Less subtle than the cardamom buns of Stockholm, but just right with my morning coffee.
Biko
Good service. Kind of sterile room. And an overwrought tasting menu who's ambitions really didn't deliver. I can't remember the last time that I had a meal that was so fussed over that wound up being so un-photogenic. Aesthetics aside, the food had no impact at all. Well done slices of wagyu. A burnt corn broth with a black soggy cookie floating on top. A nicely cooked piece of sea bass that sat upon some squiggles of piquillo pepper that had all of its flavor taken away (not to mention the "beef" sauce that didn't taste like meat). The weird coconut dessert that tasted just like a bottle of store bought curry powder. The two bites in the entire meal that were fantastic were two breasts of quail. It is unfortunate that they happened to be sitting in a tepid pool of tapioca that tasted like that green drink that people consume when they are going on a health kick. I had been on the fence about this place on my last visit. Can't say I'm regretful as it was misguided and odd, rather than bad. I would not return. Can't imagine that I would ever recommend this to any one either.
Maximo Bistrot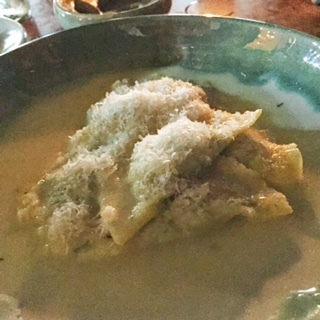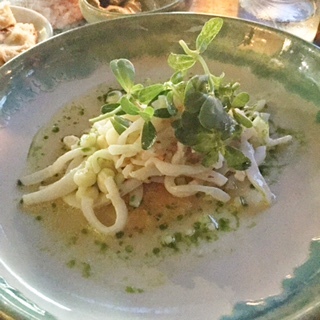 Aside from Pujol, this was the meal that I was not looking forward to experiencing a second time. First impression: it was pouring rain and I was literally seated in the worst table possible, next to the door in the patio. More secluded tables with space heaters were offered to other diners. Due to said rain and my overwhelmingly good meal on my last trip, I relented and proceeded to order. To me, the magic from two years past was absent. I remember having a delicious raw seafood preparation last time and was hoping that I could get a similar dish with their calamari ceviche. Each bite yielded a single note of acidity but not much else. Nothing on the entree section really moved me, so I fell back on my default to pasta. Ravioli with porcini and kale sounds very much like something I could get back here in LA, but wanted to see what this chef might do with this. Just like my pasta at Rosetta the night before, the pasta was swimming in a puddle of watery butter sauce. The pasta was certainly fine, but not much wow. What impressed me about my first visit to Maximo was the French technique employed with decidedly Mexican ingredients, resulting in food that would not be out of place at a Cal-Italian place back home. The menu did not really excite. It did have something different than last time: truffle supplements and a whole section of up-charged Wagyu cuts. One thing that that did not change is the brusque, disinterested service. Not a lot of smiling up in the joint. It just didn't feel special at all this time.
El Hidalguense

Easily the best breakfast I've had in a while, considering that I am not much of a breakfast person to begin with. A quarter kilo of lamb barbacoa (no bones and a little bit of fat, per my servers suggestion) with a disc of griddled cheese with chile that I scarfed down too quickly to snap a photo. I have yet to have barbacoa of this quality anywhere back home. And the place was fairly packed at 9am. I'd go back here in a heart beat.
Pujol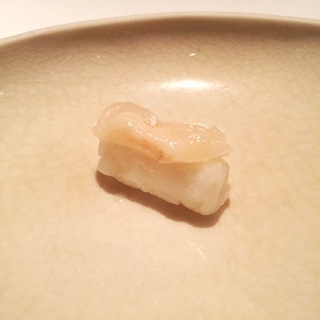 My first trip to Pujol two years ago was so memorable that I made it a priority to visit again on my next trip. This meal exceeded my expectations and was an even better experience. Some of the highlights: rabbit in pepian sauce; huitlacoche with chicken livers; uni tostada with peanut sauce; and that magnificent mole that had gracefully aged to 1053 days by the time I got there. Even more stunning was the array of desserts. On my first visit, you could order one of three choices. This time, the table was strewn with an assortment that included a really fantastic avocado ice cream, a cookie with chamomile cream, and what might be the best churro I've ever consumed. And to top it off, a brief tour of the kitchen afterwards which added to the amazement as it is pretty small considering what the crew creates in such limited space. Suffice it to say, I'd love to go for round three one day.
Yuban
I had read a few good things about Yuban. Despite my overstuffed belly from Pujol, I wanted to go and try a couple of dishes and see how they faired. The place was pretty empty, which was odd because my server advised me that most of the mole dishes had sold out already that night. Not having that much of an appetite, I decided to try a couple of smaller plates: some Oxacan cheese marinated in olive oil and hoja santa, and some octopus in chile ajo. The cheese was good, in the same way that I have been known scarf down a container of those little marinated mozzarella spheres that you can get at Trader Joes. The octopus, on the other hand, was just not cooked well. It was rubbery and the membrane around the tentacle was kept slipping around as I attempted to cut at it. The sauce it sat in was pretty unremarkable. It was a very charming room, but the food didn't really cut it for me.
Tlayuda at Chapultepec Park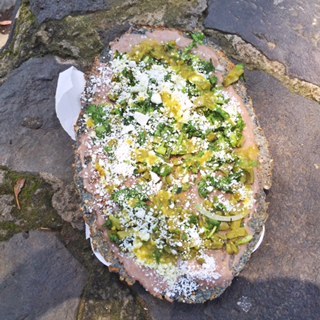 Just a little in between meal snack on a gorgeous day outside of the anthropology museum. Really hit the spot while I sat watching the Voladores flying through the air above me.
Dulce Patria

One of the silliest meals I have ever experienced turned out to be one of the highlights of the trip. The place and the people are straight out of the 80s. I should have taken a photo of the table setting itself. The large red water goblets. The decor was a trip as were the customers with pastel colored sweaters around their necks, straight out of the Preppy Handbook. But the food. And one might ascertain from the photos, everything is stylized to within an inch of its life. And it is delicious. The starter of assorted quesadillas, filled with epazote, huitlacoche, squash blossoms, and machaca were fantastic, as were the accompanying salsas. But the main dish, duck in mole negro, might have been the single best thing I ate during the entire trip. I have no idea why the rice on the side was purple. It could have been orange or grey or whatever. It was cooked perfectly as were the assorted miniature tortillas on the side. The one bizarre note to the meal was their take on cafe de olla, which was topped with some cold, thick foam that tasted like some indistinct tropical fruit. However, the churros with three kinds of chocolate (ganache, ice cream, and hot) was also fantastic. Service at the table was great, although the snootiness at the front desk was a bit much considering how preposterous the conceit of the place is. I would just surrender to the absurdity again just to taste this appetizing food again.
El Moro
Thought it would be nice to have one last dish of churros on my last day. My first time to El Moro, which was pretty empty in the morning. A hot cup of cafe con leche, some freshly fried churros, and a cup of chocolate to dip them in. Fine by me any time.
Mercado Roma

Pleasant enough place, akin to many food halls here in the States. Really nice guava/ginger/chia agua fresca from Lo Diras de Chia, and a really solid plate of enchiladas verdes con pollo from Lobo Gris. Just as fine an ending to a really great trip. I'm ready for round three, but next time, I imagine a longer stay with excursions to Puebla and Oaxaca in the mix.