Shrimp and shredded veggies, dipped in batter and fried together.
Couldn't help but go last night. There were three vendors last night. One had a trompo, one might've been Takuma's burgers, and I don't know what the 3rd one was serving. I went to the one w/ the trompo.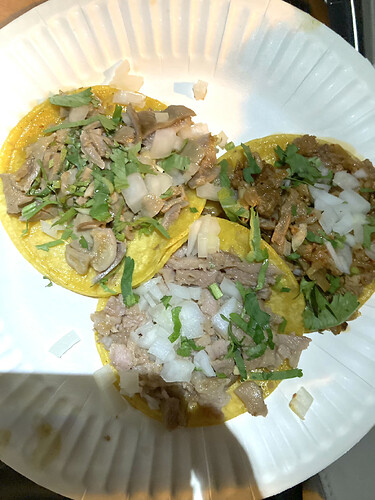 Al pastor (I don't know if they cut it fresh or reheated b/c I was looking elsewhere), stomach, and suadero (looking at the suadero). Not pictured, chicken taco, chicken quesadilla, and the biggest piña aqua fresca you've ever seen.
All really delicious. This may sound bad, but I'm not quite sure I could distinguish the suadero from the stomach. One of them was a bit funkier (very subtly so) in flavor, but they both seemed to have a rather similar texture. I think they were also simmering in the same vat, so maybe that's why I had difficulty distinguishing them? Chicken had a touch of smokiness. Quesadilla was very cheese-forward (I'm not complaining), even for a quesadilla.
$21 for dinner for two was just great.
Although I cannot tolerate the same level of fat that I could when I was younger… ::sigh::
lol! those paper plates remind me of my childhood. Looks yummy!
FIFM:
"… lol! those paper plates remind me of my childhood last few lunches."

Yeah, I was like, "Did those paper plates ever go out of style???"

Was driving by this stretch yesterday afternoon and saw a pupusa vendor named Mama Amalia's (I think I got that second part right). Is anyone familiar w/ this vendor?
If it's the stand in front of the Vons (closer to Washington), it's solid. I haven't been in a while though.
This was right in "front" of the Mitsuwa. But maybe they were trying a diff location as an experiment?
I'll try it out to report back…