Friday - Terroni (WeHo) - for a Piemontese wine dinner in the back room. Excellent food.
Sat - Hungry Cat (SaMo) - not a fan. "Whole" uni in shell appetizer looked like they painted 6 yellow stripes on the inside shell of an uni. Hadrly anything to eat. Peruvian scallops were nice. Then I tied to order the whole fish (orata) but they told me they take the middle bone out "to make it easier." I said I wanted the whole fish on the bone, so she went to ask the kitchen but they would not do it…some fucking whole fish.So I got a decent piece of swordfish but why do they have to serve it on a "bed" of too much goopy stuff?
Sunday - Revolutionario Tacos - loved it. Goat and Pumpkin special was great.

@CiaoBob awesome! Glad you liked Revolutionario.

What is that shrimp dish?!

Looks delicious. It wasn't on the menu the last time I went.
Glad to hear that the goat is still available. I really enjoyed it as well.
Bay Cities Hot Pastrami with the works no pickles….
@A5KOBE nice! How were all 3 places? Good or bad? Thanks.
Howlin Rays is the truth. Thanks to the peeps here for informing the masses. Roma is a classic favorite for me. The sandwich could have meats I like better but it was still fantastic. The regular bread is definitely better than the ciabatta. Burgerlords was good but not really justified for price. I mean it was good but similar to In N Out but better quality meat. I prefer WagyuChuck in Santa Ana more for the genre of mid priced burger. And I hate shoestring fries so that was that.
I will definitely be back to Howlin Rays once they get situated in their brick n mortar.
How did you ruin the egg? Still looks custard-y to me.

Oh I meant the way I broke it all ugly and unevenly.

Sunday dinner - Restaurant Koi in Seal Beach

My friend's first birthday sake selection…I thought it was very floral.

Tuna Sampler - Bluefin, yellowfin, toro, seared tuna "hamburger", soy-marinated zuke

Green mussels in broth

Snapper sampler - Red snapper, black snapper, East Coast snapper, seared Halibut
Omakase surprise - Red snapper with shishito peppers, scallop with King Crab, Kumamoto wrapped with shisho leaf and Halibut with soy
Our chef, Takai-san putting together a sake sampler to help us select the next sake of the evening

So many choices…

The winner…smooth, hint of spice (of the juniper variety)…the birthday girl's choice.

Every time we come, Takai-san has us try something new…this was pulverized tuna stomach marinated in soy

Santa Barbara uni (sea urchin)…so pure and ocean-y and so unctuous
Black snapper, albacore, Tasmanian ocean fish, eel…all seasoned with sea salt and a dash of fresh yuzu juice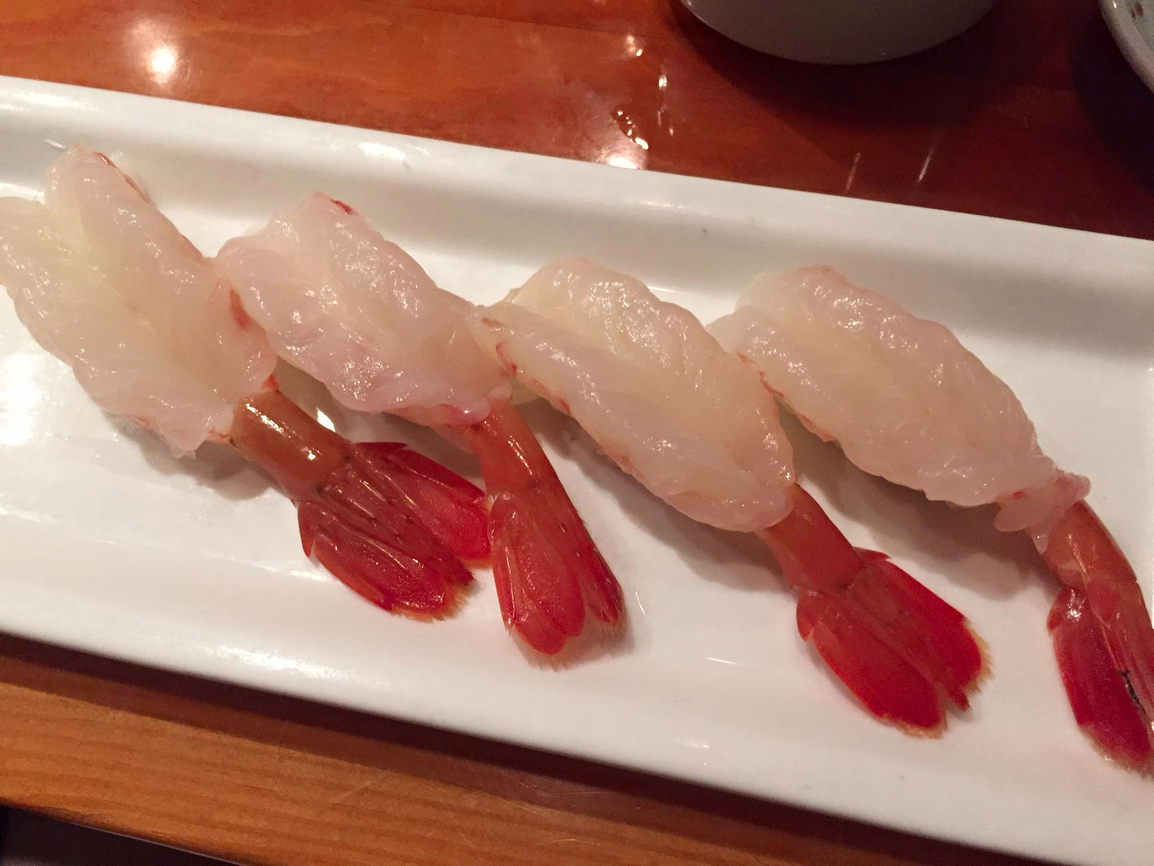 Sweet shrimp…we had the heads fried and I forgot to take a picture of it.

Chef's special - chopped bluefin tuna, shisho leaf, Santa Barbara uni…literally one of the best things I've ever had…this is not on the menu…chef created it just for me

House special dessert - Yuzu sake with fresh orange segments, fresh pineapple, assorted ice creams (red bean, green tea, mango, and lychee)
Total birthday dinner damage about $180 per person. Chef Takai-san is excellent every time we come in, and always shares something new. Service was as excellent as always. 2 bottles and two carafes of sake, and all the items shown plus salmon, octopus, BBQ toro, mixed tempura, and additional orders of black snapper, albacore, and bluefin tuna. If you go and want a seat with Takai-san, get here early when it opens at 5PM, otherwise the wait will likely be ridiculous. We got there at 5PM and closed the place out by leaving at 9PM. The sushi bar does not take reservations.
@Chowseeker1999
Shrimp Ceviche with a shiso sauce topping and a pickled causa underneath.
I did not take a photo of the goat-pumpkin, it disappeared too quickly.
It's the Causa's that are on the menu. It's not the best quality shrimp (Pre-cooked Sushi Ebi) or the best composed causa, but I ALWAYS order it because it's SO yummy!!! Great way to open up the taste buds for the tacos because it's such a bright dish!

–Dommy!
Friday night: Birch - had Brendan's greatest hits, the monkfish tikka masala and the pork shank. Started with the crab cornets. Pork shank came with banh mi fixings - some hoisin, a spicy sriracha style sauce, lettuce, shaved cucumbers and shredded carrots along with the standard flatbread. Finished with the sticky toffee pudding. Really enjoyed everything, including their house bourbon cocktail/take on the old fashioned. Thought we may have under-ordered after the monkfish but our server said we were good, and we were after the pork shank.
Saturday lunch: Seoul Sausage Sawtelle - spicy pork sausage with a Lil Osaka ball.
Saturday night: Penguin Fish & Chips on Pico - catfish and sanddabs. Love the Penguin, but won't get the sanddabs again - too many bones.
wow, I've never heard of this joint. nor have any of the heavy hitters mentioned the joint.
a fucking omakase joint that sounds pretty great in the middle of manhattan beach ???
must be a tremendous fucking find.
that fucking brown butter bourbon is incredible.
@kevin Restaurant Koi is in Seal Beach…just south of Long Beach along PCH. It's owned by a fantastic Japanese family who have a hand in manning the sushi bar every night. My friend and her mom have been going for years.