Had a great dinner here the other night, already made my next reservation. sergio was in la casa.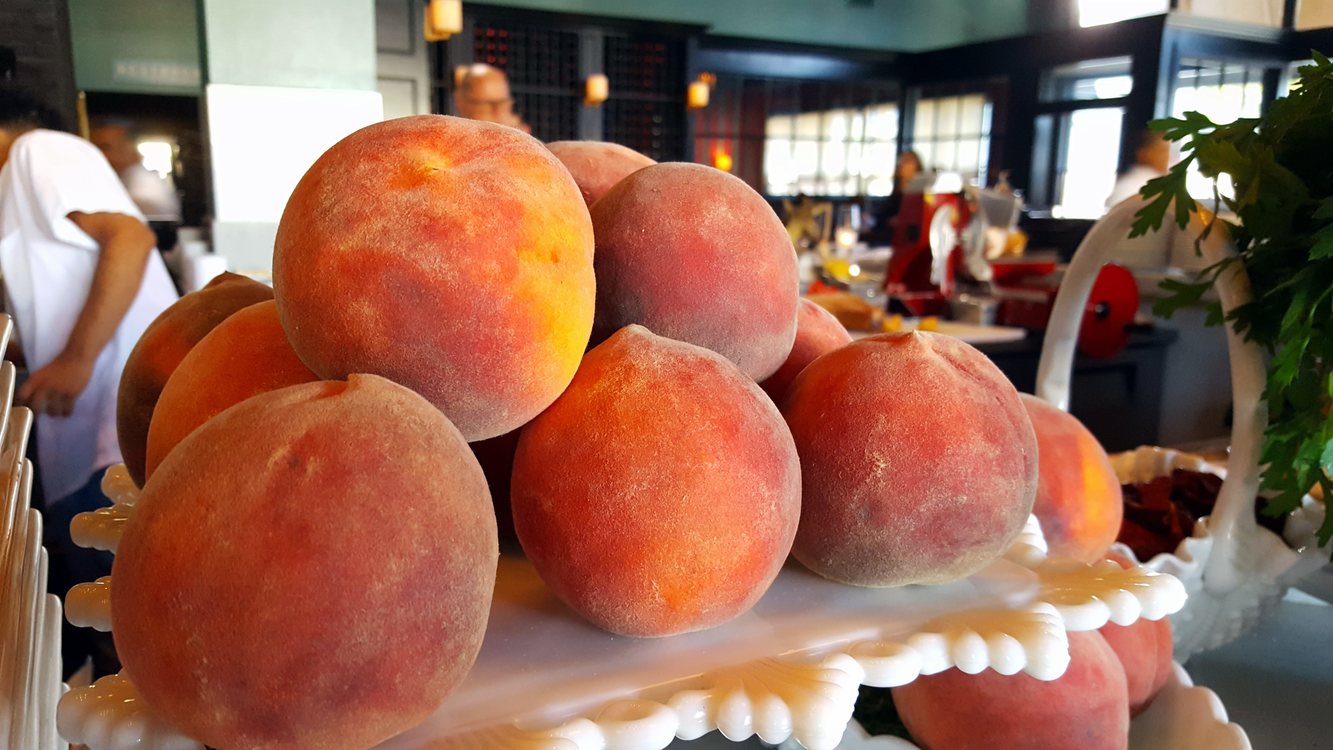 amuse bouche - goat cheese, olive tapenade

burrata & peaches - prosciutto, ceci & cilantro salsa verde
underneath the fried chickpeas and prosciutto is a perfectly ripe and sweet tenerelli peach. great balance of nutty, salty, sweet and creamy. summer on a plate. another recipe for @Bookwich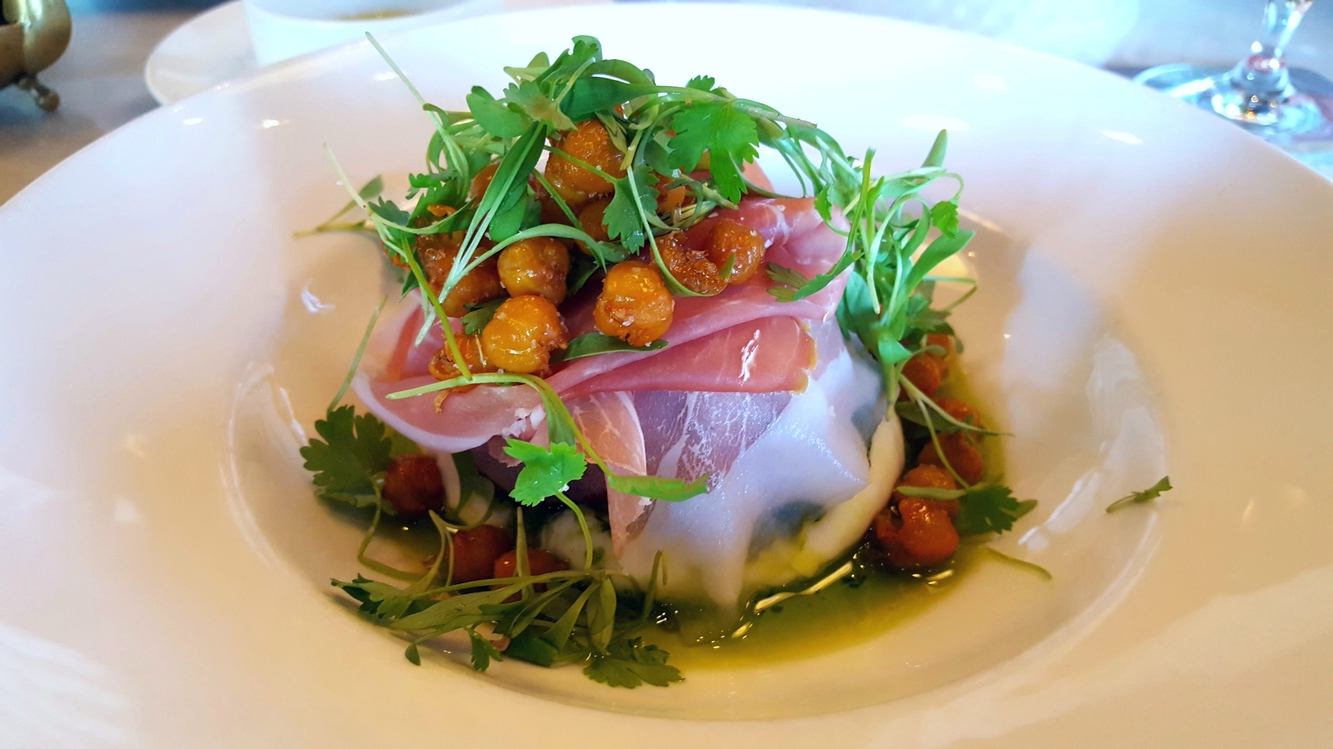 nancy's caesar - egg, leek, anchovy crostini
diy caesar salad. brilliant.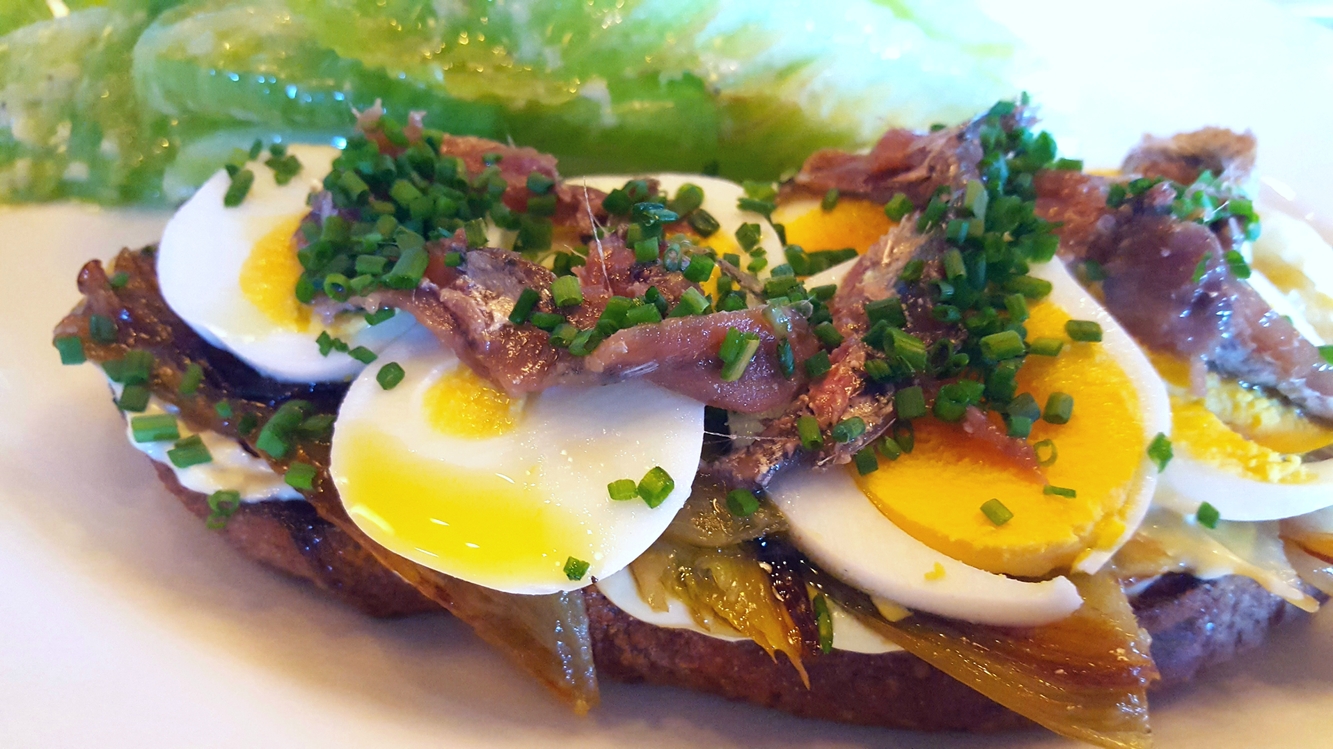 sweet corn cappellacci, chanterelles, thyme
just as good as republique's corn agnolotti. however, a little more savory and less sweet. @A5KOBE give this a try. #fuckketo #karbolife

spaghetti aglio e olio, carabineros prawn
you come to osteria mozza for the mozzarella but you stay for the carabineros prawn. goddamn this was good, prawn-star of the night. the firm and chewy spaghetti with slivers of garlic and olive oil was the perfect carb to eat with the sweet meat and all the head and brain juices from this baby. @not_tellin did you source this? @Sgee, @tailbacku, @Porthos, @Chowseeker1999, @TheCookie get this while it lasts. #brainfood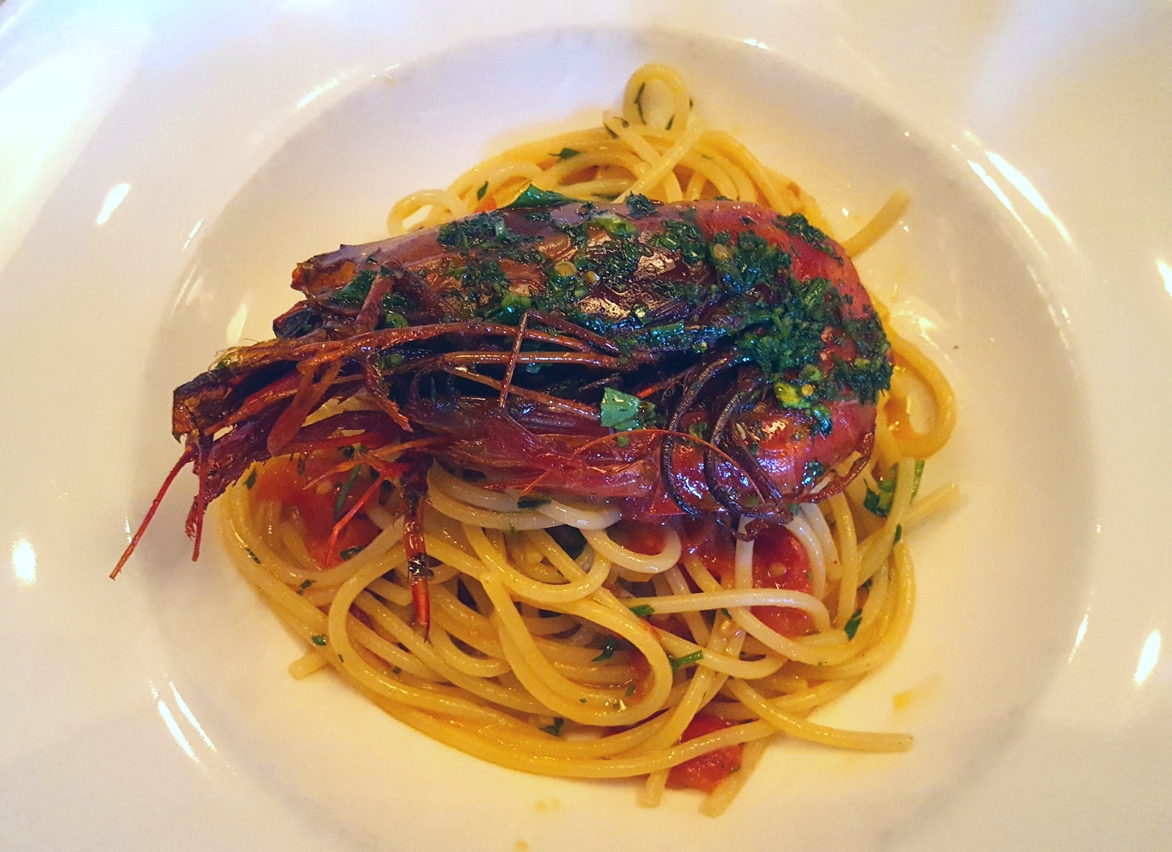 ---
previous visit
The place is crawling with nancy-silverrozzis now.
amuse bouche of olive tapenade something or other

smoked mozzarella di bufala, prosciutto di parma
not bad for a plate of ham and cheese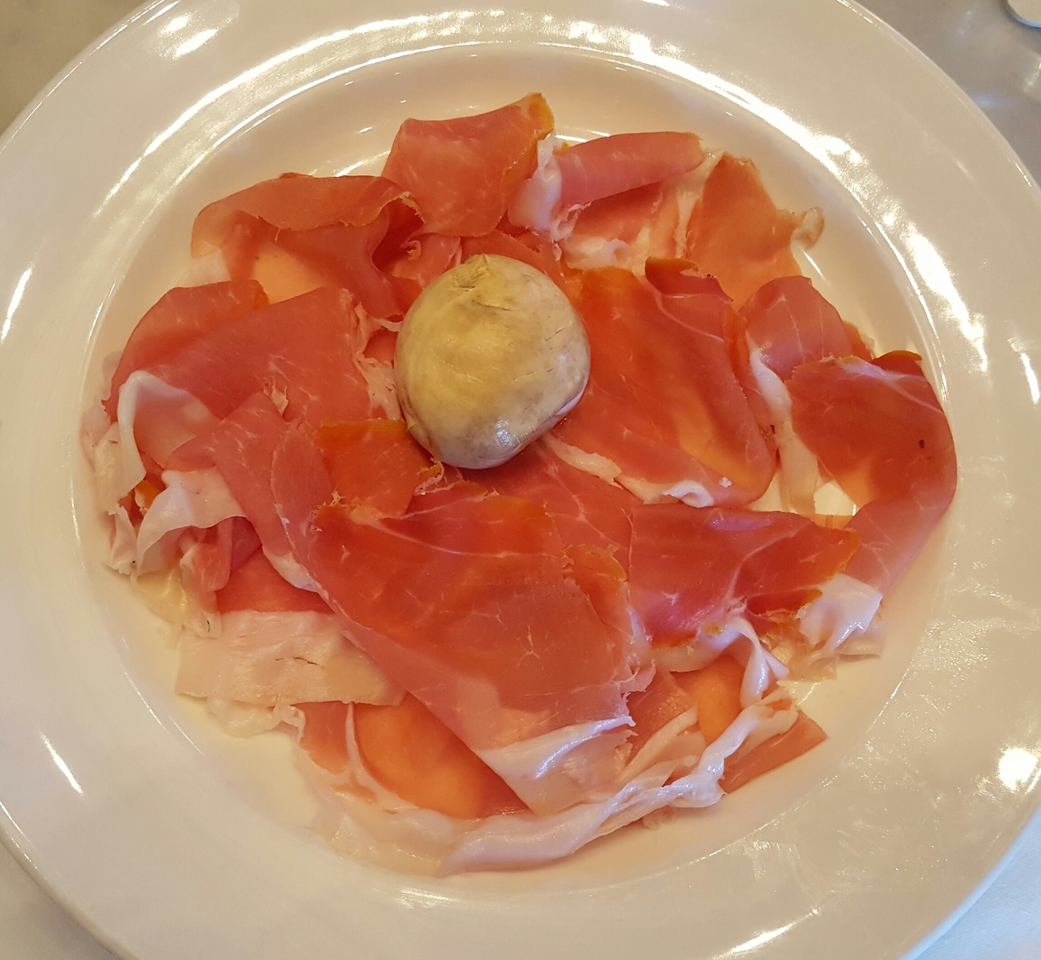 squid ink chitarra freddi - dungeness crab, sea urchin, jalapeno
The uni was sweet and pristine and the two bites of pasta i had with the uni was delicious. the rest of the dish was terrible, the crab was sad and not fresh and the whole dish was overpowered with too much lemon.

orecchiette, sausage, swiss chard
This was better, great chew from the orecchiette and crunch from the toasted breadcrumbs. A tad salty.

butternut squash mezzelune, amaretti
Slightly sweet and savory, good.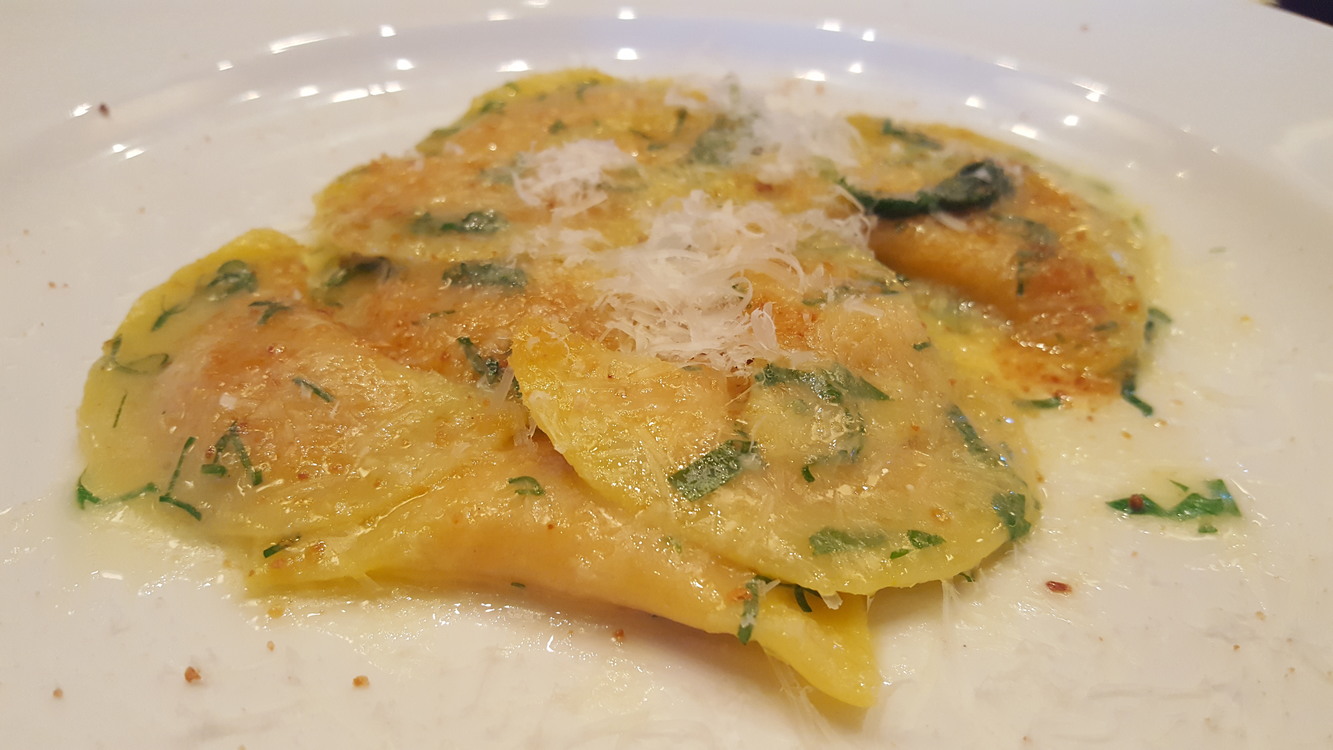 candied kumquat semifreddo - sicilian pistachio, cocoa nib brittle, chocolate
Highlight of the night, great texture contrast between the chewy kumquat, creamy semifreddo, and crunchy pistachios and cocoa nib brittle

---
(new) santa barbara sea urchin & lardo crostini, shaved spring onion
i was hoping this would be like the awesome uni and lardo at marea, unfortunately it fell short. the slice of lardo wasn't melted enough and slid off after taking a bite. There was also too much toast (too thick) and not enough uni so the uni got kind of lost. and i have no clue what the shaved onions are for.

ricci - uni and lardo @ marea
https://www.foodtalkcentral.com/uploads/short-url/hne78n1LWQEZL7cF4XmLJKGJH7X.jpg
bufala mozzarella & sungold tomatoes, extra virgin olive oil, basil
highlight of the night 1. diy margarita pizza, so fresh and tasted brighter than lil wayne's grillz.

agnolotti with burro e salvia
these were pretty much stuffed with an entire deli case - chicken, veal, salami, pancetta - pasta was good, filling was okay.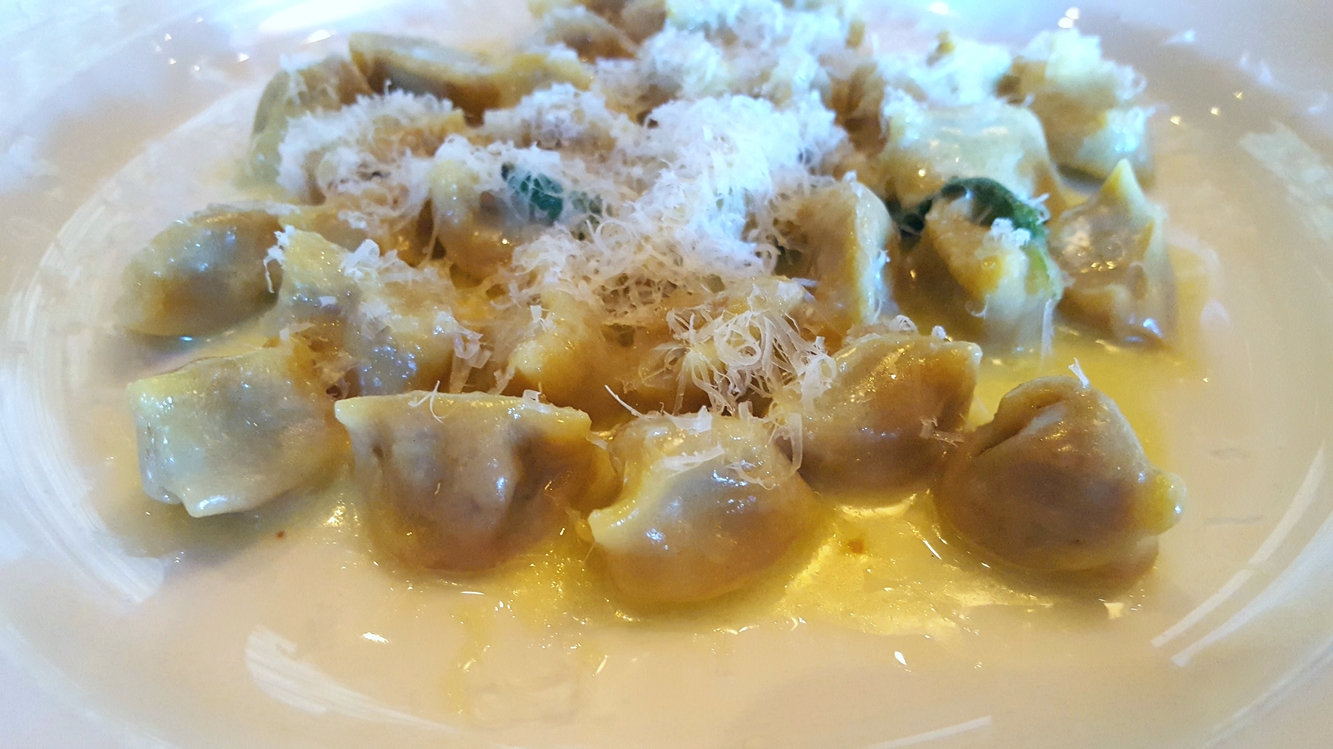 (new) potato ravioli with dungeness crab brodo
highlight of the night 2. fresh crab meat, creamy potato raviolis and a clean, pure crab broth, this was delicious. reminded me of the blue crab simplissime at tesse.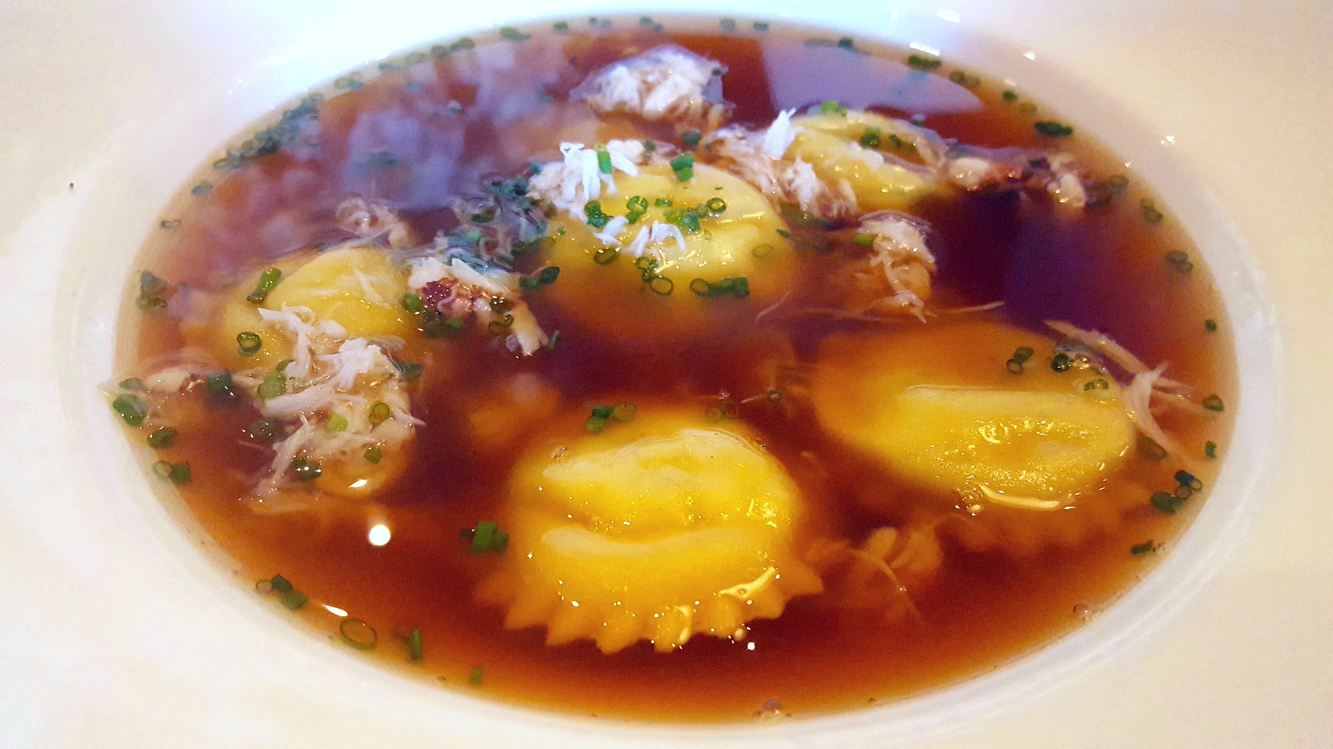 honey baked peach, brown butter cake, poached blueberries, sweet corn gelato
must eat all things peaches before season ends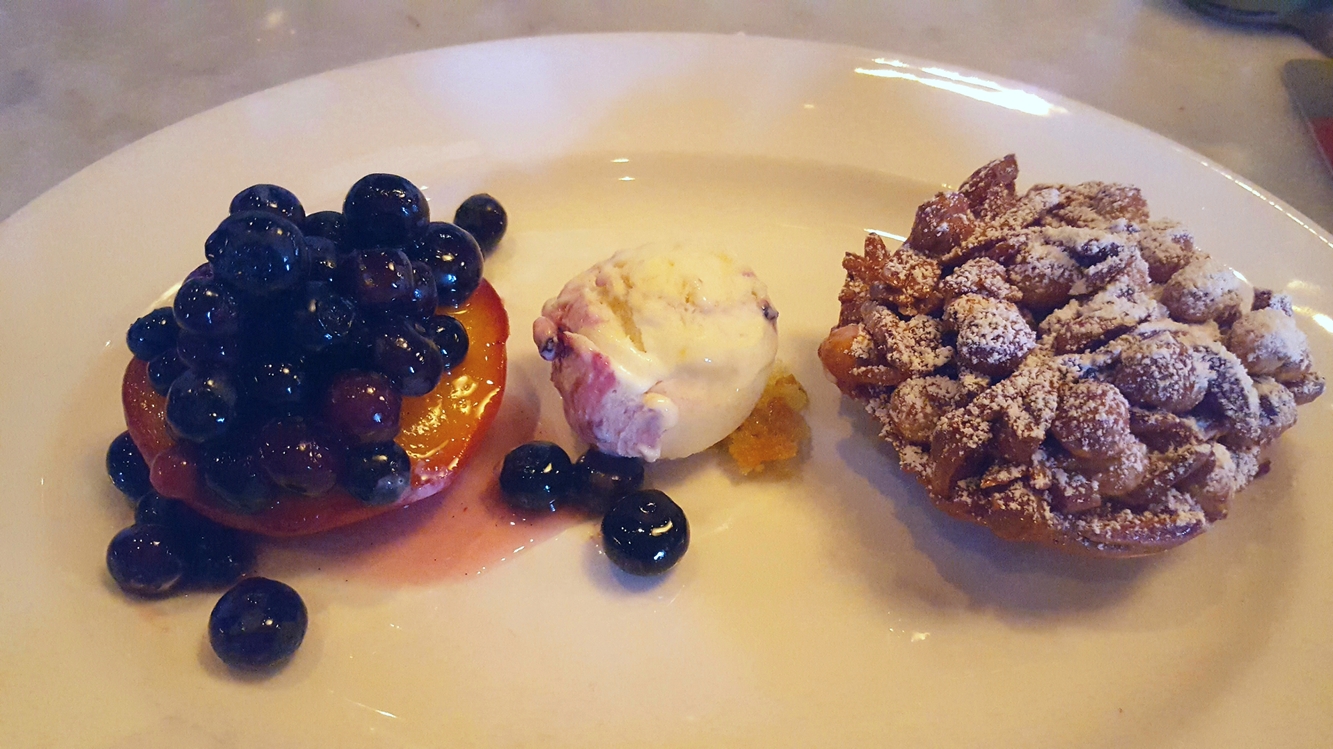 ---
had an outstanding meal here the other night a perfect 5 for 5. Service and pacing was also excellent.
amuse bouche - goat cheese, olive tapenade

(new)burrata & peas, speck, parmigiano, mint
this was creamy, salty, sweet, savory and light all at the same time, outstanding. spring is here, taste the pea-ness.

nancy's caesar, egg, leek, anchovy crostini
another perfect balance of flavors. make sure to get every component in each bite: salty anchovy, sweet leeks, creamy egg, crunchy crostini, and the lemony lettuce to cut through everything.

(new)grilled wild sardine, herbs, preserved lemon aioli
one of the best cooked sardines i've ever had. the fish was still moist, oily and fatty with enough acid from the herbs and creamy aioli to complement it perfectly.

linguine with clams, pancetta, spicy fresno chiles
Loved the huge slivers of garlic and even with the clams and pancetta this wasn't salty at all and was perfectly seasoned, unlike the salt bomb i had at felix recently.

(new)brown butter meringue cake, ginger braised rhubarb, yogurt gelato
crisped edges, chewy interior, fluffy sweet meringue, and tart rhubarb.

---
bread, butter, olive oil

mozzarella di bufala, anchovies, garlic toast
highlight. these pujado solano anchovies were delicious and less salty than the ortiz anchovies they were using before. make sure not to waste that sweet sweet anchovy oil, i drizzled it on top of each bite. i just wish they gave you more garlic toast, the amount of toast to cheese and anchovy is ridiculously small.

grilled octopus, potato, celery, green onion & lemon
wasn't a fan of this dish, the salad was too acidic and overpowered the octopus.

sweet corn cappallaci, chanterelles & thyme
nice balance of savoriness and sweetness

crispy duck confit, pear mostarda & sauteed sweet corn
eating the duck by itself i thought it was just okay, but pairing it with the sweet and spicy pear mostarda really brought it to a whole nother level. skin could have been crisper.

japanese sweet potato cake, president butter gelato & bay leaf caramel
the cake was a bit dense, and the slightly savory butter gelato was interesting. not bad.

---
(new) burrata & peach, prosciutto, ceci & cilantro salsa verde
When i saw tenerelli's freestone yellow peaches at the fm last week I was hoping Nancy would put this dish back on the menu and sure enough she did. This dish has it all, sweet, tart, creamy, nutty, herby, and salty. Outstanding. Highlight.
nancy's caesar - egg, leek & anchovy crostini
another perfect balance of salty umami, acid, fat, and sweetness. in my top two of caesar salads.
eating this is like trying to solve a combinatorics problem: given a multiset S, determine the optimal number of bite-size subsets such that it contains one of each element from S. highlight.
prosciutto di san daniele & melon, cracked black pepper
i could eat a whole plate of this soft, subtle, and not too salty prosciutto alone, it's that good. the sweet weiser farms melon was just a bonus. highlight.
(new) linguine aglio e olio with carabineros prawn
there's so much head juice in this prawn tearing the head off of this monster is like cracking open a bottle of liquid shrimp essence and pouring it over your pasta. save some bread to soak it all up.
pig for scale

strawberry crespelle - sauteed strawberries, spiced almonds
this was fine, desserts have been hit or miss.

---
mozzarella di bufala, anchovies & garlic toast
Great dish but the ratios are off. There was one huge ball of mozzarella, two tiny pieces of toast and about 8 or 9 fillets. I found myself having to do differential calculus to portion out each component so that I would have enough of each until the end.

warm black dates & speck, extra virgin olive oil & maldon sea salt
Highlight. Sweet, salty, and meaty.

linguine aglio e olio with carabineros prawn
Delicious, probably my favorite pasta on the menu. So much head juice, it makes barry bonds look clean. Highlight.
grilled quail wrapped in pancetta with honey & sage
Another hit. Great balance of smoky, bitter and sweet flavors.
apple borsellino, caramel gelato & whipped crema
This was okay, haven't had much success with desserts here.

Osteria Mozza
6602 Melrose Ave
Los Angeles, CA 90038
(323) 297-0100