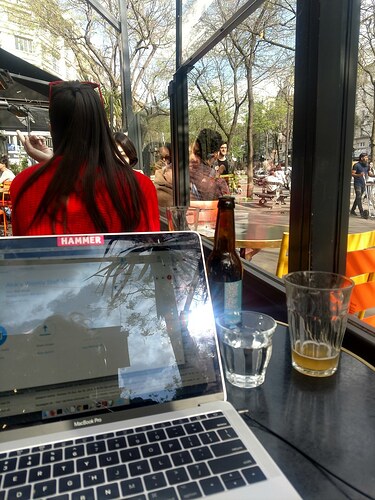 I was at a conference around the corner so Chartier for lunch was a no-brainer.
tête de veau sauce Gribiche
Neglected to get a photo of the 1/4 Camembert.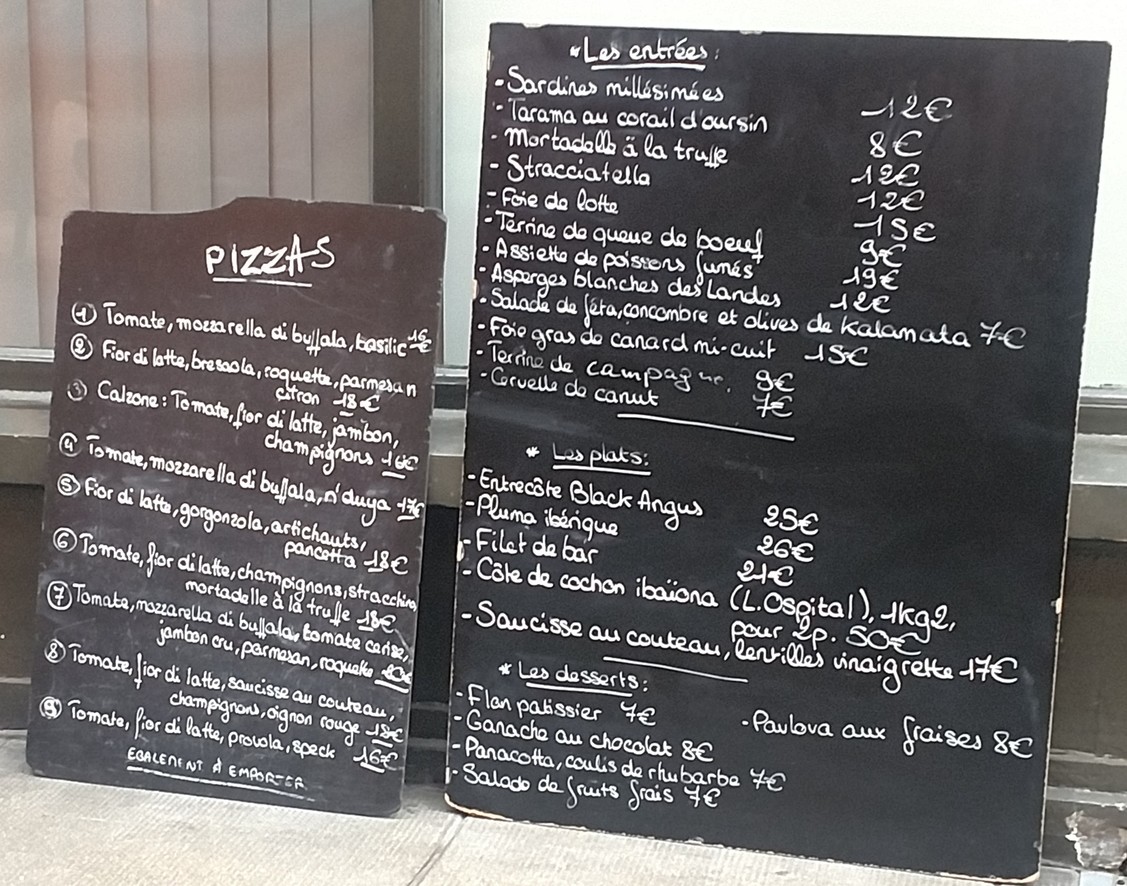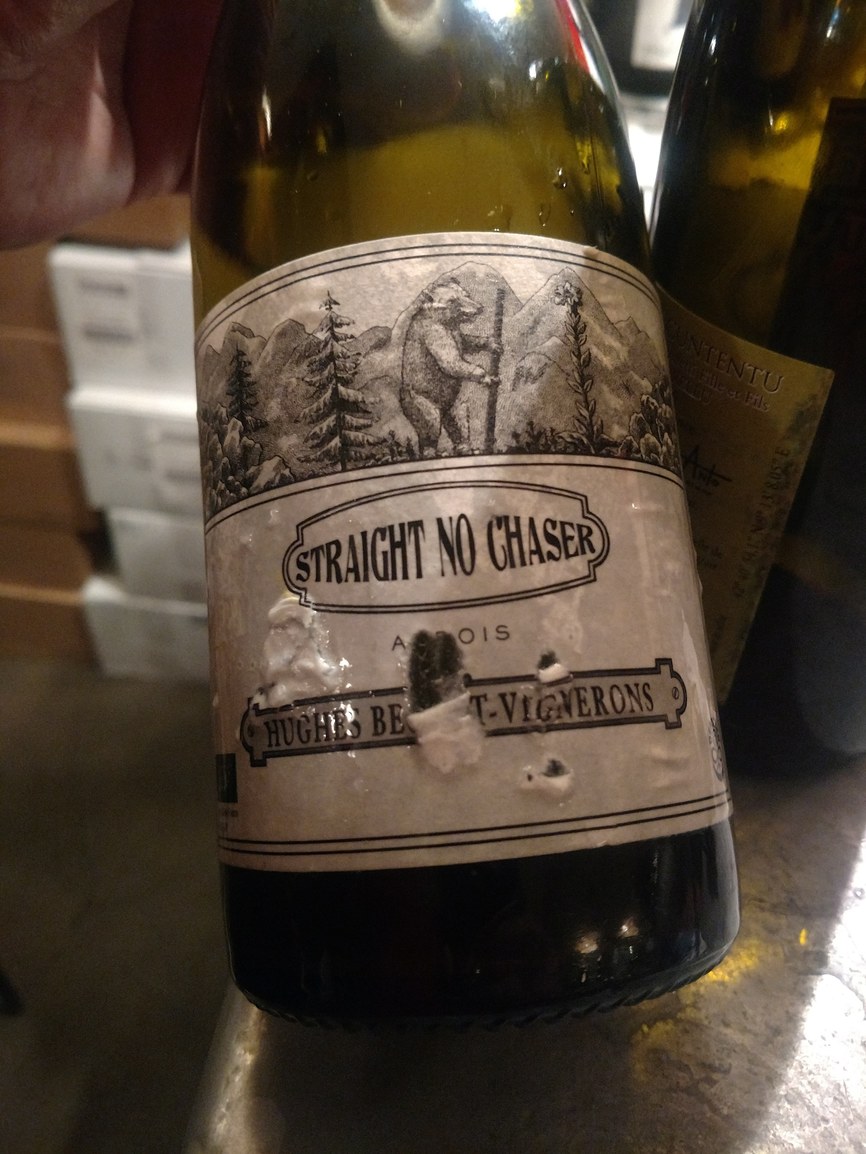 cervelle de canut
terrine de campagne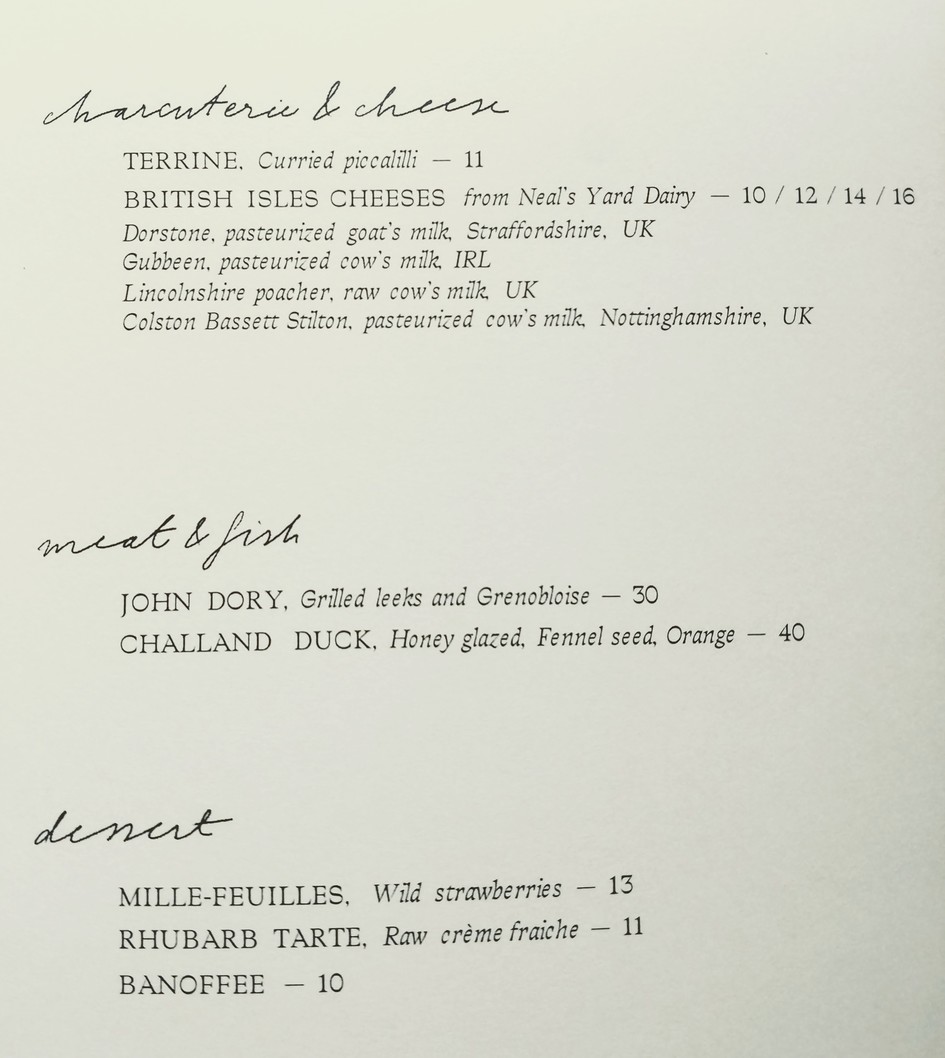 Went to Frenchie Bar a Vin because it was open Sunday and near my hotel. Kind of a weird first meal in Paris since almost everyone was speaking English, including the cooks. Good food and great wine but I prefer the old-school stuff and a comfortable chair.
The clams were great. The guy sitting next to me got a second order.
Terrine was perfect, I'd have preferred the piccalilli on the side.
morels
"Pastrani Lucullus": I'm thinking, where's the pastrami? If you zoom in on the foie gras, you can see some little red stripes: that's the pastrami. Couldn't really taste it. Nice foie gras, but I prefer it served plain.
Had a nice glass of an appropriately Monbazillac-ish Loire white they recommended.
ris de veau
Conveniently located if you're catching a train at the Gare du Nord.
Yep, it's official. I would love France.
The sauce with the meat (?) dish!

Is that fish on top of the pate?
The ris de veau with morels, green and white asparagus, and hazelnuts at Chez Michel?
Looking closer I recognized they were morels not meat. But I didn't notice you included the name underneath - ris de veau. Looked it up… calf sweetbreads! But that sauce!

http://www.brasserieflo-paris.com/en/
This was around 8:00 pm on Wednesday. It's remarkable how crowded the many, many bars in that neighborhood get after work.
Which is how I ended up at Flo. Too old-school for the younger crowd and not special enough for the foodies. I'd have gone somewhere with a better reputation but I was tired and my feet were killing me.
Assortment of smoked and cured fish, good quality but bland, I needed to add lemon and salt. Wrong choice.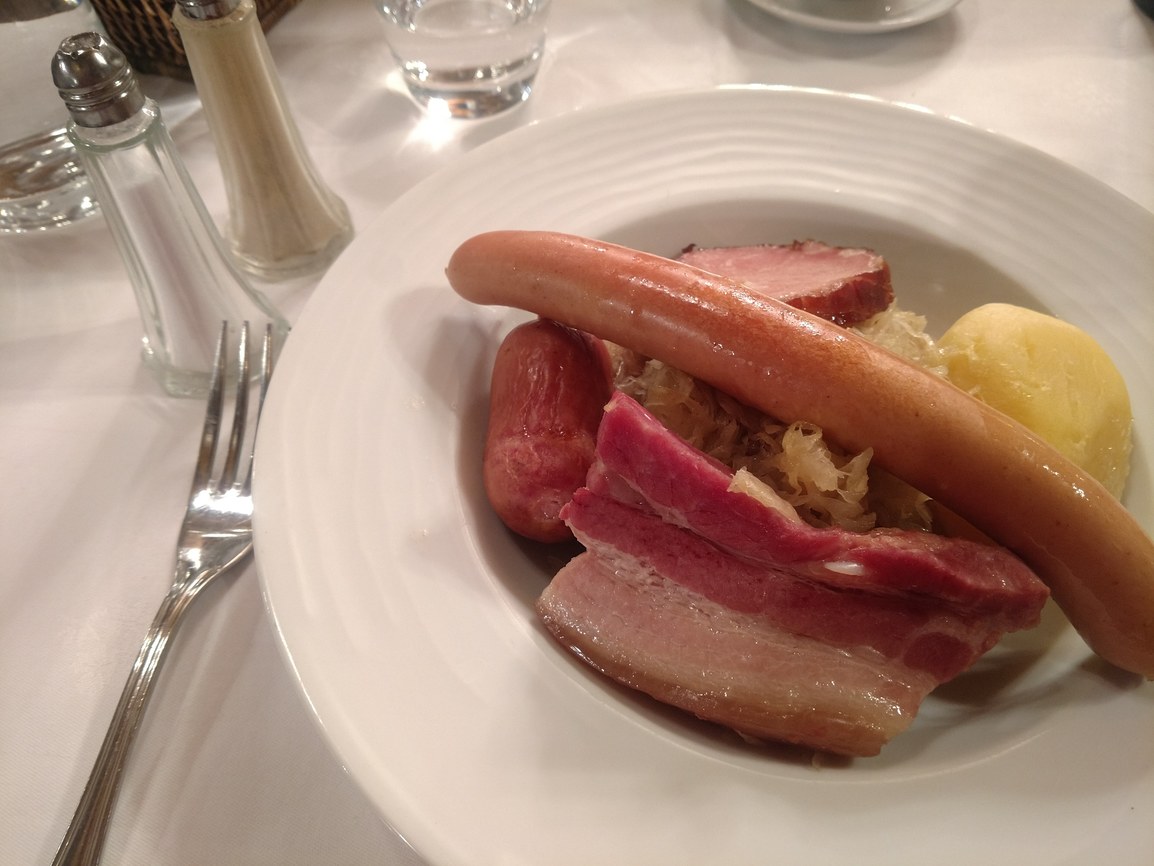 OK choucroute, very good sausages, good potatoes, OK smoked pork belly, lean pork was dry and meh.
Brie and Munster excellent, Comte, eh, can get better at home.
Kugelhopf glacé au marc, new to me and great. They freeze the little cake and pour a shot of marc in the middle. Texture sort of like semifreddo. This was so good I ordered some mini-kugelhopf molds from Amazon before I left the restaurant.
A fat regular sat next to me and ordered what looked like a much better meal: poached eggs with cheese and mushrooms followed by a big monkfish filet served on choucroute and topped with ham.
leeks vinaigrette
veal kidney in mustard cream sauce
chard stalks in tomato
St. Marcellin
baba au rhum
Oh, well.
I'm okay if you have lots more.

I've known for some time now that we need to go back to Paris. You've now convinced me !
Robert: looks like you had a great trip. I've already started listing places we want to return to and places we need to try, as we're spending May in Paris and have to eat somewhere just about every night. Chez Rene especially looks great and is now on my list. By the way, did you download Patricia Wells' app.? She has incredible taste & I'm guessing that between her and John Talbott, as well as some old friends from CH's France board, we'll be fat and happy by the end of the month.
She doesn't have an Android app. I looked at her web site, but a lot of reviews were out of date. I believe I went to one place she recommended and found it had been closed for a while.
Thanks. I did notice that her app was not android. I have all Apple phones & iPads. Hopefully, the app listings will be more current.