I had a lot of help from the Paris Chowhound board/members.
All of this is being posted there as well.
Too bad we have nothing on them yet. Except our format is so much easier to use.
We had a great trip, despite last weeks 100 degree heat wave.
We altered some of our plans to avoid super heavy meals (thought there were some).
So, no Chez L'ami Jean…next time.
Sadly - for Paris and the Parisians - nothing was very crowded (except Le Comptoir - but even that was do-able - we got a table with a 10 minute wait) likely due to the recent attacks. Museums and restaurants with notorious crowd issues and lines were delightfully wide-open (again, delightfully for us - the tourists - but not the French, of course). The dogshit on ever square meter of pavement was gone. The Parisians were super nice (!) and helpful (!!) and grateful to any American who shows his face (!!!).
Bistro Paul Bert - right off the plane. I almost avoided going because I heard Bourdain was there a few years ago and that - at least in my experience stateside - tends to ruin alot of places. I would have been wrong. Place is awesome. Wonderful Green Gazpacho, Mackerel Ceviche, Lamb Chops and Filet Au Poivre with Frites. Simple classics, done very well
L'Escargot - an old time "classic" place in the touristy Les Halles district. Was recommended by our tour guide. Excellent Foie gras, Frog's Legs and of course, snails. Don't recall if it is mentioned much on chowound but we totally loved it.
Dark picture with frog's legs and escargot below
Restaurant AG - St Germain. A newer place, last few years I think, with lighter more modern Frech food. Fantastic use of vegetables and Japanese yuzo. Place was small and empty but we loved it. The Veal Sweetbreads on top of Veal confit with carrot puree I had were just incredible. I don't recall other dishes we had but I know we loved all the cooking. So light yet powerful.
Chez Jospehine Dumonet - One of the most popular and most classic of Parisian bistros. Reservations usually required way in advance but we breezed in for lunch. You cannot beat the incredible mind-blowing pate, Beef Bourguignon, buttered noodles AND a stop-by by Gerard Depardieu (riding a scooter in Crocs). I saw the most amazing millefeuille of pigeon at my neighbor plate. She said she comes all the time and that was their best dish. Next time!
Ze Kitchen Galerie - Really loved this place too. Amazingly helpful staff. Fantastic light, tasting menu, Asian influences. All you need to decide is 6 vs. 8 courses. 6 was plenty for us. We thought the best dish was a pasta selection a green wavy thick noodle with a dried meat (maybe veal [correction - I am told by my partner that it was either dried bonito or prosciutto]?) shaved over it. Lobster in Curry was sublime as well.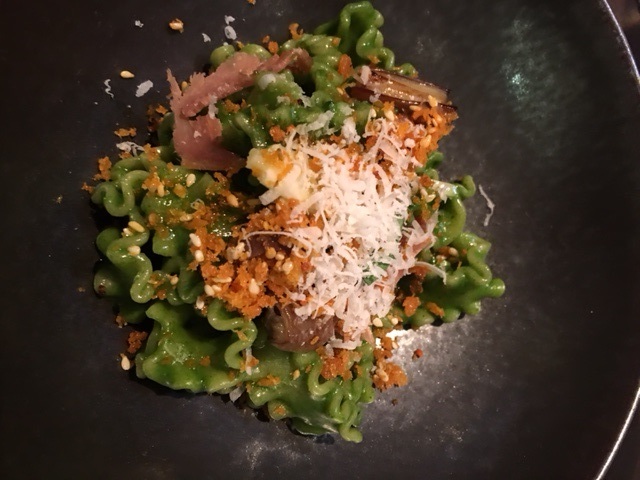 PART 2 COMING SOON