Pasjoli (not pretty) reminded me of a larger, more comfortable kass, with a lounge in the front, open kitchen in the back, and bar and banquette on the sides.

sergio

beurre de baratte - house-cultured french butter, warm baguette
good, not as crusty as republique's

crabe et chou-fleur - blue crab, cauliflower cream, sorrel
there were little pieces of cauliflower mixed in with the crab for a nice texture contrast. real nice balance of fat, acid, and sweetness. really good.

canard a la rouennaise a la presse (escoffier 3476)
this course came in three parts, the duck breast with blood sauce, salad with legs, and a side of potatoes.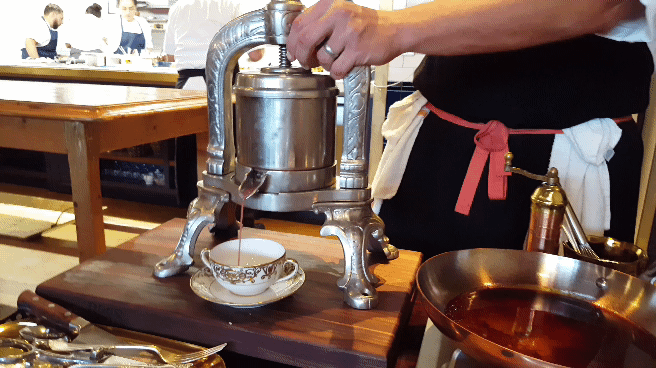 the breast was soft with a bit of chew and the sauce was rich, earthy, and a bit hemoglobin-y.

duck serial number deux. a la tour d'argent

salad of salanova lettuce and duck leg
legs were fatty and delicious, the salad was a nice hit of acid to cut through the richness.

potato dauphinois
thin slices of potato, cream, and gruyere cheese, and topped with more toasty, crispy cheese. awesome.

souffle - bitter chocolate, vanilla ice cream
not bad, but doesn't top bon temps'.

no tipping, no service charge @TheCookie

no toto

---
thon a la provencale - marinated tuna, tomato concasse, yogurt
like a tomato and tuna tartare. nice balance of acid and fat.
pate en croute - madeira, pickled carrot, mustard
Pretty textbook. The forcemeat was cold, firm, and on the lean side.

crevettes et palourdes - spot prawns and clams, bloomsdale spinach, sauce nantua
Similar to a shrimp bisque. this had prawns 3 ways: in the sauce nantua, cut up, and whole. the prawns were incredible and cooked perfectly and eating this with the bread and rouille/aioli sauce was great.

coquelet farci et champagne - whole young chicken, champagne chicken jus, byaldi
i'm fond of feasting on fledgling fowl. this baby was deboned, stuffed and rolled like a la taqueria mission burrito. the
was incredibly moist, tender and juicy throughout. the sweet caramelized vegetables in the byaldi complemented the rich and savory champagne sauce perfectly. i enjoyed this more than the the compressed duck. highlight of the night.
fromage - epoisses de bourgogne, almond, honey fig
#kingofcheeses this actually came with a jam from the finicky greengage plum.
---
foie de poulet a la strasbourgeoise - chicken liver, brioche, truffle
like a fancy toad in a hole but instead of a chicken egg, there's chicken liver. the liver wasn't as creamy or spreadable like foie but pretty close. i really liked the shallot/truffle jam that it came with.
ragout d'oignons caramelises - caramelized onion, gruyere, pate brisee
this was like a soup-less french onion soup inside of a crispy tart. delicious.
carre d'agneau du rhone - rack of lamb, olive and lamb jus, artichokes and grapes
this came with the chops and a piece of the loin underneath. i really liked the side of fennel(?) dates, pine nuts and grapes that paired nicely with the meat. but hot lamb!, the highlight of the dish was the fatty, tender, crispy morsel sitting on top of the chop like a meaty french beret.
fruits du marche - whipped anglaise, lemon shortbread
thomcord grapes, figs, passion fruit, blackberries , blueberries
---
joues de veau - veal cheeks, roasted carrots, sauce blanquette
like a tender little meatball of baby cheek

turbot meuniere - turbot, brown butter, lemon, french beans
a traditional meuriner, but instead of just chopped parsley, chef dave adds fried parsley on top for a nice crunch. the turbot was cooked perfectly and was quite firm and flaky. i prefer a grenobloise sauce with the salty punch of capers but this was still delicious.

beans were nicely cooked but a little overdressed.

foie de poulet a la strasbourgeoise - chicken liver, brioche, truffle

omelette aux truffles - fines herbes, black truffle, pierre robert
is the dinner omelette considered second dinner or first breakfast? #askingforafriend

tarte au citron
great balance of tart and sweet. the filling had somewhat bouncy texture to it.

---
thon et tomate - marinated tuna, heirloom tomato, yogurt

quenelle - scallop, caviar beurre blanc
i wasn't expecting such a soft texture on the quenelle, almost like warm butter. pretty good.
tartare de bœuf - traditional, nasturtium, country toast
tartare was good, the toast was a bit too toasted and hard.

foie de poulet à la strasbourgeoise - chicken liver, brioche, truffle
probably the best you can do to get your foie fix in the state of california.

tournados au poivre - tenderloin, cognac and peppercorn jus, potato purée
i never order a filet, because ribeyes, and it's usually more boring than a dmv waiting room, but i needed to try this to complete the ooe. really glad i ordered this, it had that perfect peppercorn crust and was more tender than the baby jesus. the buttery, creamy sauce was incredible and was a great complement to the lean steak. it also came with a side of delicious mashed potatoes. highlight
turbot meunière - turbot, brown butter, lemon, roasted winter greens

(new) riz au lait - rice pudding, 8-hour roasted pineapple, rum
the pineapple "jus" was intensely pineapple-y, almost like a syrup. use it sparingly with the pudding.

(new) mont blanc - chestnut, salted caramel, meringue
i liked the crispy meringue, the filling was a bit too sweet.

---
(new) canard bourdelaise - duck confit, preserved cherry, country bread
Like a perfectly balanced sweet, rich, and savory duck stew with topped with pieces of crispy bread. Highlight.

ragout d'oignons caramelises - caramelized onion, gruyere, pate brisee
A soup-less french onion soup inside a crispy tart. Delicious.

poussin farci - whole young chicken, butternut squash, blanquette de volaille
Chicken stuffed chicken. Chef david makes a stuffing out of the thighs and stuffs it back into the breasts. And I stuff it into my mouth. Highlight.

(new) tarte au fruit de la passion - green chartreuse crème

---
(new) homard vol-au-vent - lobster, melted leek sauce béarnaise
Like a fancy french lobster pot pie, I just wish the portion was larger, it was more like an appetizer than a main.
When I'm cooked I want to be stuffed with shrimp and wrapped in puff pastry.
(new) truite amandine - whole trout, smoked roe, romanesco
Trout was perfectly cooked and deboned. wish it wasn't farmed though.

pasjoli
2732 Main St
Santa Monica, CA 90405