That zeppole is calling my name…
@PorkyBelly @moonboy403 Your temptations worked! I went, I picked up, and I ate. Perfectly cooked seafood indeed. And definitely a ton of it. I ordered for just myself but felt like it could've fed 2! Didn't get to dessert and it's still in my fridge for tomorrow/today. I was literally super duper stuffed and couldn't move for a while after.
I should've checked back to your post on how to top the croutons with rouille because that sounds great. I ended up trying the fougasse with the broth and liked that more but probably a personal preference.
I think overall my favorite is still the New Jersey of the 4 menus I've had, though they've all tasted great and always been worth it. And with that, my foodie budget is spent for most of the rest of September lol.
Definitely. I always share 1 order with my wife.
If you're crazy about seafood like I am, try out Holbox's paella. A single order can easily feed 6.
Yeah @Ns1. One 3-Course En Voyage and an à la carte Appetizer has been working for 2 ppl and with leftovers.
i'd recommend warming it up so that it's piping hot, so good.
I liked it but I didn't love it. The whipped crème fraîche and peppery port reduction were really nice but I thought the clafoutis needed more texture variation. Perhaps adding crust would be nice but it would be difficult to execute with so many orders.
It would no longer be clafoutis, but become an egg custard tart instead.
I tried Providence's version yesterday evening and thought it was fine, but on the eggy side.
Clafoutis's been described as a cross between a pancake and egg custard. I made one during the summer with large GG1 cherries from Murray Farms and the recipe I used called for almond extract.
You're right. Thanks for the correction! The ones I was looking at were clafoutis tarts.
I personally prefer a bit more texture variation so I would imagine that the tarts would be more to my liking.
I started heating it a bit early so didn't quite get it piping hot but it was amazing anyways. I think this one is actually my favorite dessert of the ones I've had! Including the basque cheesecake. Most of the desserts have been a bit too sweet to hit the right spot for me but this one did that perfectly with the combination of flavors. Can only imagine how much better it would be if it were warmer!
Now I only have one problem… What to do with the remaining vanilla creme fraiche and port reduction??? Thinking of adding it to my Tenerelli peaches but those are already so amazing…
En Voyage to the South of France
So we skipped En Voyage Jersey Shore. It was for a good cause, but after seeing those broiled scallops I almost regretted it! But, hey, there's still the South of France.
Domaine J.J. Vincent Cremant de Bourgogne Brut
We ordered Wine Pairing, and the sommelier, David, selected interchangeable wines to drink with either of the courses @beefnoguy. I don't know if this was planned or a last minute thing, but it worked - we didn't need to open a bottle for each course then try to drink them before they went bad.
We popped this fresh, floral, fine bubbled Cremant with hints of winter fruit, dry with a crisp finish (apparently, I say things like crisp finish now). Its 100% chardonnay which is interesting because I don't like chardonnay. But! This sparkler worked very well.
Marinated Spanish Octopus (supplement)
Pretty, right? I felt like the head chef with the P-crew being the inexperienced prep cooks on this one. Jk! but I had to trim off a lot of chewy and marinade another day. More on this later…
Salade Niçoise - Greens, Frisée, OO Poached Bigeye Tuna, Olives, Egg, Fingerling Potato, Baby Tomatos, Radish, Green Beans, Peppers + Dijon Vinaigrette
Dressed…
This being Providence there are a couple of moderately tweezy moments - I thought it best to remove some of the dainty toppings before transferring salad to a bowl, then replace them before dressing. It's a very good salad.
Olive Fougasse & Extra Croutons!
Is anyone hearing fugazzi in their head when reading this? No? Okay. So we took the advice of another Voyager(s) and didn't eat the olive fougasse with the bouillabaisse. We noshed on it w/unsalted butter over the next day or so.
Bouillabaisse Marseillaise - Local Rockfish, New Zealand John Dory, Santa Barbara Rock Crab, Maine Lobster, Prawn, Mussels, Clams, Saffron Potatoes, OO, Rouille, Garnish of Aromatics, Croutons
Just when we think we've found our favorite En Voyage dish we find our favorite En Voyage dish. The special & incredibly fresh par-cooked seafood in that luscious broth is just!
I would like to have done photos of the individual components, but I didn't feel like getting my hand chopped off. But, seriously, I could do this one every week…
A BIG reason being… Rouille Smeared Croutons Submerged in Bouillabaisse Broth w/Black Pepper!
@PorkyBelly. One of or maybe the best bite of the year!
Fig Clafoutis + Port Reduction + Vanilla Crème Fraîche
Yummy breakfast. We haven't had all the En Voyage desserts and the ones we've had have been hit or miss. So far this is the favorite - warmed in the toaster oven the edges & figs get slightly crispy caramelized, it's moist & light custardy on sweet tart syrupy port reduction, topped w/cool vanilla crème fraîche.
Marinated & Sautéed Spanish Octopus + Chickpeas
I had to cook the heck out of it to get tenderness then I cooked it a little too much. But it was pretty tasty for my first attempt at "cooking" pulpo.
We ate it with the Fougasse and the Cotes de Provence Rosé. The tasting notes of the Rosé say it's great w/fougasse, olives & anchovies and I just happened to have those things on hand
… the tasting notes are spot on.
Michel Gassier - Lou Coucardie Blanc (apricot, butter, honey, citrus, oak) / Hecht & Bannier - Cotes de Provence Rosé (crisp, citrus, berry, cherry)
Yummy Fruity Jellies
The En Voyage Top Reheat series is making Covid date night interesting, fun & delicious!
Happy Reheating!
so good right!?!

So good!


Top Reheat Bonus Round
My collection of frozen En Voyage sauces.
Red Shrimp Bisque
Mixed & heated sauces & seafood stock (from frozen en voyage shells, etc.) then strained and set aside / sautéed tomato paste in olive oil / returned sauces & white wine to pan, simmered and added cream & red shrimp at the end and garnished w/Harries Berries' cherry tomatoes and basil. It broke a little (maybe the wine) but SOOO
!
Croutons!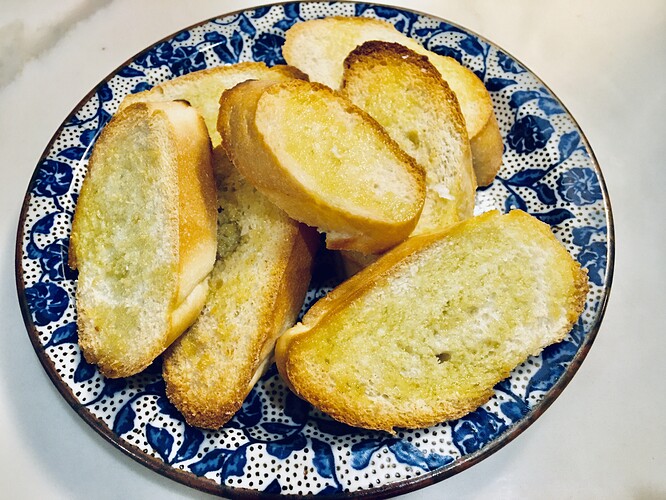 Nice!
we have a new contender for top leftover reheater.