How was it? Doesn't look bad.
Their pork neck in general definitely looks better though.
Quite interesting! This was reheated in air fryer, so not consumed right away after purchasing. The fatty bits were divine. I had one slice that was 90%+ fat but the others were not like that. The leaner parts had a bit more mouthfeel at times. It did have a killer smokey char aroma though.
I'd say the pork neck and regular chutoro char siu are better if you prefer more tender and evenness of fat/lean/texture, and are far more accessible to get. Otherwise very similar / virtually identical flavor profile.
Bootleg Pizza (at Hi-Lo)
While the rest of you were hogging up Hayato, n/naka x Porridge + Puffs, and Fat & Flour's mini strawberry pies, I finally copped me some Bootleg Pizza. I'm not exactly familiar with the New Jersey style they're striving for, this was a damn good rendition of a Detroit-style pan pizza (or the final form of Pizza Hut's version). Neck-and-neck with Apollonia's for square pies in town right now. Only downside is the price: $25 for cheese, $30 for pepperoni, $35 for the special - 6 slices each, so as if you were buying each slice individually.
Pep'd Up - love the pepperoni cups throughout (Prince Street-esque). Red sauce had a bit of tang.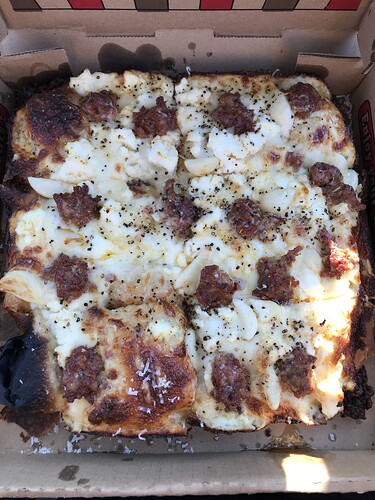 Hot Jimmy - ricotta, hot sausage, garlic cloves, black pepper, hot honey. This was dope.
Like your thinking! They go high, you go Hi-Lo.
National Gyro Day… Celebrating with some take-out from Sunny Grill (Mar Vista), with extra tzatziki sauce, of course…
Dessert: Antico's latest ice cream batches capture the essence of summertime enjoyment. The textural play within the banana cream pie was especially enjoyable.
Great lunch at Langers!!
My wife had yet to go there. I told her it will be the best pastrami sandwich she's ever had. She lived in NYC, so this was a bit of a bold statement.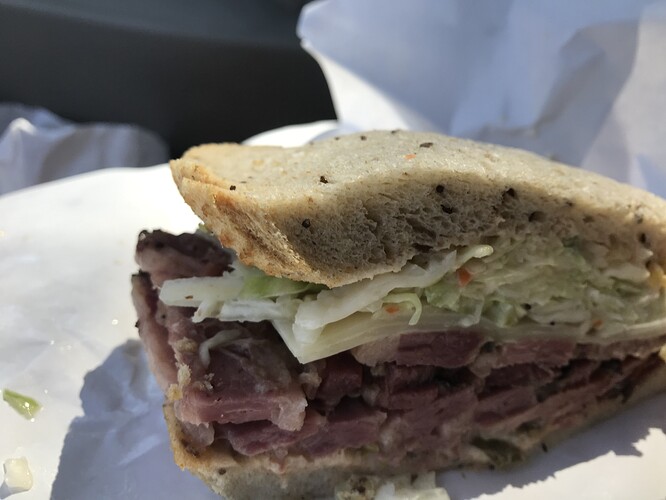 Anyway, more on this adventure, here:
No pics, but had another excellent meal of chirashi and saba from Sushii Ii. I think their chirashi has the best QPR of all the ones I've had during COVID. Too bad it's all the way down in Newport (over an hour each way from the foothills). Although it made for the perfect excuse to hit up Oliboli…
Definitely have thought it's been my favorite at that price point. A super value when I'm in the mood for chirashi. They're doing patio dine-in now too I think.
Damn that is mighty fine eating! Looks perfect for a hot day. A big cup of Cococane would be perfect for me to go with that. I would probably need more lettuce/herbs for 50 pieces of Banh Khot lol
What did get at Oliboli? Did you try the battera and bouzushi as well?
The pastries and bread at Wayfarer in La Jolla is serious stuff. Half hour line at 8:45am Sunday morning. The best croissants I've had in North America. Flaky would be an understatement. Every piece of pastry and baguette not pictured was so well made. The baker knows what they are doing. People were leaving with boxes and bags of stuff. If anybody is down in the area this is a must go to place. Bird rock coffee 2 blocks away.
Top left clockwise
Chocolate croissant with a good piece of dark chocolate
Ham n cheese croissant
Kouign Amman
Salted chocolate chip cookie
Strawberry pistachio croissant
Cinnamon bun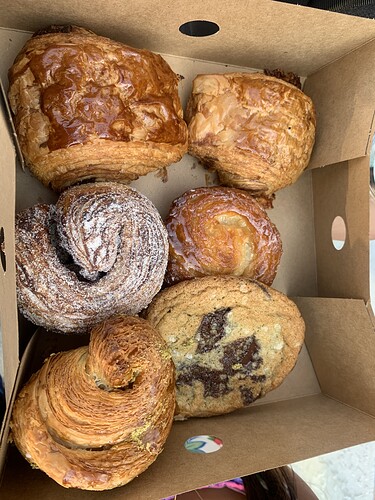 Got the strawberry, cactus pear, guava cream, and burnt bourbon bacon. The yeast donuts all have such a great chew to them.
At Sushi Ii, besides the chirashis,we got their mackerel rod-shaped sushi - which their waitstaff called "big battera." That was excellent
There was more, not pictured… Also ordered extra pickled veg.
XLB Dumpling bar soft open in Brea today. Pork XLB, chicken corn dumplings, al pastor dumplings and cheeseburger bao. Bao was consensus fav but I liked the chicken.
Zombee Donuts. Not too sweet is not my preference in a donut and these do not disappoint. Looking forward to the choc/peanut butter banana which is new.
Infinitely better than Chaumont. Technically because I've never been to Chaumont.
No hash brown? I'm insulted.