'Nuff said, I'll leave the detailed description to Kev
apparently that translates into $60 or $100 omakase?
Yup, had the $100 omakase last night
Oyster w caviar and jellyfish sunomomo
fig wrapped in trumpet fish w arugula & hearts of palm
Seared scallop topped with uni, caviar and shaved summer truffles
Nigiri (not in order served)
golden eye snapper
Uni over seared toro
Uni gunkan
ikura
maguro
octopus '
anago
unagi
snapper
Aji
kasutera tamago
White salmon
tetsu (sp?) - belt fish (supplement)
I think I'm missing one or two items, lost track.
See bikkemberg's post on CH for pics
Thank to @Sgee for reminding me of this place, went last night and it does have a great QPR. My only critique is the chef's heavy use of truffle oil, ponzu, and shoyu. Ordered the OOE omakase (one of everything).
trumpet fish head in the display case, always a good sign

kumamoto oyster with caviar

jellyfish sunomono

octopus, arugula, hearts of palm, figs

scallop, uni, caviar, truffle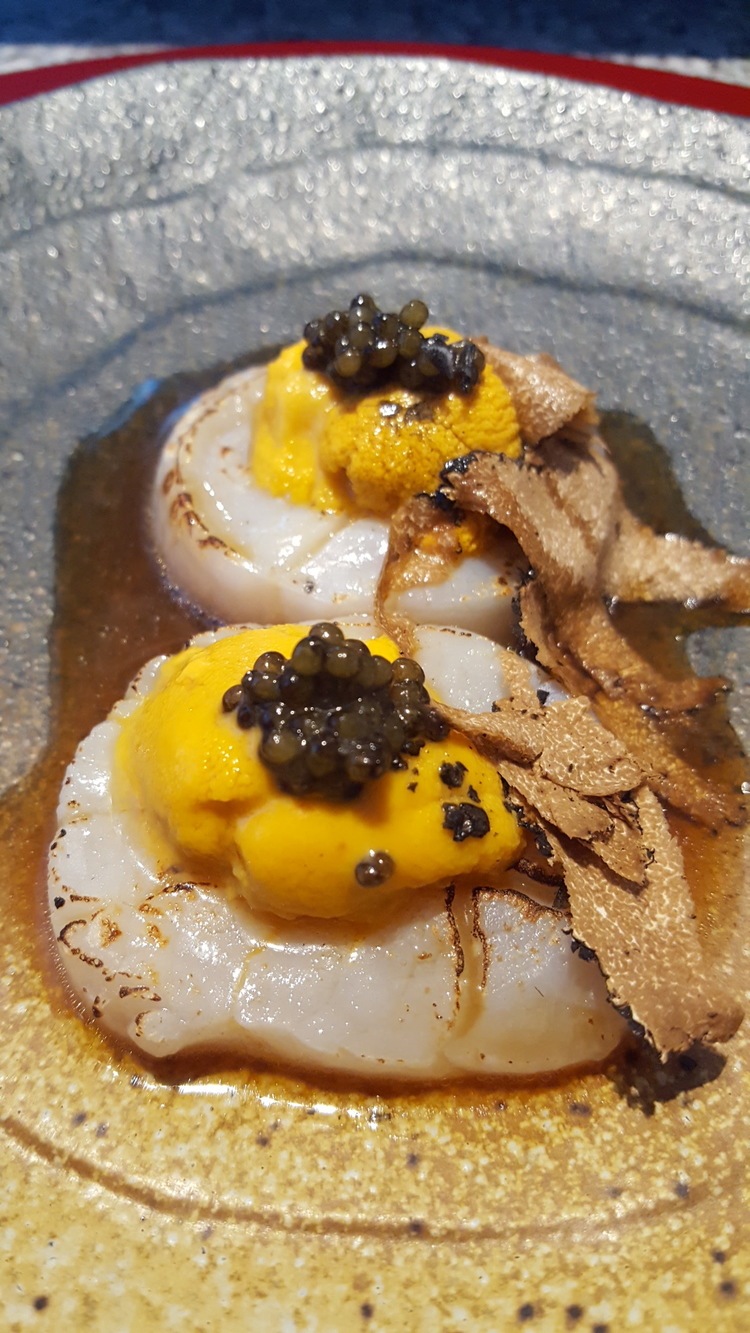 aka yagara - trumpet fish

kodai - baby red snapper

aji - spanish mackerel

sake - white king salmon

sake - seared marinated salmon

kinmedai - golden eye snapper

maguro - bluefin tuna

toro

amaebi - sweet shrimp

santa barbara uni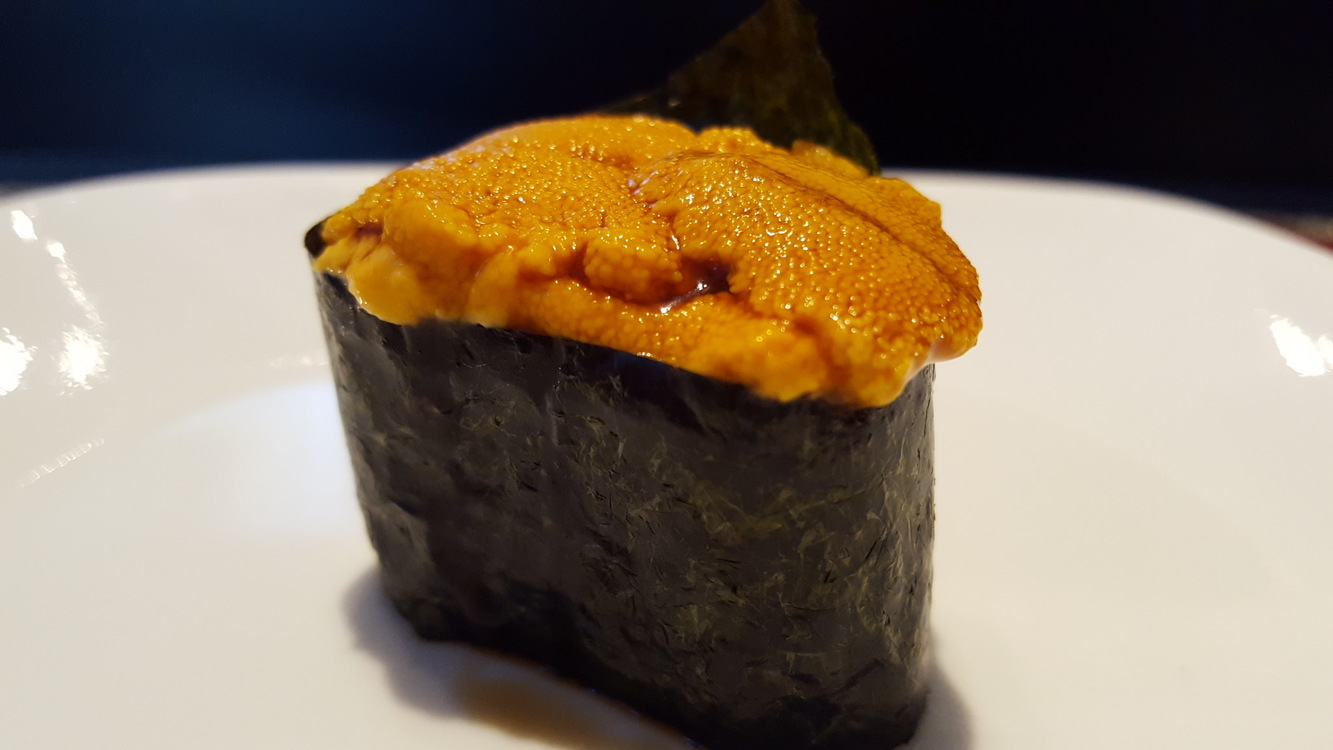 katsuo - bonito

akamutsu - blackthroat seaperch

yakitoro - seared toro and uni

mirugai - geoduck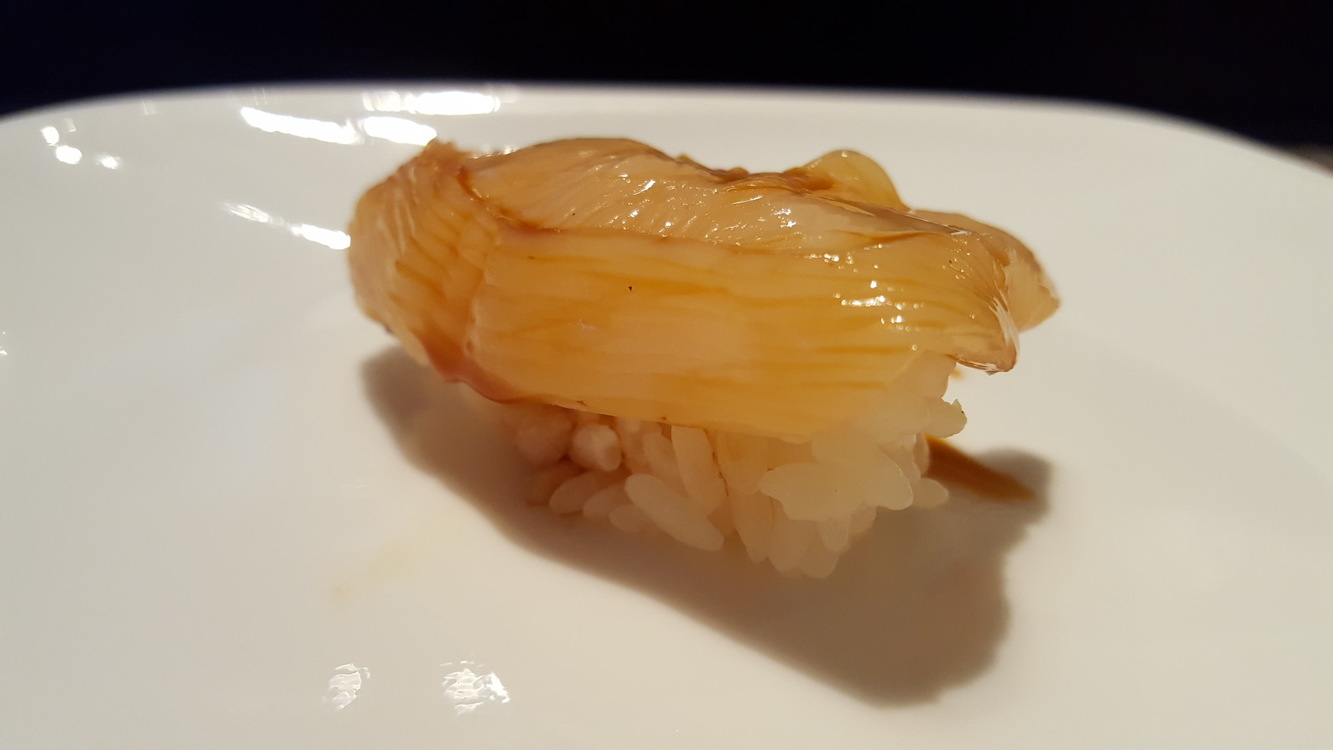 Isaki - threeline grunt fish

unagi - freshwater eel

anago - grilled saltwater eel

tako - ocotpus

tekka - bluefin tuna roll

tamago

the best way to end a meal, with some head

That trumpetfish looks darned fresh. Nice line up of nigiri et al. You've been solely responsible for decimating the local uni population Bro. Since you seem to have the largest and broadest intake of those poor things lately, how have they been taste-wise? I ask because my son is a budding PorkyBelly uni-slayer and is eager to know if the sorry state of the kelp beds has had any effect on the quality of uni gonads. TIA.
thats a nice looking tamagoyaki!
Calling @kevin on that f-in' tamagoyaki…
I almost thought it was fake it was so fresh.
I'm happy to report i haven't noticed any decline in the quality of those godless stinging machines I've tasted. #unislayer
[quote="PorkyBelly, post:4, topic:4108"]
My only critique is the chef's heavy use of truffle oil, ponzu, and shoyu
[/quote]I'm such a sauce lover - all kinds, french, Asian, Italian. And it looks great on your pictures. But over-saucing… not good. And truffle oil…

.
@PorkyBelly nice pics.
I do agree, his saucing is a bit heavy handed. Noticed that during my first visit last year. Still a terrific QPR IMO.
Been meaning to get out there for some time now. A bit disappointing to hear about the heavy hand, esp truffle oil.
Thanks for sharing, as usual.
@not_tellin I still recommend checking it out. I enjoyed my meal and plan to return in the future to try out the unlimited $$$ option.
Heading there tonight, pretty excited.
Can someone tell me what beers they have here? Alternatively, what is the corkage situation? Unfortunately I cannot find an alcohol menu online.
Answer: it's not great. Asahi, Sapporo…
BUT…3 apps and 13 pieces for $100 is excellent. From those 13 rounds got 5 servings of toro and 2 of uni. I really wish I had the money for the super special omakase, or better yet a OOE omakase.
Looks very competent. How does Tanaka rate on the LA scale of 1 to 10 (best), and which places would be in the 8 to 10 range for comparison? TIA!
That nigiri looks really solid.
hate gold flakes on any food.
Nigiri looks legit. I need to go back.
(what does "ooe" stand for again?)
One of everything? Just guessing.
Edit:
We're almost as bad as @bulavinaka