A whole menu full of Thai entrees, Thai iced tea n coffee, and pictures of the Thai monarchy, make me assume this is not owned by a singaporean.
I asked the waitress why the name has Singapore in it, and she said it's because the chicken rice dish is singaporean.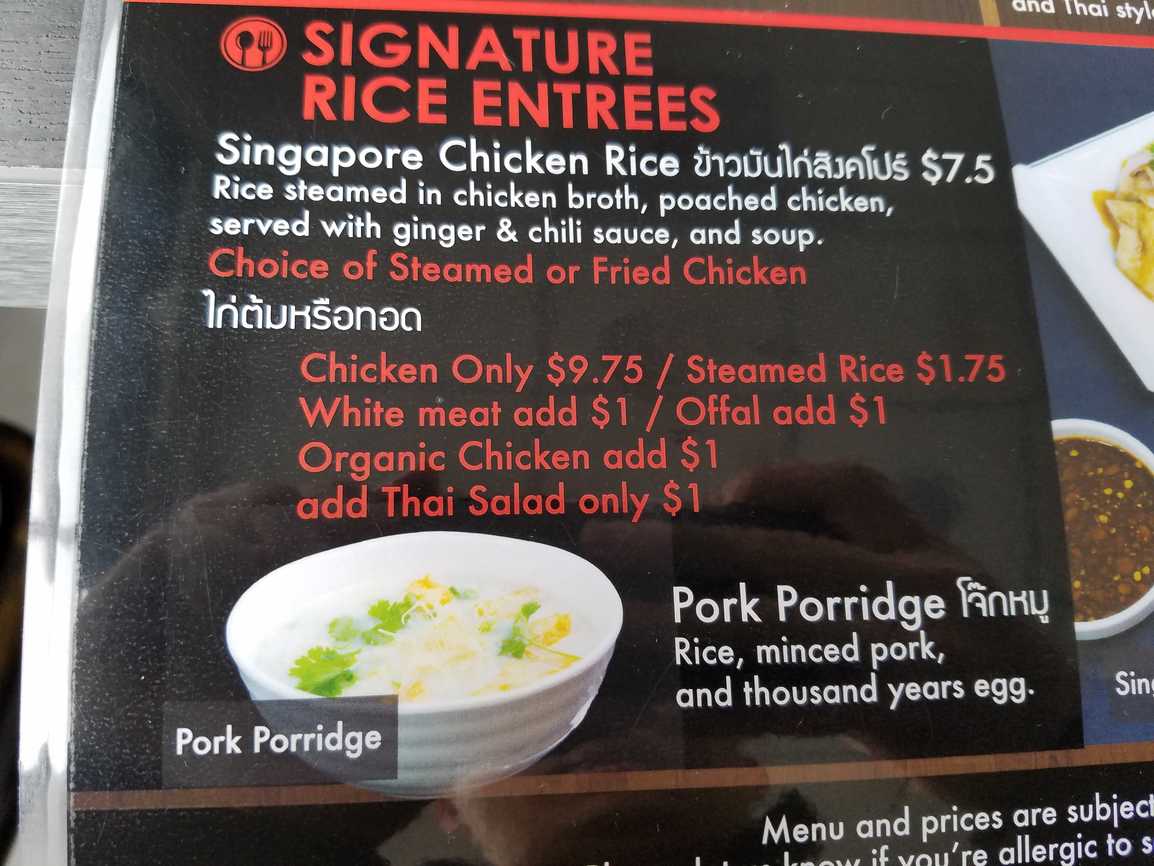 The dish arrives, the chicken was moist n tender, with a nice soy sauce base. Think of a cantonese style white cut chicken (bak cheet gai) with a blander version of the sauce from cantonese soy sauce chicken (si yau gai). I was given a plate of dark meat, and my brother was given white meat, all without asking.
The rice was like any other chicken rice, firmer grains than usual, light flavor.
Sauces were not the typical singaporean, or even Cantonese, or Chinese-viet style. The red/orange sauce was quite sweet, and the soy sauce was more like a tangy Thai sauce… like the sauce you get when you order the crying tiger dish at thai restaurants. They did not give me minced ginger in oil, but I might have seen it in the kitchen area (which is partly visible from the front), so you may need to ask. You can also ask for extra soy sauce (as in, the one that came in the chicken's plate). btw, the two dipping sauces came out almost 10 minutes after our dishes came out, for whatever reason…
It came with a soup, they let you pick from spicy and non spicy. I chose non spice, and got a nice n light, but unremarkable chicken soup. I'm now curious to see what the spicy one was like.

To me, there's nothing singaporean other than the fact that they're trying to use the name to market their store for whatever reason. Thailand has its own chicken rice dish, and other than the soy sauce base, it's very much just Thai style Hainan chicken rice. It's not bad, it's just not what they're claiming it is.
The closest comparison I can make to Singapore, is that it's chicken texture is faintly similar to boon tong kee from Singapore… very faint.
I'm going to edit in a bit, editing on mobile is difficult.