Sometimes you don't need reservations in Tokyo, and if you stumble around and do a bit of quick research you may encounter some surprises.
My AirBnB on my trip last month was in Yoyogi, and as you get out the JR Yoyogi station, right before the underpass, Sansuirou is right across the street. It says "Chugoku Ryori" (Chinese cuisine) underneath the restaurant's name in kanji 山水楼. They don't categorize the restaurant as Chuka Ryori, interestingly.
It was a warm evening in mid September…it was getting late and the restaurant was only going to be open for another 20 mins (or at least last order). To hell with it, and I didn't have time to wander around as I had just arrived in town.
Not many other interesting neighborhood choices, at least I didn't have time to explore yet, and I had luggage in tow, and sweating profusely.
The interior looks a bit run down but gives it that old school neigborhood flavor.
Smoking is allowed inside, so maybe you may get lucky that not that many smokers are inside when you go.
The menu is all over the place, but looks far better than a lot of Chinese restaurants in California…
In the end, the evening had to start with the salaryman diet, "amuse bouche"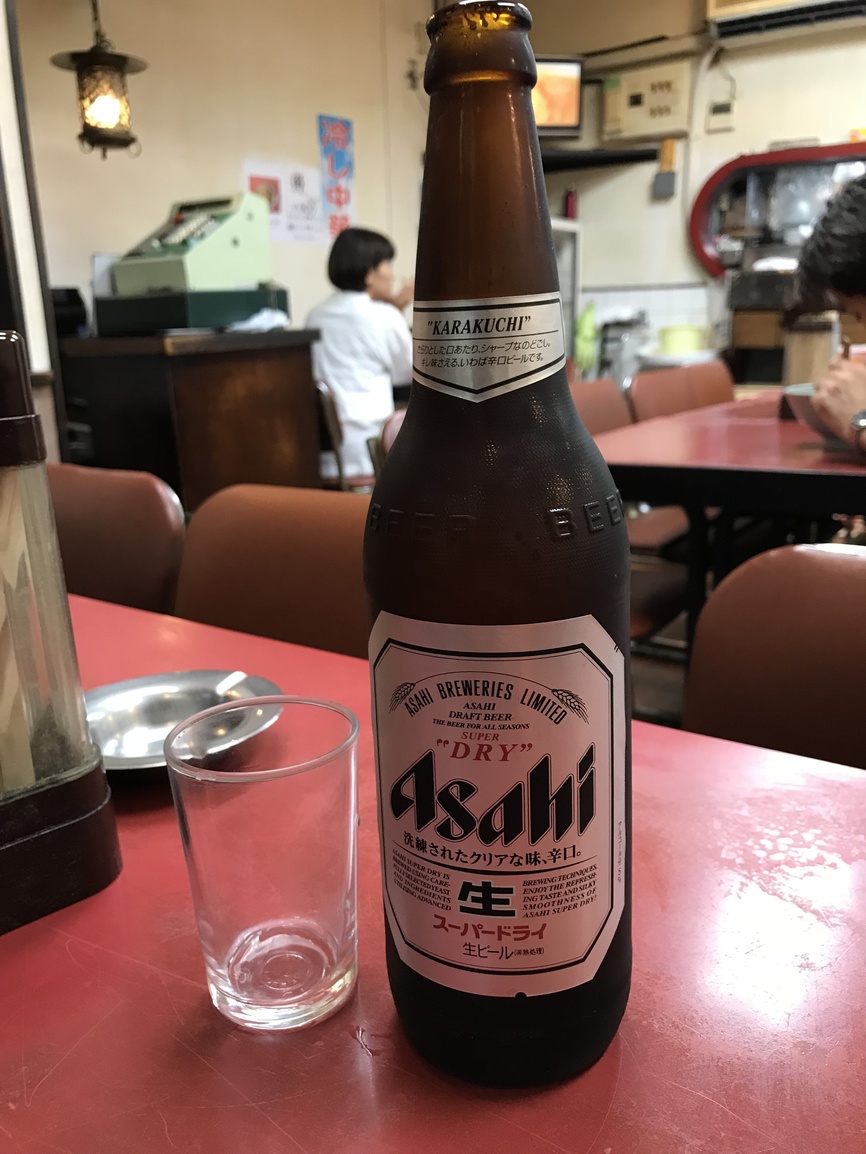 The legendary and required prerequisite "bin biru". I'm sure there were better options elsewhere, but I'll take it, nice and cold
Ramen Beast app shows their hot and sour ramen is legendary, but I wasn't feeling that.
And instead went for grease and glory.
Hui Kou Rou (which is the Japanese pronounciation for "twice cooked pork", just a bit different than "Hui Guo Rou" for Mandarin). Different than what you see at your average Sichuan restaurant overseas, but very delicious (and a lot more greasier). With a big gulp of beer this was the el cheapo blue collar izakaya like experience in the hood. Glorious after a tiring flight and dragging luggage from the airport to the station via subway.
Let's have a closer look!!
and a shot with the beer
Since no ramen was ordered, let's try the yaki gyoza. Delicious! Not the best in Tokyo but very respectable at this hour, nice and plump…I would eventually have something better at an old school ramen shop in Shibuya a week later
Didn't need to speak English as I noted the two young waitresses spoke Mandarin to each other and one of the chefs and the other chefs in the kitchen spoke Japanese. I ordered in Japanese before I learned of this and asked for the check in Mandarin, lol.
Overall, a very nice experience. Bring cash, don't think I saw a sign for credit cards.
This place is super old school, even the cashier machine looks extremely dated!
Sansuirou 山水楼
1-33-4 Yoyogi Shibuya Tokyo