Where should I go and what should I eat when I get there?
Peaceful Noodle is a place with a number of locations (downtown, on broadway, and I think two others. I <3 their dan dan noodles. You can get 'hand dragged' (thin) or blade sheared (thick and irregular) You want the blade sheared (unless you don't. you do you, man.) Their XLB are tasty but unremarkable.
Lao Shan Dong in Burnaby for beef noodle soup.
That's all I've got off the top of my head. I have yet to explore Richmond at all, and that means I'm probably missing 99% of everything. I will be watching this thread with interest.
Lots of good ramen up here.
That is one honkin' big question, Robert, but you already know that, right? The biggest things I find about Chinese restos in the Lower Mainland is that it pays to be a regular (difficult even for we who live here and impossible for visitors) and that their consistency is almost entirely dependent on who is in the kitchen. This seems particularly applicable to dim sum places, where the si fu change often, and it's hard to find out when it happens except by a dip or rise in quality upon dining. Another thing I've noticed is that it's rare a Cantonese place will be equally good for both dim sum and dinner. All that being said, Dynasty remains solid for higher-end dim sum, though the portion sizes seem to be shrinking. For dinner my favourite spot is a Guizhou, no-frills, mum and pop shop called Yummy Mammy. They are under threat of closing because of high rent, one of the couple's failing health and the imminent redevelopment of the neighbourhood, so now would be a good time to go. Call first because sometimes they open later than posted for lunch, and bring cash (no Interac or credit cards) and friends, as you would for any good Chinese restaurant experience.
Got to Fisherman's Terrace around 2pm on Sunday. This was just inside the front door next to the host station. Only waited a couple of minutes to get seated. Everything I ordered was excellent.
I'd never had this dish before. It's just taro with a little pickled ginger in the center.
I wouldn't have ordered the fried spring rolls and one bite was more than enough. The egg tarts aren't the style I like, they're shortcrust rather than puff paste and the custard was not very eggy.
I was dubious about the Robson location, but a local Chinese chef wrote in a "where the chefs eat" piece that it was his favorite, so gave it a try. We got there around 1:45 on a Wednesday, still almost full but we were seated immediately. Almost all the customers were Chinese, though some of the ones we overheard weren't all that familiar with many of the Shanghai items on the menu. Everything was excellent.
I would have liked this better if it hadn't been slightly sweet, but I got used to the idea and polished it off.
Excellent version of this dish, cooked perfectly. Nice to have a substantial chunk of protein in with all the starch.
Neglected to take a photo but they looked just like that. Nice, strong chive flavor, great contrast of textures.
I'd probably just get the regular pork ones next time, the delicious broth somewhat overwhelmed the crab.
Dynasty was the best of the three dim sum places we hit while in Vancouver. First-rate cooking and ingredients, good service, nice room, modest prices.
At first I thought this was underseasoned, but then I realized I needed to get a bit of the salty preserved cabbage in every bite. I don't know what the beans are and forgot to ask. I'm pretty sure they're not edamame, they were bigger and not as soft.
Great turnip cake. It had chunks of turnip that gave it a more interesting texture and made it moist, I haven't had that variation before.
Scallop and pea tip dumpling, new to me, complex and delicious.
Beef balls were very good but not quite as impressive as the similar steamed beef dumplings at Fisherman's Palace, which were jazzed up with cilantro and finely diced fresh water chestnuts.
Juicy and delicate cuttlefish ball topped with a little steamed scallop.
Simple, perfect shrimp dumplings.
I ordered the pork and black pepper pie but the waiter persuaded us to get the pork and lemon pie instead. It had so much lemon zest I couldn't taste the pork and was sweet like a dessert. The texture was good but this made no sense to me.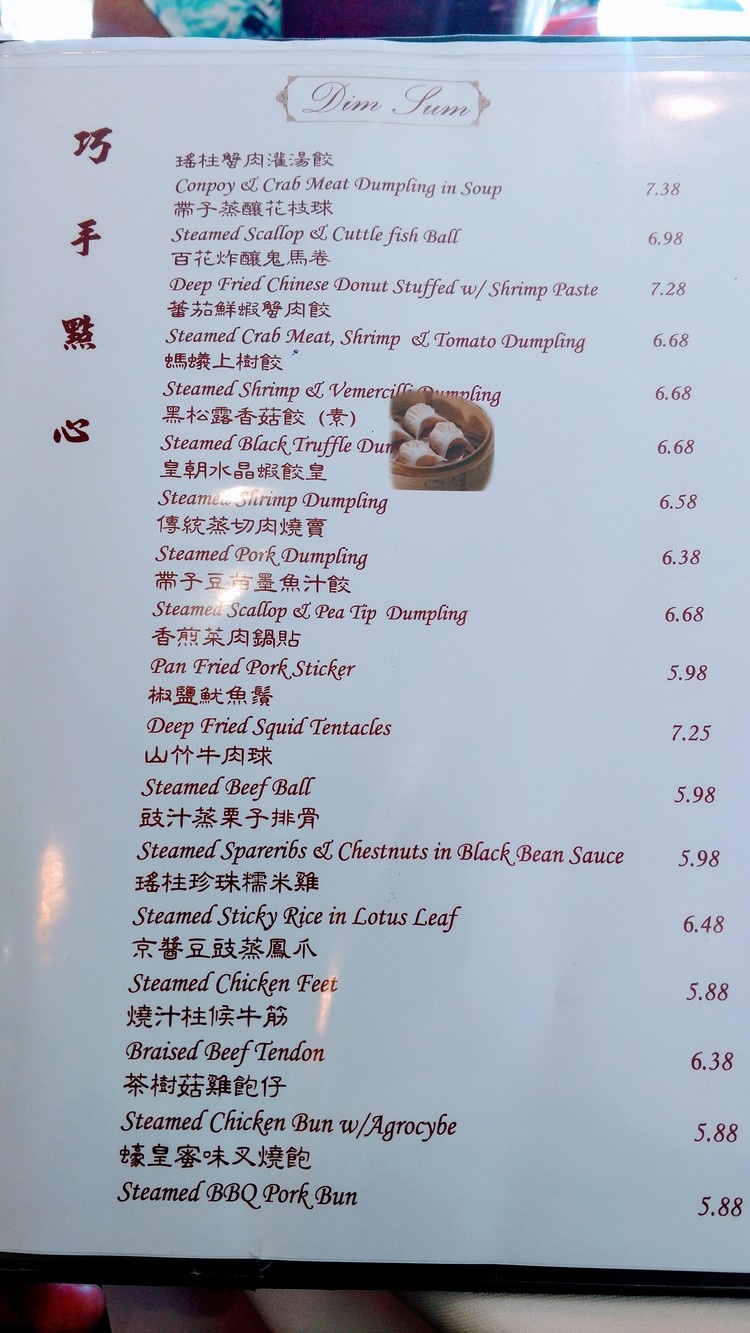 We were looking for a restaurant open late in the general area of our hotel (chosen solely for its proximity to the airport) and a young Chinese-Canadian bartender recommended No. 9. It's the kind of giant late-night HK place that can seat dozens of large groups and has 500 dishes on the menu. It was still packed at 10pm, but since there were only two of us they could seat us right away.
The bartender recommended #A29 lemon chicken, which turned out to be bland pieces of fried breast with a dipping sauce of syrup and lemon juice. Not my kind of thing.
The description of #354 as "#9 Sandwich Designed by JJ" made me think it might be something creative and original, but it was just a kind of boring and dry club sandwich. The fries were good enough that #366a poutine might be good.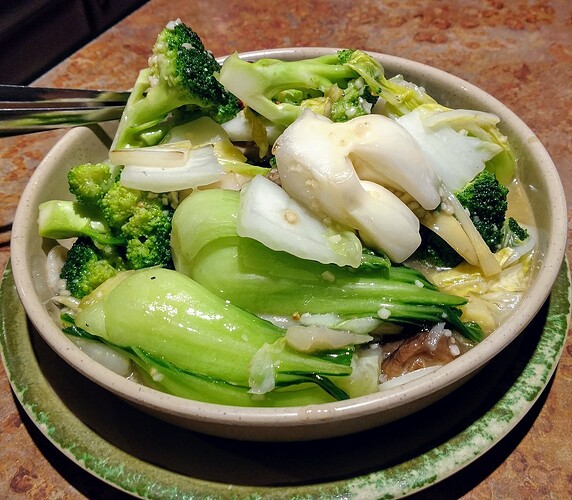 The #95 Seasonal Vegetable (Pan Fried / Garlic / Broth) was excellent, nice un-Americanized selection, cooked al dente. Based on this dish, I'm sure you could get an excellent and inexpensive meal there if you ordered the right things.
Probably a bit too late for my reply, but I went to Vancouver about a month ago. I can only really comment on Cantonese/HK food that I ate recently, if FTC doesn't mind linking to Chowhound: Chowhound
If not I can re reply my trip. In any case, I had great dinners at Bamboo Grove, Hoitong, and Red Star.