And it needn't be fancy.
Baguette, blue cheese compound butter, goat butter.

There were also tomatoes and lettuce involved.
Tonight was Diet Coke and granola.
Butterfied thick pork chop . Local butcher , not impressed with the taste . What happened to pork is another thread . Did brine , butterflied open and pounded thin . Stuffed with sauteed hedgehog mushrooms and shallot ,and mixed with small cubes of Fontina and fresh sage . Browned in pan with butter and basted . I think I'm done with pork except for those ribs low and slow . The star of the show was the green beans , steamed 6 min and onto the plate , no seasoning . I ate them like French fries with my hands .
Marinated chicken thighs w/ peanut sauce and green onions over rice.
This one is all the better half's doing. I just ate the leftovers.
Tomorrow's dinner looks to be gringo taco-kit tacos. I even got the fancy stand-up shells. They were $.20 more, but #YOLO!!
oh god. I think I just made myself throw up in my mouth a little bit. I'm sorry. I'lll never do a hashtag joke again.
I'll do our Valentine's dinner. Prime filet mignon rare with Julia Child's sauce recipe from Steak Diane. (Happy 100th Birthday Julia . . . Steak Diane - La Bella Vita Cucina ) with seared foie gras (Hudson Valley had it 15% off and shipping was only $10 for overnight) and a side of diced pears sauteed in butter and balsamic vinegar (All Recipes | Metropolitan Market). Not possible to get brioche around here so I bought some 'fat' soft rolls, cut in half, buttered and toasted on the panini grill. No "leafy green vegetable." Sorry about the crummy plating.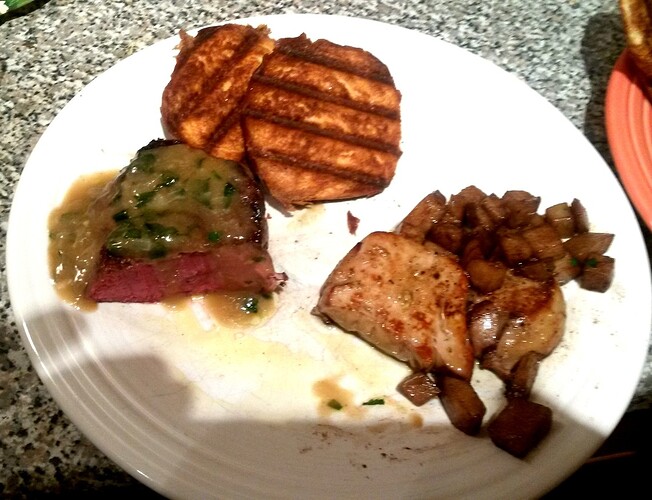 Not nearly as well as I'd like. Tonight, for instance, I got home at 9pm. Too late to make anything serious. Don't want anything big so late but I haven't eaten all day.
Frozen fish patty delicately toasterovened to a golden brown, served on Wonder™ bread with a slice of Kraft american cheese food product, made with actual milk.
So, yeah. And people wonder why I eat out.
I make a cheese omelet at times like that.
It rained all night and all day, so I cooked like it was blizzarding in Praha.
Meatball soup, goulash, pierogi with carmelized onions.
Wow! I'm sorry I missed dinner

That plus rice and some pickled cucumbers is a go-to in my house.
Lately, Old Godmother has been staying in the jar and I've gone back to THIS. I love the stuff.
Ooh, I need to try that. Thanks!
As a certified lazy person, I feel compelled to point out that a cheese omelet, while meeting the criteria of 'easy', 'quick', and 'not too big', fails on the grounds that it requires, at a minimum, the soiling and subsequent washing of at least a pan, a fork, and a plate.
a frozen fish sandwich heated up in the toaster oven can be eaten on a paper towel that then doubles as your napkin and the thing you wipe the ring your can/bottle of beverage (no glass!) left on the coffee table.
I lead SUCH a baller life.
My Airedale Terrier will clean the skillet and the plate.
My cat would try.
Then I would have to add the resultant piles of yak to the 'things to be cleaned' list.
Only a sound that a cat non-owner can imagine. Especially when it comes in the dark of night.

I'm also not against a little pork floss with that egg, chili oil, rice, quick-pickled cucumber combo.
By the way, nice looking egg!
Omg that sounds so good. Will try!
And thank you re: the egg.