We haven't decided on an itinerary, but I'm sure it will include Merida and Valladolid.
We just got back from Merida… Mostly we visit neighborhood places because our home is in a colonial area just east of Centro Historico. It's not really set up for tourists or even complete dinners. Because of the heat, Yucatecans eat earlier rather than later in the day.
But these are two new to us recommendations in Centro Historico… We were really impressed with the menu and dishes at the Gastronomy Museum.
They knocked it out of the park with Vegetarian Kibi. We are Kibi Connoisseurs (we hate the ones at Chichen Itza here in L.A.) these hit all the notes despite and you didn't miss the picadillo which typically goes in…
We also had the Relleno Negro and the Lomitos. Both were spot on renditions of the dishes and included all the good stuff… like the Boot in the Relleno and the herby notes in the Lomitos.
https://www.yelp.com/biz/museo-de-la-gastronomia-yucateca-mérida
El Pavo Feliz in the Artisan Market Garcia Rejon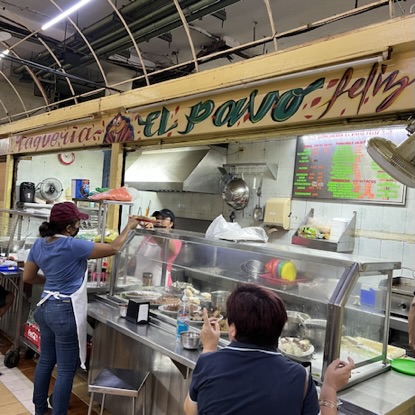 Even in Kanasin where the Panucho is king, every place you go now it's bigger is better. The Panuchos and Salbutes I grew up eating where diminative things where you can order 3 and get tastes of different fillings. El Pavo Feliz is holding on to that tradition offering seasonal classics like Pulpo en su Tinta and modern obsession like Castacan. We had a big breakfast of Papzules and Huevo con Chaya on our shopping trip there so we only had one Salbute, the at times challenging Poc Chuc.
They nailed it. The marinade was great and the meat was super tender. The salbute was a thing of beauty. Super puffy and crisp at the edges. Again, this is more of a morning place as even by Noon they had sold out of a lot of their many topping choices.
https://www.yelp.com/biz/el-pavo-feliz-mérida
Helados are a way of life in Yucatan. We stopped by the local Santa Clara outpost (Mexico's answer to Ben and Jerrys) and had the season Churro flavor and regular Macadamia Nut flavor. Both were winners, with the Macadamia being absolutely studded with nuts. It made me very… very… happy… This is P very please with his Churro choice!
Later we went to Pola which is all housemade. Being there for Haxal Pixan, they had a pan de muerto flavor which was really wonderful. We had hoped it would be similar Toscanini's Brioche Ice Cream Flavor… but this was more nuanced with big fluffy pieces of actual Pan de Muerto. P. liked it a ton (along with the freshly made cone). I found Santa Clara creamier.
Other than that, all the standards remain. Chaya Mama is as busy as ever, Dulceria Colon is still a place to be seen and you can never go wrong with anything at Mercado Santa Ana.
Have a good trip!
–Dommy!
Merida: Micaela Mar y Lena, Taqueria La Lupita, Marlin Azul. The first suggestion is a nice restaurant and the other two are more low budget and maybe not for everyone.
Izamal: (On the way from Merida to Valladolid): Restaurante Kinich
Valladolid: El Gavilan Blanco (hole in the wall), Yerba buena (vegetarian restaurant written up in guidebooks—might be for you but made me sick), La Cocina de Mama at Zazil Tunich (cenote).
I have only been to the Yucatán once and from reading the board I likely have very different taste than you so take my suggestions with a grain of salt. Wish I had known Dommy was such a great resource for this area prior to my trip.
I enjoyed the Yucatán but especially loved Merida. Have a nice trip!
Thank you very much for the recommendations!
So glad you loved Merida! That makes me so happy! I don't know about how much of a resource I am… this recent trip was our first time back in five years and so much has changed during the pandemic. Even our neighborhood Panaderia closed after four generations open… you just can not blame them, the same thing happened here in L.A. Plus, we have a family homestead there and are there usually for a family occassion, so we are lucky that in a week's long trip we get TWO meals on our own where we can explore the scene, which changes so so so so much.
Happy to peach Kinich is still good. I haven't been to Izamal in nearly 10 years, but our visit there was indeed memorable as where the Marquesitas in the town square. Perhaps best in Yucatan…
@Dommy, even if you don't have specific restaurant suggestions your knowledge of Yucatán food is very much appreciated and valuable.
Food aside, Merida is probably my favorite city I've visited so far in Mexico. Exceptionally nice people and just an all around great city. Some of the people we spoke with said it is getting very popular with Mexicans from all over and as a result like TJ and SoCal housing prices are getting crazy. If that's true who knows what it will look like soon. Hopefully the culture doesn't change too much.
Btw, hope you were at the LAFC game today

!
HA! After a detour to the Hungry Neko Fest… I'm at home drinking Korean Lemon Tea because I WAS at that crazy LAFC game. I am so happie…
Awww! So happy my peeps made such a lovely impression. We went for Hixal Pixan (Mayan Day of the Dead) and it was amazing to be in downtown and other areas meeting people from all around Mexico, Latin American and the world quite frankly to come celebrate with us. Merida has always been a center of trade town so it's used to influx of foreigners and knows how to charm them.
My cousin have talked about the amount of foreigners that have come in, not only in Merida, but also coastal areas like Chelem. But there is also new housing and growth around previously sparcely populated areas like around the University.
It also helps that in many cases the foreigners are rehabbing the amazing older colonial homes.
My parents generation grumble that it's the consequence of to much focus on modernity by Mexico's own government. Further, we aren't push overs. When Costco broke ground and there was a cenote discovered the government was not going to let them pave over it. They came to an agreement that now makes it the first Costco with a Cenote…
Sorry I missed your post. Thank you very much! Can't wait.
Just catching up on a Thanksgiving trip to Merida and Valladolid. Didn't take photos but a few thoughts/recommendations for those traveling there.
Mercados:
Both Mercado Santiago and Mercado Lucas de Galvez are great, but overall for salbutes and panuchos, as @Dommy mentioned, I'd give the nod to El Pavo Feliz at Lucas de Galvez over Tacos La Lupita at Santiago. Galvez also has a cool loncheria that's pretty busy when Pavo Feliz closes, and a chilaquiles specialist in the back of the market.
Did not try Mondongo Kabik, which is Yucatecan menudo I think, but that should be on everyone's list.
Restaurants
Wayan'e for tacos. Many branches throughout the city. Got there too late for most of the guisos, but the castacan (pork belly) taco was on point. Also the higadilla!
Marlin Azul, as @RedDevil mentioned, looked great, but we also didn't make it. I'd also second their recommendation of Micaela Mar Y Lena. Really cool story behind that restaurant.
For upscale, I was pleasantly surprised by Kuuk, especially the first courses, though their tasting menu leans molecular (smokes, foams whatnot). Didn't get to Nectar but some people really like.
For hipster bs, Kool Kaab looked cool. They're doing an expendio de maiz/molina pujol thing. I quite liked Ramiro, but it's very boujee and more pan Mexican than Yucatecan or whatever.
https://www.tripadvisor.com/Restaurant_Review-g150811-d23380296-Reviews-Kool_Kaab-Merida_Yucatan_Peninsula.html
Outside Merida proper, we had a very nice fried grouper at El Toro in the beach town Progreso, though it's very local and not touristy whatsoever. For the beach itself, preferred Celestun.
La Tia de Kaua outside Chichen Itza for poc chuc was fun but not revelatory.
Overall, Merida was nice, with interesting, dynamic food. Incredible culture/history/people (feel weird objectifying/generalizing people like that but don't know how else to phrase), and relleno negro was a personal fave. Wish we'd had Tikin Xic, achiote rubbed fish cooked in banana leaf. Next time!
*also thanks to @RedDevil, @Dommy and everyone else on the thread for recs and inspiration.
Edit: gonna brag a bit, but almost on cue, Rene Redzepi pops into Kool Kaab.
This post brings me so much joy I can't even describe!!! I am so glad you had a fabulous time with such good eats.
YES! Mondongo is like menudo but so much better. Chichen Itza in L.A. used to have it on the weekends and it was perfectly prepared. Glad you are already thinking of next time, I know that is what makes me even more excited to come back myself each time.

Glad you had a nice trip! Merida was lovely.
We have started our Yucatan trip and we are now in Bacalar.
We would like to report on the Nixtamal in Bacalar that we went today. Here are the pictures:
Drinks
Kombucha white tea(Complementary)

FRESA DE BARRIO (left)
Macerated strawberry, orange juice, lemon twist, honey.
NIXTA-CATE (right)
Creamy cocktail made out of avocado, Abasolo whisky (100% corn whisky), Nixta (100% corn liquor), lime juice, orange juice, honey, frosted with holy leave salt and garnished with arbol chili
Appetizers
Main course
Warrior: The food reminded me of a Mexican Girl & the Goat. Very busy plates with lots of sauces. The highlights for me were the cocktails and the grassy/herbal salmiana mezcal. 2.9 Warrior Points.
Peony: the food was decent and had good quality. I would consider it as good resort city food but the flavors were not impressive. They also sell mosquito spray. We got one and it turned out to be really useful.
Bacalar - Macario
Warrior: Hard to say whether I preferred Nixtamal or Macario. I'll call it a toss-up. Execution was better at Nixtamal; dish design was better at Macario. 2.9 Warrior Points.
Peony: Agree with Warrior. The two restaurants are about the similar level. I think the Macario dishes have better flavors but the texture of fish was better in Nixtamal.
Campeche. La Pigua. Upscale seafood restaurant.
Warrior: 4.5 Warrior Points. A very good choice in Campeche. If this restaurant were in LA, it would arguably be the best Mexican restaurant, and certainly it would be the grandest. While all the food was tasty and skillfully prepared, I felt it lacked that something extra that makes certain restaurants special. I prefer the food at Holbox (in LA), even though it isn't as fancy.
Peony: The dessert is Pastas campechanas.
Other Campeche notes:
Origen: Outstanding coffee shop. The best coffee I've drunk outside the United States. Their Chiapas coffee, prepared with v-60 and Chemex, could have been served at Dayglow in LA.
Chocol'Ha: A cafe with lots of chocolate drinks and light food like crepes and a chocolate tamale. A good choice for brunch, but not so special.
Mérida. Kuuk. Fancy Mexican.
Warrior: Good restaurant. More notable for the beautiful mansion setting, the excellent service, and the large wine list than the food. But the food was pretty good too, with no serious missteps. Dishes were executed well and presented at a Michelin-star level. They just weren't impressive. 4.7 Warrior Points.

Pomuch: El Panaderia de Pomuch.
Pomuch is a small town between Campeche and Mérida known for its bread. I thought the breads here were just okay. We had better versions at Museo de Gastronomia in Mérida. Still, perhaps it is worth a stop for the cultural value. The town is also known for the fact that residents clean their dead relatives' bones every year.
Mérida: El Museo de La Gastronomia Yucateca. Good food across the board. Nice setting, great service. Best meal of the trip so far. Thanks to Dommy for the recommendation! 4.9 Warrior Points.
Museum:

Ixi'im
Outside Mérida. Ixi'im. At Chablé Yucatan, a sterile resort for rich people, about a hour drive from our hotel. According to online sources, the restaurant was "designed" or "conceptualized" by the head chef of Quintonil in Mexico City. As expected, the food was very good, though I wasn't blown away by anything. The wine list was a little disappointing. The setting was interesting (the world's largest tequila collection) and the service was good. 6.4 Warrior Points.