Their fish nuggets are also (usually) quite good, too. Panko breading.
Apparently Saturday during the day the pch 110 market is super busy too. Although the po po were walking around and shut vendors down.
Got a Gordita and carnitas tacos. Both were excellent
Unfortunately, their food can be inconsistent, I never order chicken there after getting a substandard portion. That being said their salads can be great.
Yea the salads were so amazing back in the day
That eggplant looks almost like soondae!
LOL that's because it is soondae
Lol I thought it was eggplant!
Omg this sounds like the greatest restaurant ever. Can I bring my own chili oil?
i LOVED going to Mongolian BBQ buffets when I was a kid…
RIP Mongol's Westwood. Lunch there yielded at least two extra meals.
Oh wow!! I worked up the street in El Segundo nearly 20 years ago and we used to go to the Big Wok all the time! Good memories.
TIL Mongolian BBQ is a Taiwanese invention
It's in the EaterLA article by Matt Kang
" In reality, Mongolian barbecue was conceived and marketed by comedian Wu Zhao-nan, who was originally from the mainland but fled to Taiwan in 1949. He opened a tea shop in Taipei the early 1950s and started serving griddled meat and veggie plates but couldn't call it Beijing Barbecue due to political reasons. So he went with Mongolian barbecue, an association that the country of Mongolia might never have asked for, but also never bothered to complain about (khorkhog is the [actual method of Mongolian barbecue]. Regardless, numerous imitators sprouted in Taipei, but in 1966, John C. Lee [opened a chain of Mongolian barbecue restaurant called Colonel Lee's Mongolian BBQ, the first in Northridge. The format still lives on in casual chain restaurants and mall food courts, but the all-you-can-eat variant that was part of Wu's original Taiwanese restaurant has just a small handful of operators in the LA area. It's unclear when Mongolian barbecue had its heyday, but given the dated dining rooms of extant Southern California restaurants, like King's in Reseda, Caesar's in Cerritos, and Big Wok in Manhattan Beach, the formerly trendy dish has been waning in popularity since the mid-'90s."
It's not popular on the west coast but General Tso's was invented by a Taiwanese.
Yeah I'm actually surprised it's stayed in business. I figured they would go out of business after they lost their old location but they moved into the old Versailles location I feel like I should go for nostalgia and byoco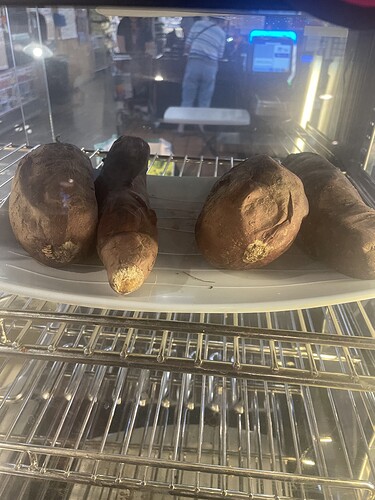 Tokyo Central (Gardena). God I love Japanese sweet potato! I need to buy a big bag of these and roast them at home. So good. Love the purple ones too.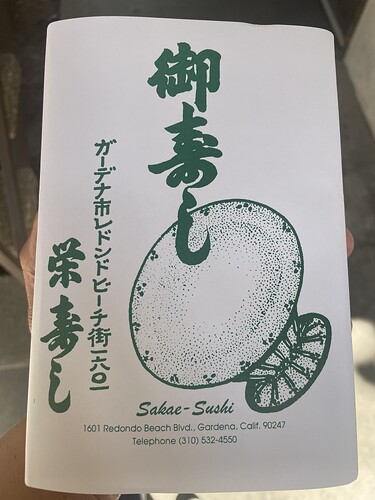 Sakae (Gardena). California maki (real shrimp). I should make this at home as a futomaki or a fat temaki.
Is Sakae actually destination worthy good or do people just like it for the QPR
Not a destination spot. It's a local to go spot. It's all cooked. This is more like a Japanese mom or grandma homestyle sushi for their child/grandchild. Or sushi to bring to a potluck/party.
if you're in the area and just want to have some old school maki snack. If you drive you'll be disappointed
There's so many great Japanese spots in the area so that would be pretty low on my list unless as jeet mentioned you are bringing it to a potluck or something even then I might kimbap or soemthing