Doesn't matter. They'll be minimum 30 mins behind starting at open.
I went to the santa monica one and got one easily.
DAMN KETO DIET!!!
So envious!!
Forgot to post this earlier, but Bristol Farms (at the least the Santa Monica one) is doing a "roadside" seafood sale. Pair of lobster tails for $19, and branzino at $11.99/lb. They also cooked and uncooked shrimp, halibut, and "seabass" (it did not say "Chilean").
I think the sale ends today.
Thanks for the tip. I'm literally getting in my car. Was thinking of what to do for dinner.
Prime Pizza Special
Today only for Cheese Pizza Day. Another special coming on the 20th for pepperoni pizza day.
Unfortunately you have to buy two.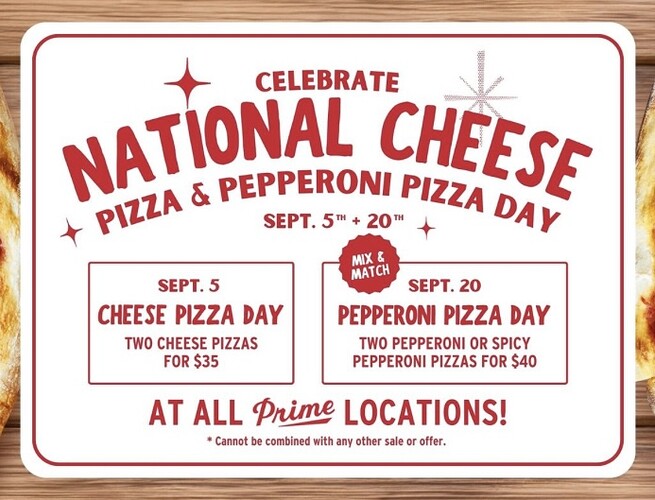 All coffee beans at WF 25% off with Prime until next Tuesday 9/12. I picked up a bag of Bird Rock beans today and will grab another bag before the sale ends on Tuesday.
For tinned fish fans,
Scout Wild Caught Albacore Tuna in EVOO $2.99
They also had Smoked Albacore and Pink Salmon, but they weren't in the system when I brought them up to the register. I'll swing by again today and see if I can get a price.
This is the Rosemead location.
Wait?!? Is this Grocery Outlet?! OMG!! I live near one and I LOVE Scout Tuna… it just comes in an infuriatingly small can!!
Not sure what price it is… but this has been spotted at Trader Joe's so picking it up is now easier in person.
Thanks so much again! I got some tonight at the Highland Park Location!! I struck out this weekend at the South Pas location.
You're welcome! Anything to help fellow tin enthusiasts!
I got some of that redboat sauce at trader joes, what to make with it?