Great review of one of my favorites! Just to add for anyone who hasn't been, the cream puffs tend to sell out really quickly so go right when they open or very early.
Hi @thechez5,
Thanks. Great advice! What are your favorites that you've tried there?
No bang bang with the fantastic Oumi Sasaya next door?!
Thanks @J_L. I wanted to, but we stopped by some other places first.

Besides the cream puffs, I like the matcha, strawberry, and Othello cakes, the Mont Blanc, and their cheesecakes. They have a sesame cheesecake sometimes which is pretty good.
Thanks @thechez5. I've never seen the sesame cheesecake before, can't wait to try it next time.
Nice post. Yes, I also hav @bulavinaka to thank for knowing about this place.
Update:
We had two birthdays to celebrate on the same day, so we wanted to treat our dear friends to some of the tastiest Birthday Cakes for this special occasion.
But first, we had to snack on some of Pastry Chef Keiko Nojima's Pastries before going to the party.
Mont Blanc (Chestnut Swirl, Chantilly Cream & Imported Chestnuts):
Chestnut Desserts are rather uncommon locally, so it was nice to give this a try. Taking a bite…
There's this incredible nutty, toasty aroma of Chestnuts.
It starts with their wonderfully light Chestnut Swirl (Cream) on the outside, that blends into Nojima-san's airy, wonderful Chantilly Cream with Toasted, Crumbled Chestnuts on the bottom. There was almost this "Almond Roca-like" effect going on. It was just delightful!
Le Matcha (A Traditional Japanese Dessert Recreated in this Green Tea Mousse):
Patisserie Chantilly's Le Matcha is a gorgeous counterpoint to the previous Mont Blanc: A deep, slightly vegetal aroma of quality Matcha Green Tea permeates each bite, balanced by some light sweetness, and a bit of Chocolate and Cream. Wonderful.
Choux aux Sésames (Pâte a Chou Baked with Sesame, filled to order with Black Sesame Cream and a Drizzle of Mesquite Honey):
SO GOOD! It's just so incredibly good!
This might be my very favorite Black Sesame Dessert right now… so aromatic, nutty and toasted from the Black Sesame Chantilly Cream and the Toasted Black Sesame Seeds on top and within, the touch of Mesquite Honey is brilliant, giving it nuanced smoky sweetness, and the Choux is excellent.
@paranoidgarliclover @bulavinaka @J_L @PorkyBelly @thechez5 it's time for a revisit!
Gâteau Fraise - Full Birthday Cake (Fresh Strawberries and Chantilly's Special Cream, Light Chiffon):
This sounds rather basic, but Pastry Chef Keiko Nojima's creation is thankfully excellent: The Chiffon Cake tastes somewhat familiar, but her stunning Chantilly Cream (used for her amazing French-Japanese Choux à la Crème (Cream Puffs)) elevates this into one of the best Birthday Cakes we've had in years.
One of the birthday girls commented it was the best Birthday Cake she's had someone bring over since she can remember.
Othello - Full Birthday Cake (A Unique Combination of Black & White — Chocolate & Sesame):
But then we get to the full Birthday Cake version of their Othello.
Airy, light Cream (not overly sweet) yields to a beautiful, lightly bitter Dark Chocolate finishing off with a nutty Black Sesame final taste. This was just stunningly good!
My other friend (also the birthday girl) also said this was one of the best Birthday Cakes she's ever had.
Patisserie Chantilly continues to deliver wonderful French-Japanese Pastries and Desserts: Their Mont Blanc (Chestnut) is not to be missed, Le Matcha (Green Tea) is a delight, and of course their 3 styles of Cream Puffs.
But if you're in need of a Birthday or Holiday Cake (@Ns1 @TheCookie and others), Pastry Chef Keiko Nojima excels in this area as well. Don't miss out on their Othello Cake for a taste of Cream, Dark Chocolate and Black Sesame. Their Gâteau Fraise is a great classic Chiffon & Strawberry Cake elevated by their amazing Chantilly Cream, and last Christmas we had an amazing Matcha Green Tea Cake.
Next time I want to try their Fraise Noël (Layers of Chiffon with Chantilly Cream, Strawberries and 100% Pure Jam), or their Bûche de Marron (Chiffon Cake Rolled with Chestnuts and Chantilly Cream, Delicately Topped with Chestnut Cream) (and it looks adorable)!
Patisserie Chantilly
2383 Lomita Blvd. #104
Lomita, CA 90717
Tel: (310) 257-9454
Omg. I'll try and make it tomorrow after work. Hopefully they'll have some left (which I doubt). Thanks!!
My b-day just passed last month. I had known about the cakes, I totally would've asked my friends to get one!

Did you detect much/any bitterness in the matcha cake? I love a deep matcha flavor, but bitterness is a no-go for me.
On a somewhat related note, I finally got the black sesame froyo at Sunny Blue! So big for only $3!!! And just enough black sesame flavor for me. I totally thought of you when I got it today.

Hi @thechez5,
Nice! Yah, hopefully they still have some more of their Choux / Cream Puffs when you get there after work.

Have you tried their Othello and Mont Blanc before? What are your other favorites there?
Oh, well Happy (belated) Birthday!

For the Matcha Cake? No, no real bitterness; just a deep Matcha flavor. You might give their Le Matcha a try, which is their individual sized Dessert which I think their Matcha Full Cake was based off of? And see how you like those flavors.

But "worse case" (more like "even better case") enjoy some of their amazing Choux aux Sésames (Black Sesame Cream Puffs).
You got me craving the black sesame cream puff yesterday so I went after work. The person ahead of me in line bought the last three.
It's ok, though. I got the last vanilla one, which I also love, and also the Zen Cake (black sesame cheesecake) which is one of my other favorites. Got a chocolate & Chantilly cream roll for my SO, as well.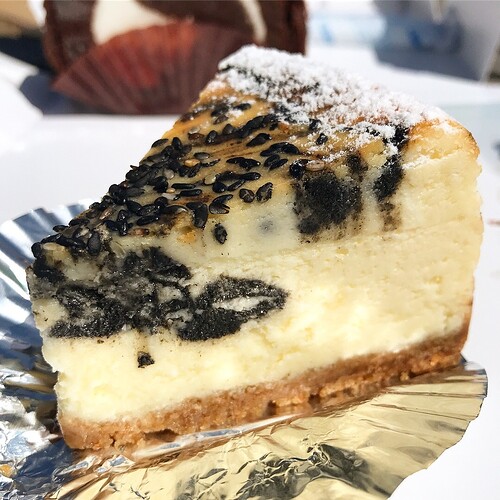 And yes, I love the Othello and the Mont Blanc as well. The strawberry and matcha cakes, too. They have a Fuji Apple and caramel tart thing that's delicious, too! I'm so glad I live only a couple of minutes away.
Yumm @Chowseeker1999

!
I may actually get to Chantilly. If not, I still get to indulge.
My OC cousins are unofficial seekers and will travel to multiple counties to get the right this or that for their soirées. I enticed one of them with your post. You had her "French-Japanese Pastries"!
Common problem with eclairs. Odd in this case because they seemed to get the pâte a choux for the cream puffs just right. And if you don't mind my saying so, chantilly cream in an eclair is not really an eclair

- custardy pastry cream all the way!
P.S. I love they named the black & white cake The Othello.
If y'all are ever in the Burbank area, Lou the French on the Block has these insane eclairs with an exceptionally crispy outer layer that defies logic. Fruit tarts are also magic.
Hi @TheCookie,
Thanks.

I hope you get a chance to go; I think you'd really like their Choux aux Sésames and Choux à la Crème (and Othello, and their Chestnut Dessert and Matcha).

If going on the weekend, definitely try to get there earlier in the day (not mid or late afternoon) as they can sell out. Or call ahead and ask them to save you some.
Enjoy!
Thanks @Ns1! I'll have to try them out the next time we're near Burbank.
@Chowseeker1999
Finally made it to Patisserie Chantilly. It lived up to its hype and then some.
The black sesame cream puff is going to haunt me in my dreams. A masterful dessert. So delicate and balanced in terms of flavor and texture.
My wife said the gateau fraise is the best cake she has ever had and I have to buy it every year for her birthday. I don't disagree.
The pommier was excellent. Not overly sweet and a great version of an apple pie.
The only saving grace for me is that it's 10 minutes from Monkish which I go to once or twice per month.
I want to try everything.
Hi @js76wisco,
So glad you liked Patisserie Chantilly!

Yes! That Black Sesame Cream Puff is definitely one of my favorite desserts.
Try the Othello (Chocolate & Sesame) and Mont Blanc (Chestnut Swirl, Chantilly Cream & Imported Chestnuts) next time. They are both amazing as well.